There are many ways to get to Alumni Weekend.
Thursday: The 2019 Arch Awards will be taking place at the Central Library in downtown Calgary on Sept. 5.
Friday: The Alumni block party and Dinos Football Kickoff game will take place at McMahon Stadium, which is accessible from University Drive N.W. or Crowchild Trail N.W. The SAPL Alumni Exhibition will take place at the City Building Design Lab in Downtown Calgary.
Saturday: All Saturday events will be held at the University of Calgary Main Campus and Downtown Campus.
Sunday: The meeting point for the Chancellor's Ride is the Wild Wild West Event Centre, just west of Calgary. For more info, visit here.
You have two options when it comes to taking public transit to UCalgary's Main Campus. Take the C-Train Red Line (Tuscany/Somerset-Bridlewood) to the University Station. Or hop on one of the major bus routes that stop at Main Campus — 9, 20, 31, 90, 104. 
To get to the Downtown Campus, take either the Red Line or the Blue Line (69 Street/Saddletowne) to the 8th Street S.W. (eastbound) or 7th Street S.W. (westbound) stations; the campus is a one-block walk south of 7th Avenue at the corner of 8th Street and 8th Avenue. Nearby bus routes are 2, 6, 7 and 13.
The library and City Building Design Lab are easily accessible via transit. To get to Central Library, get off at the City Hall LRT station and head southeast. The Central Library is the beautiful new building directly east of City Hall. SAPL's City Building Design Lab is adjacent to the station.
Downtown Campus to Main Campus (MacEwan Hall):
C-Train: Hop on the C-Train at any downtown stop and head north on the Tuscany line. The closest C-train stop to Downtown Campus is located on 7th Avenue (7th Street S.W. station for westbound; 8th Street S.W. station for eastbound). You will get off at University station. Once you've arrived, walk across the platform over Crowchild Trail. Follow the path past the Biology Building, and then under the walkway near the Social Sciences Building. Continue on the path through an open area with a large metal sculpture. Enter MacEwan Student Centre. You will enter the building on the 1st floor — The Den doors will be on your left, MacEwan Hall on your right. You can find a link to Google Maps' directions here.
Visit Calgary Transit for more information and public transit schedules.
Thursday
The 2019 Arch Awards will be taking place at the Central Library on Sept. 5, from 6:30 — 9:30 p.m.
Friday
Lot: Any lot at McMahon Stadium
Time: Alumni Block Party starts at 3 p.m. Game starts at 5:30 p.m.
Parking is free after 3 p.m.
Saturday
UCalgary Alumni is happy to provide free parking options to Alumni Weekend guests. Lots 12, 13 and the Art Parkade will be free of charge all day on Saturday, Sept. 7, for your convenience!
If you are attending a session at MacEwan Student Centre, Kinesiology, Engineering Complex or the Taylor Institute, please park in UCalgary Lot 12 or 13.
If you are attending a session at Rozsa Centre, Reeve Theatre or Murray Fraser Hall, please park in the Art Parkade.
For parking locations, please visit here.
Sunday
For more information on the Chancellor's Ride, visit here.
Free bike racks are located across campus and all over downtown. Bicycles may not be brought into buildings and cannot be chained to trees, shrubbery, lamp standards, etc.
UCalgary has partnered with Car2Go, the city-wide car-sharing program. Car2Go parking can be found on campus in the Arts Parkade (Level 1, south only). If you are attending a session at the Downtown Campus, Car2Go is also a great option. All City of Calgary (ParkPlus) parking is free for Car2Go vehicles – just be sure to avoid private parking lots. 
To register to become a member of Car2Go, visit car2go.com.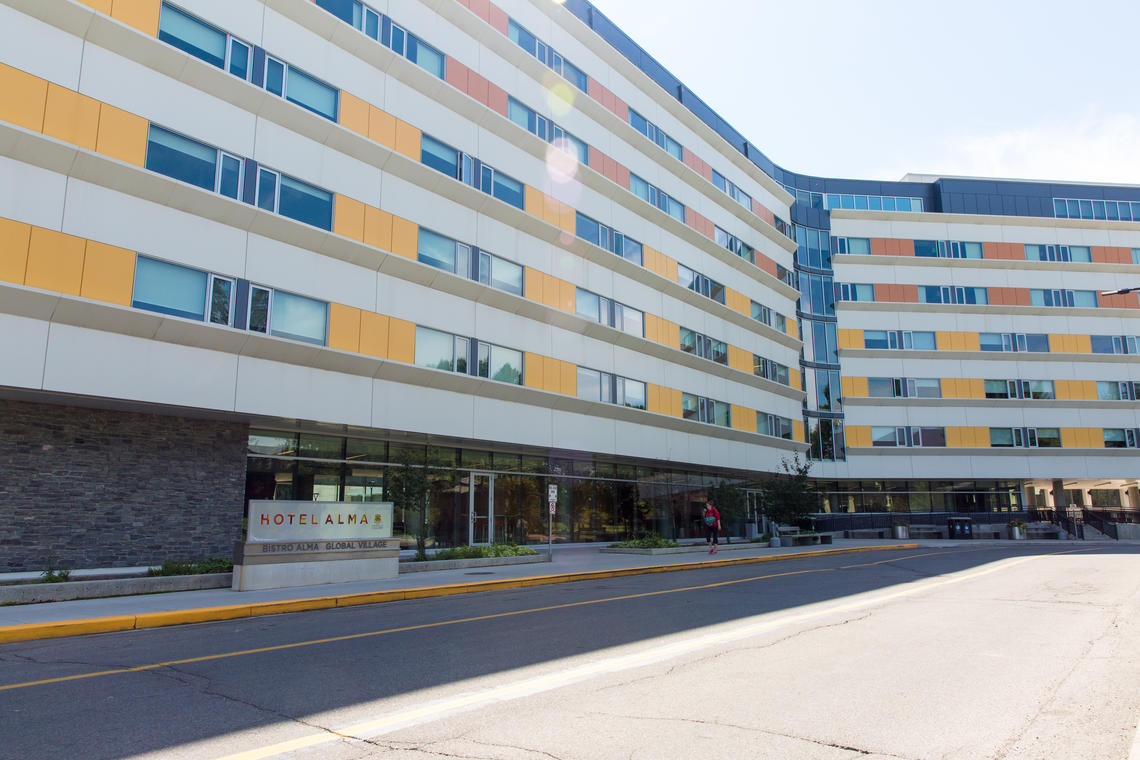 UCalgary alumni get special rates at Hotel Alma, the university's very own on-campus hotel. Enjoy contemporary comfort close to all the excitement of Alumni Weekend.
Ask for the UCalgary Alumni rate to get the following special prices at Hotel Alma during Alumni Weekend (valid Sept. 5 – 8, 2019).
Eurostyle Standard Rooms: $119 /night; maximum occupancy of 2 people
One Bedroom Suites: $144/night; maximum occupancy of 4 people; additional $10 per night after 2 people
Rooms include:
Complimentary breakfast

Complimentary access to the University's Fitness Centre

Free wired and wireless Internet

Free local calls and long-distance calls in North America
Please take note that the Two Bedroom Flats at Alma are not available beginning Aug. 15, 2019, due to students moving into residence.
Book your room today!
Call 403.220.3203 or toll-free at 1.877.498.3203, or email stay@hotelalma.ca to book your room.