AlumNight
Enjoy the perks of being a UCalgary Alumni
You've earned it!
Celebrating your achievements shouldn't end at graduation.
AlumNight is here to help you to continue to acknowledge life's big moments and support you post graduation.
At AlumNight we invite you to reconnect with friends, meet with special guests and take advantage of the benefits of being a UCalgary grad!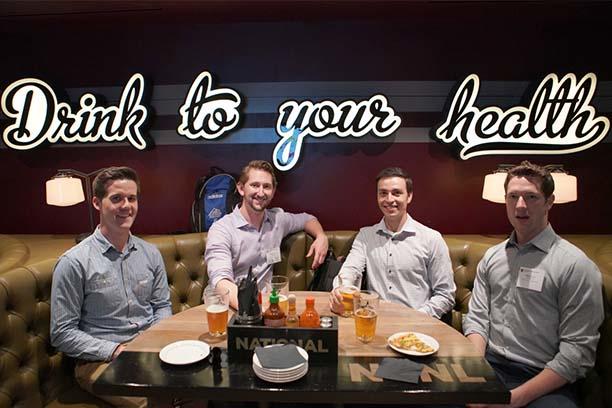 Class of Nov. 2019
Congratulations! You've earned your degree, you've crossed the stage, and now, you are officially part of the UCalgary Alumni community – we think that deserves some celebrating. Join us as we raise a glass or two in celebration of all you have accomplished, and while you're there, learn about the benefits of being a UCalgary grad, and network with some key industry leaders and fellow alumni!
Graduates of the last decade
Join us for happy hour at National on 8th as we welcome the newest members to the UCalgary Alumni community! 
Enjoy some appetizers and refreshments and network with alumni special guests: educator and storyteller, Kelsy Norman, BEDP'18; geologist and founder of Lavami Natural Skincare, Noni Doig, BSc'11; community builder and surfer, Vicki Stroich, BA'99; and independent business executive and podcaster, Chris Popoff, BSc'05, MBA'10. 
Special guests at AlumNight on Nov. 27
At every AlumNight event, we will have a few special alumni guests in attendance that you will have the opportunity to network with.
Here is the lineup for Nov. 27:
Kelsy Norman, BEDP'18
Kelsy Norman is an educator and storyteller whose work focuses on connecting tales from Alberta's early days to new audiences. Prior to becoming a teacher with the CBE, he created weekly podcast and video content as UCalgary Alumni's digital communications coordinator and worked for an award-winning graphic design firm.
Chris Popoff, BSc'05, MBA'10
Chris Popoff is an independent business executive who seeks owner-operator acquisition and early stage tech start up investment opportunities. After 12 years of learning how to identify, approach, negotiate and close deals that resulted in the ownership of established, privately held small businesses, Chris decided to help educate similarly ambitious individuals with the creation of the podcast: MyFirstSeven. Chris' podcast is devoted to guiding you through the latest news, processes and strategies around buying and selling a business today. By connecting with industry leaders, Chris is able to share a variety of perspectives and intel to help support you in your quest.
Noni Doig, BSc'11
Noni Doig is a geologist and the founder of Lavami skincare. Fueled by an entrepreneurial spirit and passion for clean beauty, Lavami launched its first line of skincare in 2015. Since then Lavami continues to be indorsed by stores like Anthropologie and Holt Renfrew, and ships to customers worldwide. Noni believes in her skincare line and therefore tests new creations on herself and friends to ensure an honest product. Noni continues to persist and find new ways to set Lavami apart from other skincare lines out there.
Vicki Stroich, BA'99 
Vicki Stroich is a facilitator, strategist, dramaturg and community builder with over 19 years of experience. She currently works for Alberta Ecotrust as a partner and community engagement director, and previously worked with Alberta Theatre Projects (ATP) for over 16 years.  
She has dramaturged over 45 new plays with ATP and companies across Canada. Recently, she launched the National Playwrights Retreat with the Caravan Farm Theatre in Armstrong, BC. She has designed strategic sessions, professional development opportunities and conference programming nationally and internationally. Vicki has received a Betty Mitchell Award for Outstanding Achievement for her work on new plays and is an Avenue Magazine Top 40 Under 40 Alumni ('13.)