Links and Drinks
Expect the unexpected and a whole bunch of fun! 
Date: Oct. 25, 2018
Time: 6 – 9 p.m.
Location: Last Best Brewery, 607 11 Ave. S.W.
Cost: $10, includes appetizers and one drink ticket
Conquer your networking fears (over beers)!
This atypical mixer will have you doubled over in fits of laughter as improv actors perform career coach Brian Palmer's do's and definitely-do-not's for creating new career contacts and opportunities.
Plus, you'll have the chance to put your newly-learned networking tips and tricks to practice by connecting with your fellow UCalgary alumni.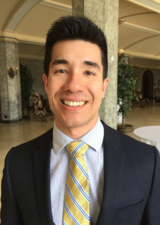 Brian Palmer, BComm'06
Alumnus Brian Palmer is a strategic career professional with more than 12 years of experience in the energy and consulting industries. He holds a finance degree from the University of Calgary and has recruited and coached professionals in engineering, business, geosciences, health and safety, IT, and HR. His focus on career development has included roles as a recruiter, talent management advisor, new-grad program co-ordinator and career-transition coach. In that time, Brian has screened more than 2,800 resumes and led more than 300 interviews. He is passionate about helping others through active listening and thoughtful questions. Brian is a Master Practitioner of the Energy Leadership Index (ELI-MP), and has also obtained his Professional Coaching Certification (PCC) through the International Coach Federation.
An Atypical Alumni Mixer!
Hey, graduates of the last decade — we know you're looking to make connections and learn some important career- and life-hacks. 
But who says you can't do both while having a whole lot of fun? 
That's what Links and Drinks is all about! 
Meet up with your fellow alumni and learn something new in some wonderfully wacky and always unexpected ways.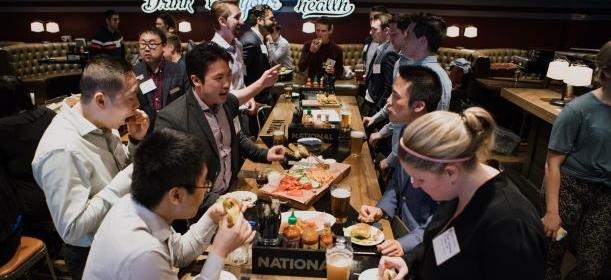 We launched Links and Drinks in May 2018 with a pub night at National on 8th, where we raised a glass to the road well-travelled — from graduating to adulting. 
Musical comedy duo Patrick Quinn, BFA'07, and Kristin Eveleigh, BFA'07, used real alumni stories from Anila Lee Yuen, BSc'06, and Mark Erickson, BFA'07, to create one-of-a-kind songs about navigating wrong turns, U-turns and unexpected turns along any career journey.