How human rights issues affect the sports we love
Date: Saturday, Oct. 1, 2022
Time: 10 a.m. - 12 p.m.
10:00 a.m. - Coffee and Reception 
10:30 a.m. - Lecture 
11:30 a.m. - Q&A
Delivery: In-person with Livestream
Location: Bennett Jones Lecture Theatre, Murray Fraser Hall 2370, UCalgary main campus
Athletics is synonymous with endurance, strength and determination. In recent years, athletes have harnessed these same traits to fight for the right to compete not on a track or in a ring, but in an altogether different arena - the courtroom.   
Join us as alumna Wilma Shim explores human rights issues and their impact on sport. Should sport governing bodies mandate drug use to lower one's natural producing testosterone to compete? Can a sport governing body refuse to consider pregnancy when awarding placement spots? Can sport governing bodies prevent transgendered athletes from competing? These questions, along with a background of sport governance and the Court system, will be explored. Cases that will be discussed further include Caster Semenya and Mandy Bujold's cases before the Court of Arbitration for Sport. 
Complimentary parking available.
Co-hosted by Saturday Morning at the Law School, a program sponsored by the Alberta Law Foundation, and the Alberta Civil Liberties Research Centre.
Registration closes on September 27, 2022 at 11:59 PM.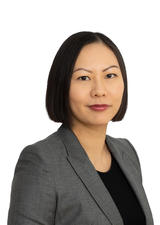 Wilma Shim, JD'10, BSc'07
Role: Speaker  
Wilma Shim is a sports law instructor in the University of Calgary's faculties of law and kinesiology. She was called to the Bar in 2011 and worked as a crown prosecutor and barrister and solicitor for 10 years. Wilma is a member of the Alberta Human Rights Commission and previously was the Board Chair of Special Olympics Alberta. She is a member of Avenue Magazine's Top 40 Under 40 Class of 2015 and was a recipient of the Order of the University of Calgary in 2010.