National Music Centre Offers Backstage Pass to Music History
By Mike Fisher
A highly anticipated, behind-the-scenes tour that includes recording studios and the legendary Rolling Stones Mobile Studio is now available at Studio Bell, home of the National Music Centre (NMC) in Calgary.
This guided one-hour tour of Studio Bell's artist spaces features three world-class recording facilities housing historic consoles — the Olympic Studios console, Trident A-Range console and the Rolling Stones' equipment — and a collection of musical instruments spanning 450 years of music innovation and technology. 
As the media sneak preview of the tour began, I just had to ask Jason Tawkin, BFA'14, NMC's manager of collections access, what it was like to stand inside the Rolling Stones Mobile Studio as a Stones fan.
"When the Stones were recording Exile on Main Street in the south of France, what you hear on the record today is very similar to what you'd hear walking through that basement as a fly on the wall," said Tawkin as he motioned towards the recording console. The double album, released in May 1972, was recorded in a villa rented by guitarist Keith Richards, using this very mobile studio. Exile is considered by many to be the band's greatest album and one the greatest rock albums of all time.
In another room visited during the tour, we stood gaping at Grammy-winner David Foster's one-of-a-kind Yamaha grand piano — signed by 60 musicians and celebrities, including rock 'n' roll icons Chuck Berry and Glenn Frey of the Eagles, both of whom have since passed on — which the composer of Calgary's 1988 Winter Olympics theme had auctioned to raise money for the David Foster Foundation in 2006.
Tour guide Nathaniel Schmidt played this piano and many other instruments as we took the tour, demonstrating how they sounded while he explained their histories and the musical contexts that made them special. He explained how Stevie Wonder and others had used the TONTO synthesizer, before letting us hear it.
On this tour, visitors see the working spaces where artists make magic happen, hear the stories behind notable artifacts as a trained musician demonstrates them — and gain insight into some of NMC's most treasured items.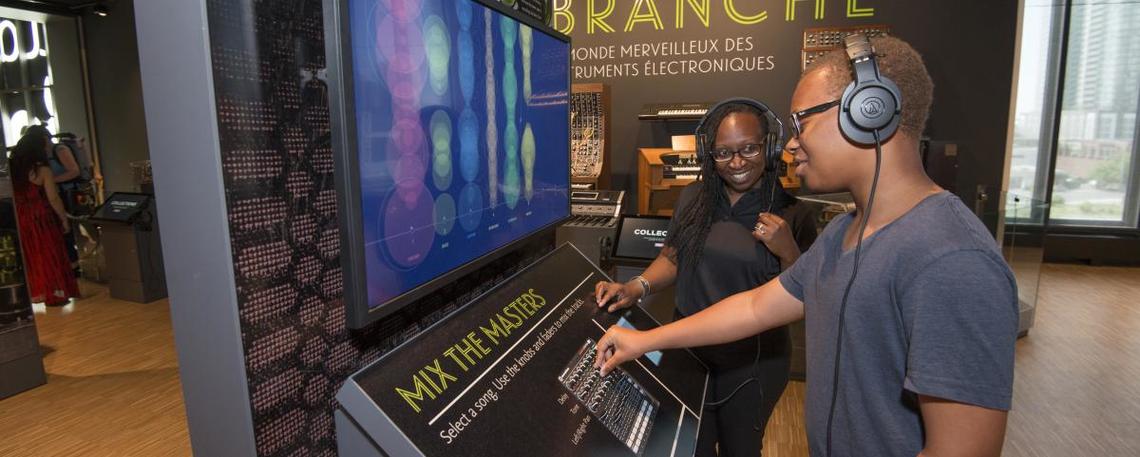 Leblond Studio Inc.

Why take the Backstage Pass Tour at Studio Bell?

You get to see historic music collections in action and their relationship to making music today, in a way you can't anywhere else in the world — from 1591 to the 1960s, through the evolution of every colour of music, led by tour guides who interpret these stories in ways that are funny and captivating and engaging.
What can a visitor to Studio Bell get with the Backstage Pass Tour that they couldn't otherwise?

You get a glimpse into the rest of the programming elements that make up the National Music Centre, namely how artists, producers and creators of all types make new music at Studio Bell with our amazing historic living collection of instruments and equipment.
A lot of people probably think of NMC and our building, Studio Bell, as a museum. But we're so much more. We're also a live music presenter and we're also an incubator for artists in all genres of music. With the Backstage Pass Tour, you get to see, with a guide, what we have going on here.
What is your favourite spot on the Backstage Pass Tour?

I love Live Room C on the seventh floor. It illustrates four centuries of music history, sound and artistry, and includes a beautiful cross-section of instruments side by side — from a Trasuntino harpsichord from the 16th century to TONTO, one of the largest analog synthesizers in the world, built in the 20th century. This space reminds me of the magic of our early roots as an organization and how we evolved into NMC. 
What makes the Backstage Pass Tour "up close and personal"?


Small groups of visitors will gain a better understanding of an artist's journey and the creative process of writing and recording music with a one-of-a-kind historic living collection that spans 450 years of music-making. 
Visitors get "behind the scenes" and close to the instruments and equipment and the stories of the artists who have used them, the music that was made on them and how artists are using them today all, in a brand-new setting here at Studio Bell. 

How does your UCalgary education help you to connect people to musical history?

What is interesting for me about musicology and what my graduate work at UCalgary taught me is that musicology is more than just studying and writing about the technical perspective of the notes.  
It is also about how can you tell a story about the notes that is meaningful to the listener — even if the listener is a non-musical person, you can make meaningful connections about the power of the music. The professors that I studied with taught me to learn how to tell stories about music — and I've brought these lessons learned from UCalgary to NMC.
I bring a musicological perspective — a deep knowledge of the music and an understanding of the different perspectives of analysis, whether it's in popular music, Western European classical music or music from South Asia or elsewhere in the world. I also bring a sense of why and how people use and experience music, which is so varied, depending on age and stage of life within different cultures. 
It's an exciting challenge when you have, say, a harpsichord from the 1590s and a modular synthesizer such as TONTO, to find a way to connect these two items in a story that is engaging to the visitor. You have to make it easily accessible — and my training at UCalgary as a musicologist has been very helpful in making this collection accessible to the public.
How does UCalgary and NMC work together to crack open music in Calgary?

There are many ways, but the one thing that we're working on is the research and programming opportunities that exist in the EMI Canada Archive collection. NMC helped broker this acquisition between the university and Universal Music Canada and we're extremely proud that the archives now live in Calgary.  
I let the university know about the archives' existence and its potential for research — it is a massive archive, more than 7,000 boxes.
There was immediate excitement from the university to acquire it and so we helped broker the acquisition through our relationships in the Canadian music industry. Its acquisition [by UCalgary's Libraries and Cultural Resources] creates another important musical asset for our city which will help put us on the map, musically speaking.  
What other aspects of the UCalgary and NMC partnership would intrigue a listener?

That together, among other partners, we are really helping to build a Music City with these types of assets now in [Calgary] — the EMI Archive collection, NMC with its instrument collection and programs, and our role in sharing the stories of music in Canada with the world.  
For example, recently Bruce Cockburn was here to mount his name on the Canadian Songwriter Hall of Fame wall. Because NMC is the home of three official music halls of fame in Canada, these types of events enable Calgary to develop new types of programs and platforms as it relates to Canada's music.  
We effectively can now begin to enshrine the work of these incredible musicians, composers, producers, music-makers from Canada and tell the stories of what these remarkable Canadians have achieved on the international stage for music.
And we are in the early days of exploring this partnership to determine how best we can develop future programs in research, exhibitions, content and education together. It's exciting!