Celebrate with Santa
Celebrate the season by supporting the SU Campus Food Bank and the Olympic Oval Athlete Bursary!
The holiday season is upon us! We have some holiday cheer in store – and a great way to continue the tradition of supporting UCalgary students.  
Last year, our first Celebrate with Santa crowdfunding campaign raised over $10,000 in support of the SU Campus Foodbank thanks to our alumni community. Celebrate with Santa is back again this year, and we remain committed to helping students in need.  
Our goal this holiday season is to raise $10,000 to tackle food insecurity in our community, and, as we look ahead to the 2022 Winter Olympics in Beijing, we also want to support our student-athletes who have faced additional hardship during COVID-19.  
Every dollar raised for this year's Celebrate with Santa campaign will support: 
The SU Campus Food Bank, which provides nutritionally balanced, seven-day emergency food relief for UCalgary students, staff and new alumni who've graduated in the last two years.  
The Olympic Oval Athlete Bursary, which is designed to support high-performance athletes with the financial strains they face as they study, work, train and compete.  
Your generosity will help us reach our goal!  
Depending on which initiative you support, we want to recognize your contribution! 
Gifts to the Olympic Oval Athlete Bursary are eligible for a charitable tax receipt 
AND 
For contributions to the SU Campus Food Bank, we've partnered with alumni-built businesses to offer the first 300 donors to this campaign a special holiday celebration package, including: 

A $10 discount code from Calgary Heritage Roasting Company. 
A $10 discount code from Milk Jar Candle Co.  
Admission and skate rental at the Olympic Oval, valued at $10.  
Celebrate the season by donating today! The first $10,000 raised will be generously matched by our friends at Manulife — so your gift will have double the impact. 
Select the initiative you wish to support by choosing one or both of the following options: 
Meet our Alumni Business Owners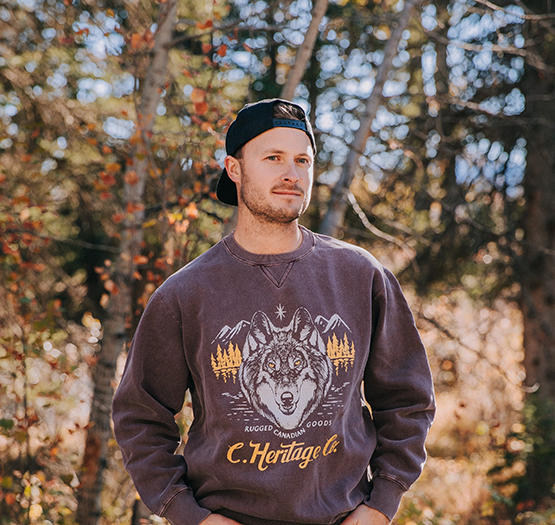 Jamie Parker, BSc'15
President and co-owner, Calgary Heritage Roasting Company
Calgary Heritage Roasting Company (CHRC) is inspired by the wilderness of Alberta. CHRC meticulously marries fresh and bold coffee with the urge to explore. The craft coffee company's  founders — two wildland firefighters — were inspired by a percolated cup of coffee on a backpacking trip one morning in Alberta's rolling hills. The partners forged their methods and values from their firefighting experience. This means, beyond creating fine coffee, they have a strong desire to give back to the environment and community. Since opening in 2015, CHRC has planted more than 31,000 trees in Canada, with an ultimate goal of 1 million by 2030. CHRC describes its coffee as "the homegrown, outback, rugged, mountain-fresh, clear-skies sort of thing that Alberta is all about. It's about time your coffee tasted as wild as you are." Its C. Heritage Co. branch also markets "rugged Canadian goods" inspired by Canada's heritage, including outdoor wear and other items.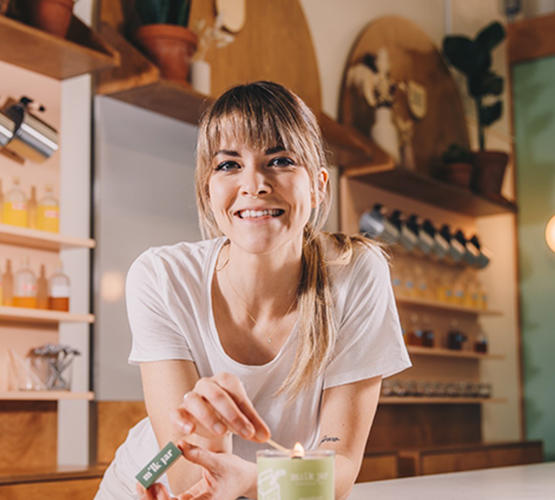 Holly Singer, BSc'12  
Founder, Milk Jar Candle Co
Milk Jar Candle Co. founder, Holly Singer, started making candles in her kitchen in 2014 as a way to get in touch with her creative side. She experimented with natural candle wax after learning most common candles on the market are filled with toxic paraffin wax bases. After a year of making candles for herself and her friends, and feeling her career path was not meeting her desire to help others, Holly conceived Milk Jar: a company that blended her love of creativity and passion for lifting up and giving back to the disability community. Five years after its founding, Milk Jar is highly regarded for its annual donations to non-profit programs that support disabled people in Alberta, and for being a role model for inclusive employment. Milk Jar remains locally manufactured, and a staple in Canadian apothecaries. Milk Jar Candles can be found online and in various locations around Calgary.
Celebrate with Santa contributions will be matched up to $10,000 thanks to the generous support of Manulife, an affinity partner of the UCalgary Alumni Association.