The Future of Architecture
From UCalgary's newly renamed School of Architecture, Planning and Landscape to our new Central Library, The Wednesday Room and Shane Homes YMCA — discover the alumni behind them.
Highlights
UCalgary alumni are doing amazing things in Calgary and around the world. Check out some of our favourite alumni highlights.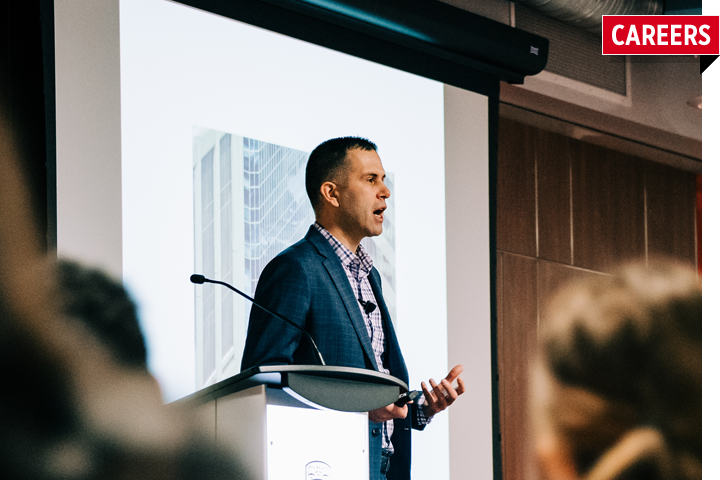 Top 5 Tips for Connecting with the Future of Work
More than 160 alumni and staff received insider advice and tips on future-proofing their careers at UCalgary Alumni's second annual Grow Your Career Conference on Feb. 2.
Themes of agility, transition, emerging industries, human connection and automation carried throughout the day as experts divulged how to cope with — and excel in — today's rapidly evolving and uncertain career landscape.
A University Without Borders
UCalgary's strategic push towards global education stresses the benefits of diversity and inclusion in an aim to deliver excellence.
Diversity, inclusivity and cultural insights are increasingly important elements of a university education as the world becomes more interconnected, says Dr. Janaka Ruwanpura, UCalgary's vice-provost, international.
Wherever Life Takes You — UCalgary Alumni is There.
The rise of the University of Calgary from a small regional institution to an intellectual hub of global influence parallels that of Canada itself. Of UCalgary's nearly 180,000 alumni, who hail from 153 countries, approximately 11,200 live abroad. Our alumni body is larger, more diverse (in age and race), and increasingly more engaged than ever before.
Lessons From Tragedy: A 9/11 Survivor's Message
Seventeen years ago today, alumna Christine Gillies was working on the 87th floor of the World Trade Center when her world sheared and collapsed around her. She and co-worker Yvette Lynch managed to escape and then, this past summer, decided to return to Ground Zero. Together. Does time soften or alter such a harrowing event?
Alumnae Twins Star in Netflix's Series of Unfortunate Events
We lift the curtain on those hapless Baudelaire siblings, treacherous Count Olaf and the beguiling beginnings behind all those Lemony Snicket books and episodes.
When the identical twins — alumnae Jacqueline and Joyce Robbins — landed the dual roles of the White-Faced Women in this Netflix wonder, it instantly became a series of most fortunate events.