Welcome to our newest alumni!
UCalgary Alumni offers Life Kit for Recent Grads, a collection of resources and programs to help guide you in your next stage of life.
University of Calgary announces Parker Psychedelic Research Chair
Generous Calgarian steps forward to support research focusing on treatments for mental illness ...
There's more to learn and enjoy!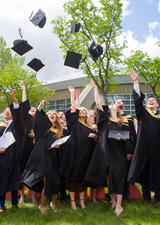 Degree Frames
You worked hard for your degree. Display it with pride in an official UCalgary degree frame. Choose from a number of styles at a variety of price points.
Frequently Asked Questions
Quick answers to your most common questions.
Connect with us on social
Follow @ucalgaryalumni on social for the latest UCalgary Alumni news: