There is indeed an invaluable skill in the passing on of knowledge to another. From the early philosophers and elders to the modern-day virtual classroom, society has always placed value in learning. Standardized exams are a measuring stick that, by their very nature, break down a person's knowledge into a single number or score.
But what does this truly measure in a student's learning? What if we took the standard curriculum and not only gave it to students, but provided them with the tools with which to understand it, process it and synthesize it along with the teacher's and student's own experiences and thoughts? These kinds of ideals would only begin to scratch the surface of the techniques and innovations of Career Achievement Arch Award recipients, Aaron Renert, BSc'92, MSc'93, LLB'98, BEd'03, and Dr. Moshe (Moses) Renert, BSc'85, PhD.
Since the inception of the Renert Tutorials at the University of Calgary in 1990, Moshe, Aaron and their staff have brought thousands of students to campus for high school diploma reviews and college admission and graduate school test prep sessions. Years of Renert Tutorials would lead to the opening of the Renert Tutoring Centre, the Bright Minds program and, ultimately, Renert School, an accredited kindergarten to Grade 12 private school, founded by Moshe and Aaron in September 2013. 
"Renert School's unique and innovative educational model provides students and teachers with the opportunity to deepen their knowledge, advance academically without bounds and discover their unique passions, all in the context of a safe and caring school community," says nominator Dr. Bob Schulz, PhD. "At every stage over the past 30 years, Aaron and Moshe Renert used entrepreneurial thinking and innovative leadership to pivot, improve, enhance, and extend product offerings to extended target markets, to the betterment of the Calgary and Alberta communities." 
Aaron and Moshe both came from humble beginnings, and they continue to use the analogy of education being the '"great equalizer," a means for all students to discover their passions and abilities, and continue onward in their journey, often with an extended pitstop or two at UCalgary.  Perhaps it was their own journey as children from Israel, immigrating as a family to Calgary and overcoming many of the challenges in adapting to a new country, that motivated them to pave the way for generations of students to come.  The Bright Minds program, alone, has helped thousands of elementary and junior high students excel in mathematics and literacy, providing both enrichment and remedial opportunities while they build confidence in their ability to manage the demands of school.  
"Dr. Moshe Renert and Aaron Renert have a growth mindset that is humbling to witness from individuals who are so successful in creating a niche in the educational system and overall industry across Canada," says nominator Reena Khullar. "I admire their dedication to ongoing learning, not only in the form of educating students, but also in their own commitment to self-reflection and personal development."
The Renerts  have continued to share their unique vision with others by entering into a partnership with the Werklund School of Education to offer to Renert School staff and other interested educators a Master of Education program that focuses on transformative education. Research and publications resulting from this program can be further disseminated, enabling other schools or educators to implement aspects of the vision and program that they find useful, paving new avenues of access and opportunity for students and educators, alike. Looking back on the road that has been paved, the students that already have or are yet to encounter Renert programs, and the educators and researchers engaging with their methods, Aaron and Moshe's approach to education is a path with endless entry points, and limitless opportunities to exit onward, and upwards to the next.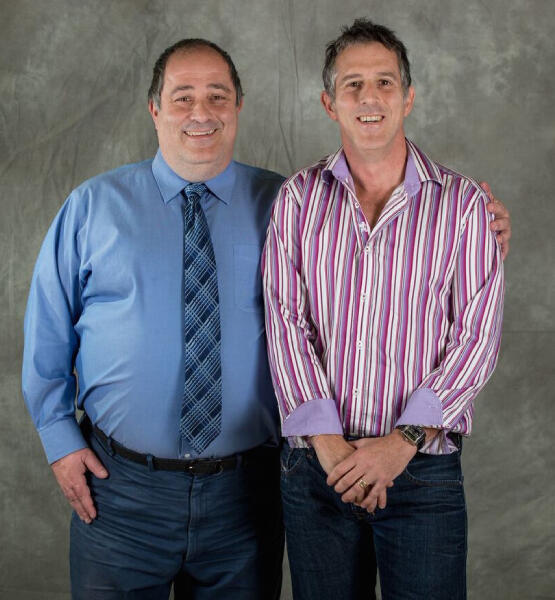 Put a smile on people's faces and help those who are in need whenever you can. Never lose sight of the fact that you are no more special than anyone else.
Aaron Renert, BSc'92, MSc'93, LLB'98, BEd'03
Getting to Know Aaron Renert
AARON:
Was there any particular moment that stands out for you with the University of Calgary?
There were so many, not the least of which was the support Renert Tutorials received from Bob Schulz, Ernst Enns, the late John Kendall, [former Calgary Mayor and UCalgary alumnus] Naheed Nenshi, and many others back in the day. This is not to be taken for granted because we were operating a tutoring company on campus that challenged the status quo and created great pressure on the organization to pay more attention to the quality of teaching.  
What is a thing about Moshe that you really admire?
His creativity when it comes to progressive education. He is a big thinker and a unique thinker. He loves to rock the boat and challenge orthodoxies in order to make education current and relevant.  
 
Is there something about Moshe that only you know that you wish others knew?
He is a gifted musician and an excellent accordion player.
 
What is your idea of perfect happiness?
Beautiful sunny beach with Hagar (my wife), a good glass of red wine and a good book. Going head-to-head with her on a crossword puzzle (or a Sudoku) and, for once, winning. This will not happen; she is younger, brighter and faster than me.
 
What is your greatest fear?  
That one of my children will get seriously injured. This includes all my school children.
 
What is the trait you most deplore in yourself?
Procrastination. With age, we all slow down. I wish I had the focus and drive I [had] 40 years ago, when the journey began.
 
What is the trait you most deplore in others?
Hypocrisy and lack of integrity. Gandhi said it best: "Happiness is when what you think, what you say and what you do are in harmony." I guess this also answers the happiness question.
 
What is your greatest extravagance?  
I never cared much for expensive "stuff," but I love timepieces (watches) and collected many over the years.  
 
What do you consider the most overrated virtue?
Being "nice" for its own sake. I much prefer my friends to be direct and honest than to be "nice."
 
What do you most dislike about your appearance?
Nothing. I have no issue with how I look and never give it much thought.
 
Which living person do you most despise?  
This past year and a half made this one easy: Vladimir Putin.
 
Which words or phrases do you most overuse?  
Not sure; this is a question to ask those who are close to me.
 
When and where were you happiest?  
Like the rest of us, I am happy when I am in "the zone," engaging in an activity that is natural to me and that I am a master of. For me, it is teaching. Being with 15 grade 2-3 kids and "doing math" with them for 45 minutes truly makes me happy.
 
Which talent would you most like to have?  
Another easy one: being able to play a musical instrument (guitar) at a reasonable level. It would have enriched my life so much. I tried numerous times, and nothing ever clicked. There goes the theory of "math and music always go hand in hand …"  
 
If you could change one thing about yourself, what would it be?
Stronger intellect. I would love to have been wiser.
 
What do you consider your greatest achievement?
Renert School, and, before it, Renert Tutoring Centres. There is nothing like helping children and young adults be their best by opening the doors to opportunities through good education.
 
If you were to die and come back as a person or a thing, what would it be?
I would not change a thing. I would choose to be Aaron Renert all over again.  
 
Where would you most like to live?  
Calgary as a home base, for sure, with extended travelling to Europe and Southeast Asia.
 
What is your most treasured possession?  
Was, not "is." My wedding band was made up of two bands welded together. The one belonged to my paternal grandmother, and the other to my maternal grandfather. I had it on for 20 years. Truly irreplaceable and had a huge sentimental value. Last fall, while rafting on the Bow, the water was cold, and it slipped off. By the time I noticed, it was too late. At least I am comforted knowing that its final resting place is beautiful.
 
Which historical figure do you most identify with?
Winston Churchill, Aleksandr Solzhenitsyn, Janusz Korczak. Each for a different reason.
 
Who are your heroes in real life?  
My wife, Hagar, whose words, thoughts and actions are always in harmony. Phil Fontaine, the former National Chief, who achieved so much against all odds. This list goes on and on; there are many giants among us.
 
What is your greatest regret?
When I graduated from law school (UCalgary, of course), I wanted to wear one of those white wigs (like the ones that barristers in the U.K. wear to court) for the 1998 composite class that is hanging at the law school. I forgot to do it. I have regretted this one for 25 years.
Our generation, and those of our parents and grandparents, created a real mess. We have sacrificed the planet in pursuit of unbounded material growth. Future generations are left with the task of cleaning up our mess, and education is how we equip them for the task. To this end, education must be profoundly re-imagined, for if we replicate the education that we received, we cannot expect our children to do any better than we did. We must deliver relevant education that facilitates new growth mindsets and autonomy, in order to empower students to act in novel ways and come up with yet-unimagined solutions. Those of us who work with young people know that today's students are far more aware and intelligent than we were at their age. The promise of young people is limitless, as long as we provide them with the best we have figured out so far and then get out of their way. It is a privilege to work in education for a better world.
Dr. Moshe Renert, BSc '85, PHD
Getting to Know Moshe (Moses) Renert
MOSHE:
Was there any particular moment that stands out for you with the University of Calgary?
I entered [UCalgary] at age 17. I was a new immigrant in Canada; I was shy and I had little confidence in my English. In second year university, the department of Computer Science asked me to TA Theoretical Computer Science.(I later learned that no one wanted to touch this course, this is why they had to look for a nerdy second-year student).
The experience of [being a Teachers Aid] proved transformative for me. I discovered that I could explain complicated theoretical concepts in ways that made sense to the students. More importantly, it was obvious that my teaching was affecting positive change in their lives. The students repeatedly let me know how appreciative they were - I found my calling through that experience - to be a teacher.
What is a thing about Aaron that you really admire?
I admire how fair and equitable Aaron is in his treatment of people. [He] treats everyone equally, which is not always easy when you run a large school, where people sometimes think that they are entitled to special treatment. Aaron is very good at explaining what principles guide him in his decisions and why no one can be treated differently than anyone else.
Is there something about Aaron that only you know that you wish others knew?
Over the years, Aaron has helped many people around him when they were in a financial tight spot.
He never talks about his charity, and he keeps it a secret. I was always impressed with his generosity when I learn about it from the beneficiaries years later. 
 
What is your idea of perfect happiness?
The privilege of partnering with my wife, Lisa, to raise two amazing sons in a loving home is my perfect happiness.
What is your greatest fear?
Human sustainability is far less certain today than it was in past generations.
I am fearful that our children and grandchildren will experience a much harsher world than we have.
 
What is the trait you most deplore in others?
Mean-spiritedness and unkindness towards others are inexcusable.
Which living person do you most admire?
I admire my sister Miri who selflessly takes care of so much in the Renert family. Miri succeeds to fit everything she sets her mind to into each day but still finds time for her brother when he asks.
 
What is your greatest extravagance?
I own seven accordions. Each is unique and important in its own way, no kidding.
 
What do you consider the most overrated virtue?
Financial success and accumulation of wealth are grossly overrated as virtues in our society; we idolize the ultra-rich to the detriment of valuing far more worthy causes.
 
What do you most dislike about your appearance?
I don't like losing my hair but accept it as an unfortunate fact of life.
 
When and where were you happiest?
I am always happiest when I'm close to my wife Lisa.
 
Which talent would you most like to have?
I would like to be an opera conductor. I have always been fascinated by the enormity of live opera, and by how it is all held together by the conductor.
 
What do you consider your greatest achievement?
My greatest achievement was drawing of my deep love for my two sons to create a school founded on love for other children.
Where would you most like to live?
I'd like to continue living in my home in North Vancouver, where I take daily walks with my dog in the Capilano Canyon.
 
What is your most treasured possession?
My most treasured possession is the 1940's Bell accordion, which was played by my beloved accordion teacher, Joe Morelli, all his life.
Which historical figure do you most identify with?
I am greatly inspired by Janusz Korczak, a progressive Polish educator and author of children's books. Korczak ran the orphanage in the Warsaw ghetto and, despite many opportunities to escape the ghetto, never left his children. He was deported to the death camps with them.
 
Who are your heroes in real life?
I believe that the future of our world depends on the nature and quality of education that we provide to today's children. My heroes are innovative educators who re-imagine education and create new and relevant learning environments for children.
What is your greatest regret?
I regret not opening Renert School earlier in life. It is so much fun.