UCalgary Alumni Board of Directors
Comprised of a group of dedicated and diverse volunteers, meet the UCalgary Alumni Board of Directors.
All graduates become members of the University of Calgary Alumni Association – the official community of UCalgary alumni at home and around the world.
Your association is led by the UCalgary Alumni Association Board of Directors – a group of dedicated volunteers – who undertake work to: 
Advise the university on matters related to alumni, and the development and execution of the Alumni Strategy;
together with the university, develop and oversee systems, processes and programs to achieve the goals within the Alumni Strategy;
develop a transparent and effective process to appoint alumni to the various positions specified by the university requiring alumni representation;
work with the university to increase alumni recognition within the university and broader community;
foster collaboration and community connections between alumni and the university's research initiatives;
build an environment in which alumni are supportive of the fundraising ambitions of the university; and
engage in work and projects to help the university execute the Alumni Strategy, where it is most beneficial for the work to be done by the board and not the university.
UCalgary Alumni Board of Directors
Comprised of a group of dedicated and diverse volunteers, the University of Calgary Alumni Board provides the valued perspective of current and future alumni to meet the needs of members and support UCalgary's priorities.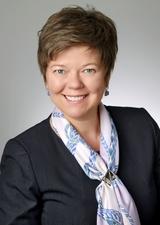 President and Chair: Helen Sunderland, BMus'87, MBA'92
In her professional life, Helen Sunderland is a senior director with SAP Canada. She has held various roles with this international software conglomerate since 1998, beginning her SAP career in Calgary, then living and working for seven years in Silicon Valley (Palo Alto, Calif.) before returning back to Calgary in 2015. She is a subject matter expert in multiple SAP software solutions.  Some of her other recent volunteer experience includes currently serving as a governor on the University of Calgary Board of Governors, as a senator of the University of Calgary Senate and as a director of the American Friends of the University of Calgary, a specialized fund-raising entity for U.S. residents making donations to UCalgary. During her California years, in addition to acting as the liaison for UCalgary's alumni activities in the San Francisco Bay Area, she was also a volunteer board member for the Digital Moose Lounge, a Silicon Valley not-for-profit with a mission to connect Canadians living in the Bay Area, serving first as treasurer and, later, as chair of the board.  In those roles, she worked closely with the Consulate General of Canada in San Francisco, planning events for Canadians.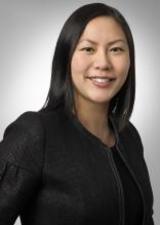 Vice-President: Wilma Shim, BSc'07, JD'10
Wilma Shim is a lawyer with Alberta Justice and Solicitor General. While a student at the University of Calgary, Wilma was elected to the Students' Union and elected the president of the Society of Law Students. She has previously served as the president of the Physical Education and Kinesiology Alumni Association. In 2010, Wilma received the President's Award for Excellence in Student Leadership and was also inducted into The Order of the University of Calgary. She is a member of Avenue Magazine's Top 40 under 40 Class of 2015. Wilma has a passion for enriching the lives of individuals with an intellectual disability and has previously served as Chair of the Special Olympics Alberta Board of Directors. She currently sits on the Affiliate Management Committee for Special Olympics Calgary and is a volunteer coach. As an active member in the legal community, Wilma is a Board director of the Association of Women Lawyers and a peer support volunteer with the Alberta Lawyers' Assistance Society. She continues to stay involved with the Faculty of Law as an instructor with the Law School's Trial Advocacy Course and as a volunteer guest judge. In 2003, Wilma was awarded the UCalgary Chancellor's Club Scholarship and initiated The UCalgary Chancellor's Club Scholars Alumni Network in 2020.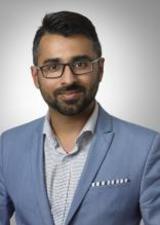 Nauman Saeed Anwar, MBA'11
Nauman Saeed Anwar is currently leading the technology project management office at ENMAX, an integrated energy provider in North America. Prior to this, he worked for half a decade at Alberta Energy Regulator, delivering regulatory programs on emissions reductions, liability management and regulatory modernization. Nauman started his career in Calgary with Innovate Calgary and went on to successfully deliver projects working for SNC Lavalin and Deloitte. Passionate about alumni engagement, he has consistently supported the university and Haskayne School of Business's efforts to build a stronger alumni community by assisting creation of, and now serving on Haskayne MBA Alumni Alliance. His more recent volunteer efforts include serving on the boards of Connecting Environmental Professional and Leading Change Canada, mentoring students through the HSB/CCAL Mentorship Program, and advising students through Hunter Hub for Entrepreneurial Thinking.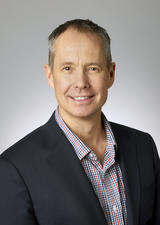 Chris Carlson, MBA'10
Chris Carlson's successful career in project management and technology has led him to his current role as chief information officer at Brightsquid Secure Communications. He has been a strong champion for the University of Calgary and the Haskayne School of Business since graduating with his Executive MBA in 2010. He is co-founder of the EMBA Alumni Alliance, served as chair of the Haskayne Alumni Advisory Council and recently was a member of the Management Alumni Excellence (MAX) Selection Committee. He also served as one of the Distinguished Graduate speakers at convocation in June 2018.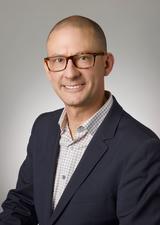 Ian Chiclo, BA'91
Ian Chiclo works in marketing and business development for Bamboo Shoots, a video and television production company. He was the founding editor and long-time publisher of Fast Forward Weekly, during which time he was named CalgaryInc. magazine's Top 40 Under 40 in 1999 and again in 2002. He launched his career at the University of Calgary's campus radio station, CJSW, as editor of VOX Magazine from 1991-1995. He also hosted a radio show at the campus station for more than 20 years. Ian served as a board director for the Calgary Folk Music Festival for 12 years, four of them as board chair, and is actively involved with the Calgary Ski Club as a cross-country coach in the Jackrabbits program.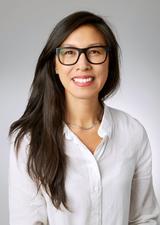 Jennifer Koo, BComm'02
Jennifer Koo is managing director of Customer Experience and Digital Transformation at ATB Financial where she creates, designs and transforms experiences for customers in the digital age. Jennifer is a leader in digital transformation with more than 16 years of industry experience during a thrilling time which saw the web turn traditional business models on their head with the rise of search engines, e-commerce, smartphones, social media, and now artificial intelligence (AI) and machine learning. If you want to immerse yourself in her work, check out the interface design and seamless user experience the next time you check in to a WestJet flight on your mobile phone, stream Shaw media on your iPad or manage your financial life online at ATB. She also sits on Bow Valley College's Creative Technologies School Advisory board, as well as the Calgary Marketing Association board, where she advocates for lifelong learning, the importance of design and game-changing technology.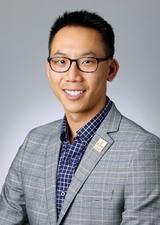 Tyler Mah, BSc'10
Tyler is a second-generation born-and-raised Calgarian passionate about entrepreneurship and legacy-building. After attaining a Bachelor of Science in kinesiology, he pursued a career in personal fitness training, which led him into managing a small corporate fitness centre that serves as an employee amenity. In addition to his career, he keeps busy with networking, community engagement and network marketing. In his leisure time, he likes to nap, play guitar, play volleyball or go for a walk. All in all, he is an average guy with no particular talents other than a slight belief in himself, a bit of a work ethic and a small heart for other people.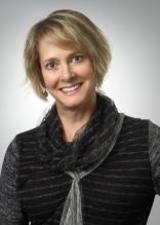 Brenda Marks, BN'86
A graduate of the UCalgary's Faculty of Nursing, Brenda Marks started her career as a registered nurse in Calgary. She then completed her MBA at the University of Western Ontario and moved into the medical device industry with Abbott Laboratories as a sales representative and then clinical consultant. In 2004, Brenda shifted into product management and has worked with successful Alberta companies including priMED Medical Products and Surface Medical Inc., working with production facilities in China and gaining international sales experience. Brenda is a former member of the Dinos track team and five-year volunteer with the Faculty of Nursing Alumni Committee.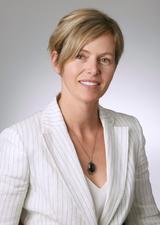 Renée Marx, BA'97, LLB'00
Renée Marx is a born-and-raised Calgarian. Her career background is as a regulatory lawyer and she has extensive experience in both the utilities and energy industries. She has appeared before all levels of court in Alberta, and the Supreme Court of Canada. Currently, she is general counsel at a consulting firm. During her time at the University of Calgary, her volunteer activities included being a member of the Senate and the Students' Union Review Board. As a law graduate, she often volunteers with the Faculty of Law judging law student moots. Renée is passionate about lifelong learning and the role of learning in personal fulfillment.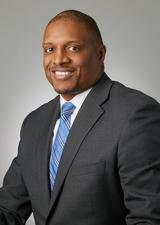 Ian Minnifee, BA'94
Ian Minnifee is a community-builder, a promoter of diversity, a sports advocate and a wealth strategist with Sagium, a Calgary-based independent financial planning firm. Minnifee has worked in the financial services industry since 1997 helping successful families prudently grow, manage and preserve their wealth. In 1988, he started his varsity basketball career, eventually becoming team captain while receiving numerous individual conference and national awards. After graduating, Minnifee continued his impact by working closely with the University of Calgary to promote the basketball community, becoming a founding member of the Dinosaur Basketball Foundation. From 2009 to 2015, he served on the University of Calgary Senate, where he was a prominent ambassador of the Dino Athletics program. Among his many contributions to the Senate, he sought to find unique ways to highlight the accomplishments of Dinos athletes and coaches to the Senate. Minnifee helped create the Senate Service Award for student athlete community volunteerism and co-founded a leadership program that connects the award recipient to a Senate mentor. In June 2018, he was awarded the Order of the University of Calgary for his record of exemplary and distinguished service to UCalgary.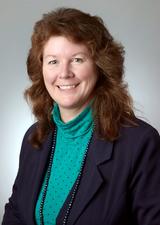 Sue Shaw, BSc'89
Sue Shaw is a senior IT Leader, an internationally recognized Enterprise Resource Planning (ERP) expert and a user group advocate. Her experience ranges from developer to IT director, enabling a unique perspective across the IT landscape, from business processes and data quality to integrations and infrastructure. Shaw is currently an independent IT consultant, specializing in implementing and operating large enterprise systems. She volunteers with the Quest Oracle Community in various capacities, including currently holding the position of vice-president of the Quest ERP Cloud Special Interest Group and she is a co-host of the Quest Leadership Community, Alberta Chapter; she is also a past Quest President. Shaw is currently on the Executive Committee Board for the Canadian Regional User Group and chairs the Alumni Affinity Communities Committee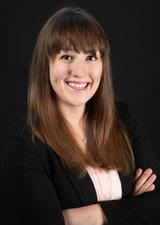 Jessica Zutz, BA'12, BSc'12
Passionate about education and supporting young community leaders, Jessica is the Awards Program Coordinator at Calgary Foundation. She has a Bachelor of Science in Biological Sciences and a Bachelor of Arts in Communications Studies and Canadian Studies. During her time as an undergraduate student, Jessica began volunteering with the Alumni Association as a Future Alumni Ambassador. She served as a member of the Faculty of Science Alumni Advisory Council, and supports numerous campus events including student mentorship programming, convocation, Kickoff Tailgate and Alumni Weekend. An active community supporter, Jessica volunteers her time in committee roles with various groups throughout the city including the Calgary Stampede and Historic Calgary Week.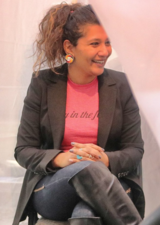 Anila Lee Yuen, BSc(Hon)'06, BSc'06
Anila is the President & Chief Executive Officer of the Centre for Newcomers (CFN).  She has 25 years of experience in the settlement sector.  Since joining CFN in 2016, with the support of a staff team 150 strong, Anila has grown the agency by $5M, adding nationally recognized programming such as LGBTQ+ refugee supports and indigenous education for newcomers.  Anila continues to strongly advocate for vulnerable persons; especially woman and children. She has been  a champion for the university and a speaker or panelist at many university programs. IN 2017, Anila was recognized by the UCAA with an Arch Award for Alumni Achievement.  Most recently, she served on the 2020 Arch Awards Selection Committee.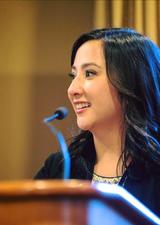 Kate Wong, BN'12
Kate has been a registered nurse with Alberta Health Services since 2012.  She is currently studying for her Doctor of Philosophy in Nursing at UCalgary.  She has been a longstanding volunteer with the university and the Faculty of Nursing where she served as President and Co-President of the Alumni Executive from 2012 to 2019.  Additionally, Kate has served as a speaker and emcee for several university events and programs. She has most recently been involved with UCalgary Alumni as a member of the Recent Grad Committee (since September 2019). Additionally, Kate has attended numerous programs across campus with the Faculty of Nursing and UCalgary Alumni.