Today, you will find Edmonton-based Dr. Hakique Virani on the frontlines of the drug overdose epidemic, but do not mistake this for his first fight. Although this public-health activist downplays the leadership role he assumed in the on-reserve response to the H1N1 influenza pandemic, when he was a Medical Officer of Health for Alberta First Nations, others say Virani, MD'01, was the one who led the charge. Motivation to improve health conditions in Edmonton's inner city led Virani in 2008 to open Metro City Medical Clinic. Using numerous platforms — from columns in the Toronto Star, Globe and Mail, and the Calgary Herald to starring in the 2016 award-winning documentary, Dopesick — Virani hopes his work can help remedy the disparities he sees when it relates to drug laws, harm-reduction, addiction and social justice, especially within vulnerable populations. When asked what keeps him up at night, Virani quickly replies: "I worry about whether civil society institutions like universities, professional societies and NGOs have the strength and integrity to guide us through immense challenges like climate change, wealth and social inequality, forced migration, and technological disruption in a post-truth world. I really hope they will." 
What is one lesson or quote from a professor that has stuck? As I went off to medical school, my undergrad botany professor, Dr. Ilabanta (Jim) Mukherjee, told me, "They will teach you where to look. You have to figure out what you see." I think I get it now, 25 years later. Sadly, Dr. Mukherjee passed away last year, and I didn't get a chance to tell him. 
What is your idea of perfect happiness? A fourth season of The Newsroom. 
What is your greatest fear? An 11th season of Beverly Hills 90210. 
What is the trait you most deplore in yourself? Forgetfulness. 
What is the trait you most deplore in others? Being hard to remember. 
Which living person do you most admire? My mom, who is at once a wallflower to others and larger than life to me. 
What is your greatest extravagance? A fleece onesie straight off a towel warmer. 
What is your current state of mind? As a public-health doctor, I'm concerned. (Still.) 
What is the quality you most like in a person? Has thoughts they don't tweet. (And humility.) 
Which words or phrases do you most overuse?  "You're still on mute," and, "Go back on mute. Please." 
What or who is the greatest love of your life? Exploring the infinite allegories in an Islamic garden with Farzana, my wife. 
What is your most treasured possession? The Father's Day cards my brother, sister and I made for my dad which, as we discovered going through his things after he passed away, he had kept safely and secretly for over 40 years.  
What do you consider your greatest achievement? The times I changed my mind. 
If you were to die and come back as a person or a thing, what would it be? Siri. 
What do you most value in your friends? Loyalty and acceptance. 
Who are your favourite writers? Rumi, Khaled Hosseini, Maya Angelou and my brother, Shafique. And also Jay-Z. 
Who is your hero of fiction? CIA analyst Fara Sherazi [from the TV series Homeland].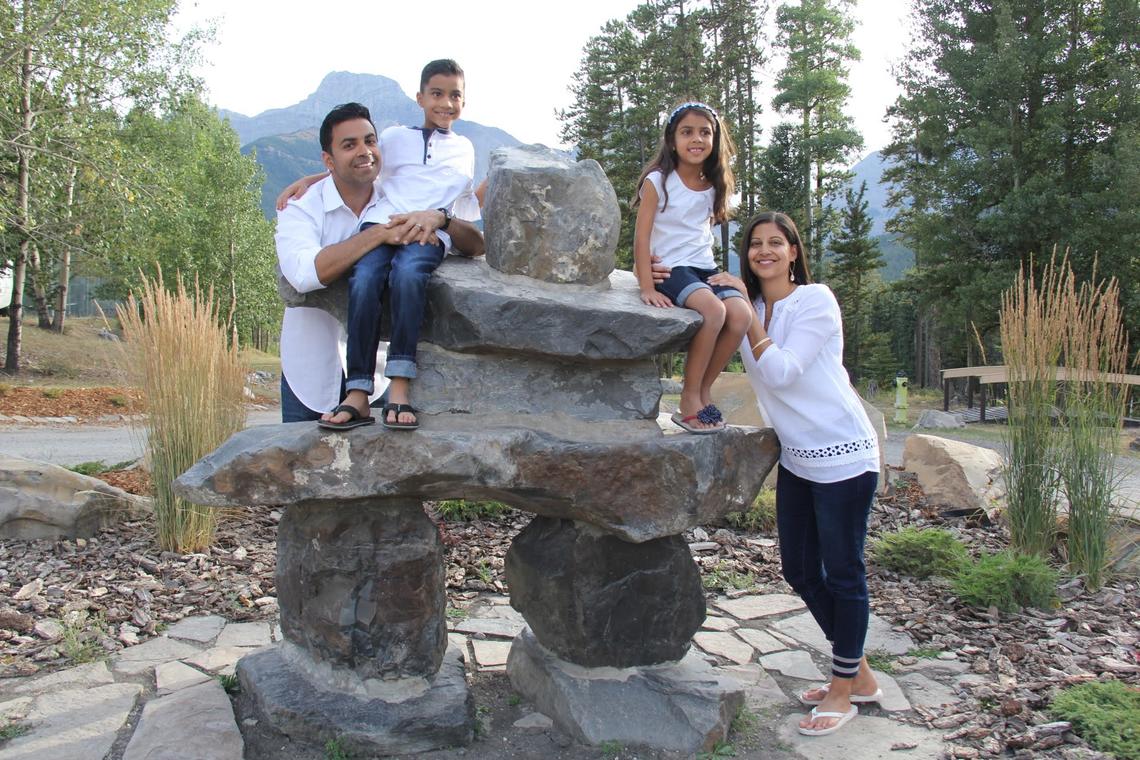 "My dad was brilliant and charming, hilarious, loving and adored. I'm grateful to him for his devotion to his family and community, and for his example of goodness. I'm also thankful that so many of his qualities live on in my brother and sister, Shafique and Shainoor [MD'98, MSc'08], and in his four grandkids. So, it's as if my dad's still around. Three months before he died suddenly in 2019, he and my mom celebrated their 50th wedding anniversary with a small party. In front of everyone on that day, he thanked my mom for showing him how to nurture and teach children, and for her patience with him as they raised us. So, I want to thank her most of all. It's like he said then, everything good is because of her."
— Dr. Hakique Virani, MD'01