What if "work" was something you didn't have to do, but wanted to do? Grappling with this mind-melder is really what it came down to for Eric Termuende, BComm'14, the 2022 recipient of the Early Career Achievement Arch Award. Diving into this thorny area led the Haskayne School of Business grad to not only pen a bestselling book, Rethink Work: Finding and Keeping the Right Talent, but this 30-year-old powerhouse quickly became an international speaker and an expert on intergenerational work issues.
How different work cultures (and countries) are emerging from the pandemic has given Termuende a front-row seat to what he's dubbed the Great Reconfiguration — not the Great Resignation (what he says is more evident in the U.S. than in Canada). Taking a break from clocking 250,000 kilometres in business travel (in an average year), Termuende took time to chat.  
Has COVID-19 upended any of your theories on workplace culture? No. Years ago, we figured (though were too scared to share) that 60 to 70 per cent of people were in the wrong job. Today, the Great Resignation (more so in the U.S.) suggests that we may have been right. Personally, I prefer the term "reconfiguration" rather than "resignation," which suggests quitting and disappearing. Reconfiguration suggests moving, which is largely what is happening.  
What do you hope to have achieved by 40? That I'm a loving father and husband, have more free time, a flexible schedule and have been able to work with incredible people along the way.  
What is your biggest fear when you look at emerging workplaces? Some people think cash trumps culture. Cash attracts talent, but it's the experiences, the culture, that keeps people.  
What are some of the most progressive work cultures that you've encountered? Bench [an accounting software company] in Vancouver has always been a beacon for me, not because what they do works for everyone, but because it works for them. Each department works almost independently with their own HR, marketing, etc.  
What was your most memorable class you took at UCalgary? BSEN 395 [Business Law for Strategic Decision Makers]. 
Toughest course at UCalgary? Accounting, many times over.  
What is your idea of perfect happiness? Falling asleep as soon as my head hits the pillow. 
What is your greatest fear? Accidentally photo-bombing a viral photo with my mouth full. 
Which living person do you most admire? Marcus Buckingham [A California-based author and motivational speaker]. 
What is your greatest extravagance? Dessert(s). 
What is your greatest regret? It may sound like a cliché, but my regrets are my biggest lessons. 
Where would you most like to live? Where I am now — in Vancouver, B.C. 
What is your most treasured possession? The photo album on my phone. 
What do you most value in your friends? Dependability. 
Who is your hero of fiction? Tony Stark [the Marvel Comics character known by his alias, Iron Man]. 
Who are your heroes in real life? Anyone who is truly doing the best they can and are happy because of it. 
What is your motto? Fake it, 'til you become it. 
What is it that you most dislike? Laziness.  
What is your most marked characteristic? Trust. 
Where are you happiest? On top of a mountain. 
Which living person do you most despise? I'm a lover, not a hater. 
What do you consider the most overrated virtue? Authenticity. 
Which words or phrases do you most overuse? "I think."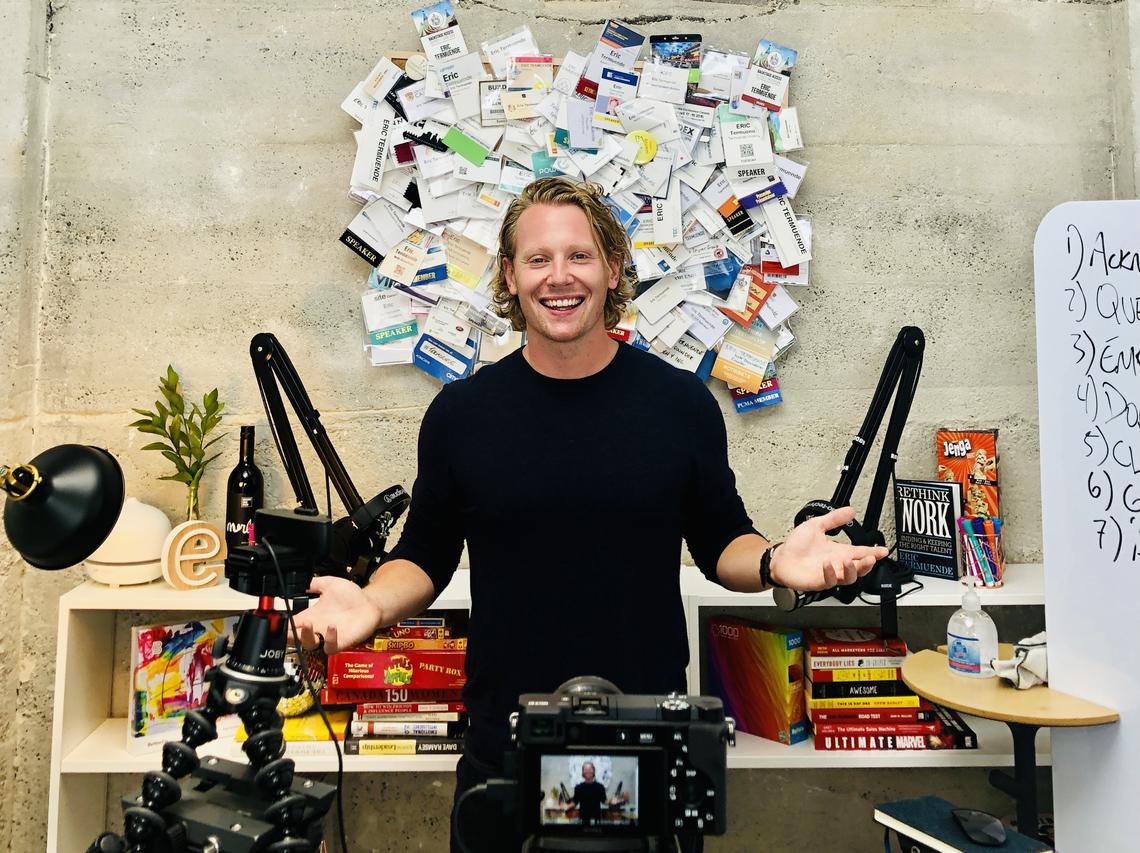 "I have so many to thank: (1) Kim Neutens (for my first international entrepreneurial experience); Leighton Wilks, BA'00, MBA'07, (for giving me trust, flexibility and understanding); Rob Malak (humour, happiness and enthusiasm); Janice Eliasson (for advice on style, delivery and passion); Gareth McVicar (thank you for the possibility . . . a chance); Jeff Marshall (SU) (for giving me poise and leadership); [Former UCalgary Chancellor] Jim Dinning (who helped give me a voice); Lindsay Reid [formerly with UCalgary Alumni] (you gave me a stage, trust, help); Robin Dinnage (SU) (who gave me attention, time, care and heart), and Carol Wert [formerly with UCalgary Alumni] (for her care, interest and curiosity). And then there's [Haskayne Dean] Jim Dewald, who provided a foundation, and has always given me his unwavering support, and is generous with his time, knowledge and willingness to help." 
— Eric Termuende, BComm'14