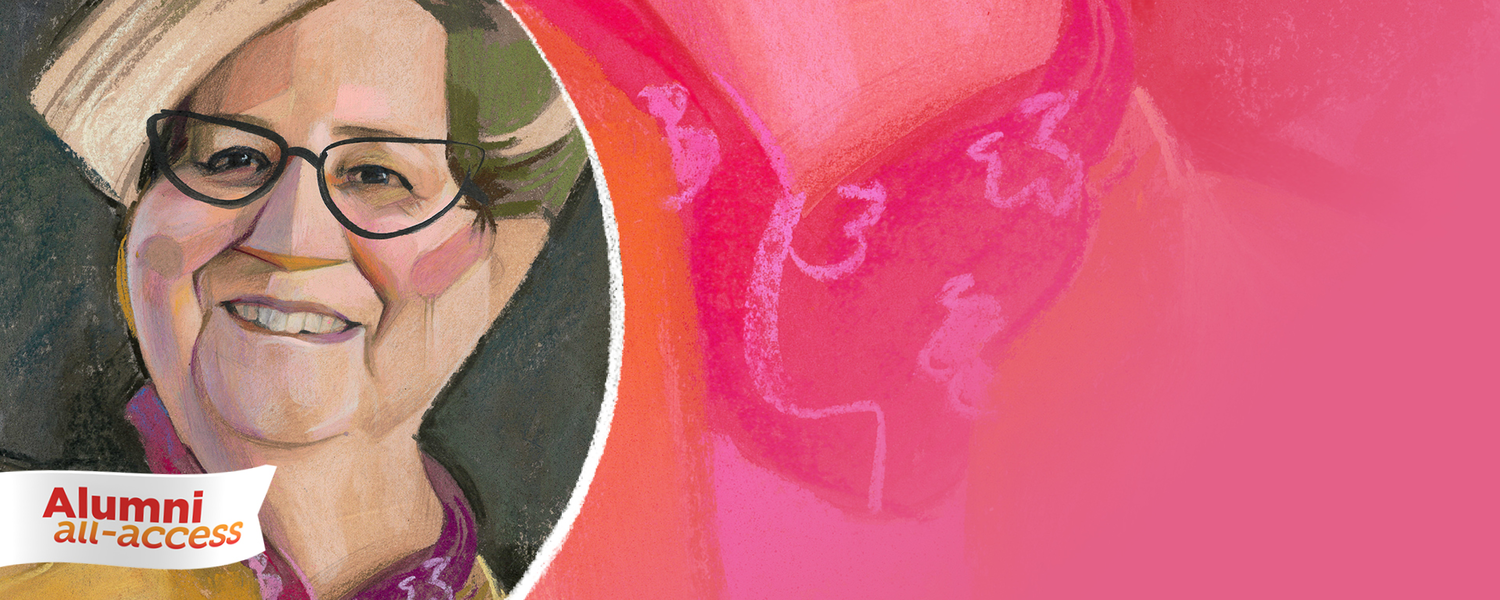 Dr. Sharon Friesen, BEd'86, MEd'91, PhD'00
Career Achievement Award
Honours those whose careers have made a positive and significant contribution to their community.
Let's just say the triple alumna who received the 2021 Arch Award for Career Achievement likes best to operate in a "challenge culture" — a gentle way of saying she's comfortable with pushback and has always questioned the status quo. By doing so, Dr. Sharon Friesen, BEd'86, MEd'91, PhD'00, has become an exemplar and reformer in education circles, here and abroad. The Galileo Education Network — which has left its fingerprints on more than 500,000 students and thousands more teachers and principals across the planet — was co-founded by Friesen and has been recognized by the Organization for Economic Co-operation and Development as one the world's most powerful professional learning networks. At the helm of this provocative approach to design-based professional learning, the multipronged Galileo Network acts as an incubator, an advocate of teaching and learning, and as an innovator of professional learning practices and networked digital technologies that have shattered old theories and blasted new pathways into ways of thinking and working in our world. When asked for an aha! moment in research, Friesen confesses that, although she is comfortable questioning, challenging and debating most ideas, "the status quo is difficult to disrupt as people's beliefs are much stronger than evidence."
What has been the biggest thrill in your academic career? Having students engage so deeply and fully with their learning that they enter a state of flow, evoking curiosity, a sense of ecstasy, inner clarity, self-efficacy, serenity, timelessness and intrinsic motivation to continue.
What has been the toughest course that you've taught at UCalgary? Teaching EDUC 420 – Issues in Teaching and Learning to a class of 350 undergrads who were in the first year of their program. They had little idea of the experience of teaching, except from the experience of being a student.
What is your idea of perfect happiness? Keeping peace with others and myself.
What is your greatest fear? To look back and regret not doing something because I was too afraid or too concerned about what others might think.
Who are your favourite writers? Maxine Greene and Toni Morrison.       
Who are your heroes in real life? Those who teach others.
What is your greatest regret? Not having enough time to learn and do everything I want.
What is your greatest extravagance? Glamping in the Serengeti.
Where would you most like to live? Right where I currently live.
What do you consider the most overrated virtue? Patience.
On what occasion do you lie? When I don't want to hurt someone.
What or who is the greatest love of your life? My three children and seven grandchildren.
Which words or phrases do you most overuse? "What we need is a day-stretcher"; "Really?"    
What do you consider your greatest achievement? Being known as a disruptive and a positive force for advancing student and teacher learning.
Which talent would you most like to have? The ability to play the piano.
What is your most treasured possession? My memories and experiences.
I offer a special thank you to my husband and my three children who believed in me, supported me, and encouraged me through all my professional endeavours. I would also offer my deepest gratitude to all the teachers, school and district administrators, administrators in various ministries of education in Canada and globally, and professional and academic colleagues who believed that it was not only possible to create stronger, more contemporary learning environments for students, but made this vision a reality.