Kick Off Your Morning with a Great Cup of Coffee and Intriguing Conversation
Join your fellow UCalgary alumni for breakfast and an expert-led, intimate and interactive discussion examining current trends, innovation, technology and more.
Dig in to the most important meal and topics of the day!
Dig In! to Blockchain 2.0
Date: Nov. 8, 2018
Time: 7 – 8:30 a.m.
Location: Phil & Sebastian Coffee Roasters, 102 8 (Stephen) Ave S.W.
Cost: $10, includes breakfast
It's been nearly 10 years since Bitcoin was announced, introducing blockchain technology to the masses.
In that time, blockchain has evolved beyond cryptocurrencies (of which there are more than 1,300!) and is now used in a variety of industries, with large organizations such as the Australian Stock Exchange working to implement the technology.
But despite the buzz, blockchain remains relatively mysterious to the every-day person and has some serious maturing to do before it will truly go mainstream.
Join us at Dig In! on Nov. 8 to explore:
the evolution of blockchain technology;

how the volatility of cryptocurrencies is affecting growth; and

the current state of the technology — and where it could go from here!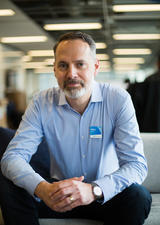 Mike Brown
Mike currently leads ATB's efforts around blockchain, where he actively identifies and manages opportunities to pilot and evaluate blockchain use cases with a vision to transform areas of our industry that are prime for disruption. In 2017, Mike joined the Advisory board for Blockchain Canada and leads ATB's involvement in the R3 Lab and Research Centre — a global industry consortium of over 80 banks collaborating on distributed ledger solutions. Mike's 20-plus years of experience managing various technology-focused initiatives in both the energy and digital marketing sectors, and degrees in engineering and computer science from the University of Saskatchewan, plus an MBA from Queen's University allow Mike to bring a unique perspective to ATB's innovation journey.
Arts, Sports, Culture, Jobs — What Makes Calgary a Great City?
As a global hub, Calgary has been raising its hand for all kinds of opportunities. With all this talk about diversifying Calgary's identity, we started to wonder: What makes our city great?
At this event, leaders in Calgary's economic and arts sectors discussed:
how hosting international events impact Calgary's local economy and global identity;
what it means to be a desirable city; and
why it's important that Calgary stop comparing itself to other cities.
How Does the Melting Arctic Affect Us All?
It's no secret the Arctic is dramatically changing, but what are the consequences? 
At this talk, we explored:
the geopolitical history of the Arctic and increasing political tensions; and
how the melting Arctic effects our economy, environment and military.
 
How Augmented Reality is Changing What we See
From Google Glass to Pokémon Go and Snapchat filters, augmented reality is changing the Calgary business landscape and how we perceive our current reality.
At this talk, we explored how augmented reality is:
changing the Calgary business landscape — from big business to small business, non-profits and everything in-between;
transforming our most-used devices; and
changing how we see our current reality.
The Transformational Potential of Blockchain
Perhaps best known for its use in cryptocurrencies like Bitcoin, blockchain technology has the potential to transform many industries, from health care and natural resources, to clean tech and transportation. 
At this talk, we explored how blockchain:
is revolutionizing technology around the world;
could impact your personal life and business in Calgary; and
still has much untapped potential to offer.
Why is Affordable Housing Good for Everyone?
High housing and rental costs, coupled with a rising cost of living, are evolving the landscape of affordable housing in Calgary, including what it looks like, who needs access to it and how everyone benefits. 
At this talk, we explored:
why Calgary lags behind the national average for affordable housing and how this issue is being addressed;
the evolution of affordable housing in our city, including those who benefit; and
the broad-reaching benefits affordable housing has on the city and all residents.