Dig In!
Come dig in to the most important meal and topics of the day!
Kick Off Your Morning with a Great Cup of Coffee and Intriguing Conversation
Join your fellow UCalgary alumni for breakfast and an expert-led, intimate and interactive discussion examining current trends, innovation, technology and more.
Dig in to the most important meal and topics of the day!
Dig In! The Internet of Things
Date: May 9, 2019
Time: 7 – 8:30 a.m.
Location: Phil & Sebastian Coffee Roasters, 102 8 (Stephen) Ave S.W. (see map)
Cost: $10, includes breakfast
Every day, we share huge amounts of data across countless smart devices to increase convenience and efficiency in our day-to-day activities at home, work, community and beyond — from phones and homes, to transportation and health care.
But this hyper-connected world — which is called the "Internet of Things" — has a dark side. The huge amounts of data continually collected and generated by smart devices also leave us exposed to growing security and privacy challenges.
Join us at Dig In! on May 9 for an eye-opening conversation about how UCalgary researchers are working towards a safer and more secure digital world as the Internet of Things continues to expand and multiply.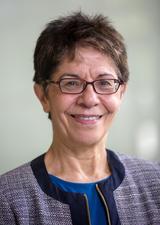 Dr. Rei Safavi-Naini, PhD
Dr. Rei Safavi-Naini, PhD, holds both the NSERC/Telus Industrial Research and AITF Strategic Research chairs in information security at the University of Calgary. She is the co-founder of the Institute for Security, Privacy and Information Assurance at UCalgary, and served as its director until December 2018. She has been published widely in premier journals, has presented at conferences on information security and privacy, and has given numerous keynote talks, most recently at Chinacrypt 2018 and the joint session of International Conference on Information Theoretic Security and Cryptology and Network Security in 2017. Safavi-Naini has served on the editorial board of major information security journals, has been a member of program committees for leading conferences, and has served as the program chair of major conferences such as Crypto, Financial Cryptography, and Applied Cryptography and Network Security. She is currently associate editor of IEEE Transactions on Information Theory, IET Information Security and the Journal of Mathematical Cryptology. She has a long track record of industry-collaborative research in Australia and Canada. Her current research interests include post-quantum cryptography, communication and cloud security, and security in distributed systems.
Arts, Sports, Culture, Jobs — What Makes Calgary a Great City?
As a global hub, Calgary has been raising its hand for all kinds of opportunities. With all this talk about diversifying Calgary's identity, we started to wonder: What makes our city great?
At this event, leaders in Calgary's economic and arts sectors discussed:
how hosting international events impact Calgary's local economy and global identity;
what it means to be a desirable city; and
why it's important that Calgary stop comparing itself to other cities.
How Does the Melting Arctic Affect Us All?
It's no secret the Arctic is dramatically changing, but what are the consequences? 
At this talk, we explored:
the geopolitical history of the Arctic and increasing political tensions; and
how the melting Arctic effects our economy, environment and military.
 
How Augmented Reality is Changing What we See
From Google Glass to Pokémon Go and Snapchat filters, augmented reality is changing the Calgary business landscape and how we perceive our current reality.
At this talk, we explored how augmented reality is:
changing the Calgary business landscape — from big business to small business, non-profits and everything in-between;
transforming our most-used devices; and
changing how we see our current reality.
The Transformational Potential of Blockchain
Perhaps best known for its use in cryptocurrencies like Bitcoin, blockchain technology has the potential to transform many industries, from health care and natural resources, to clean tech and transportation. 
At this talk, we explored how blockchain:
is revolutionizing technology around the world;
could impact your personal life and business in Calgary; and
still has much untapped potential to offer.
Why is Affordable Housing Good for Everyone?
High housing and rental costs, coupled with a rising cost of living, are evolving the landscape of affordable housing in Calgary, including what it looks like, who needs access to it and how everyone benefits. 
At this talk, we explored:
why Calgary lags behind the national average for affordable housing and how this issue is being addressed;
the evolution of affordable housing in our city, including those who benefit; and
the broad-reaching benefits affordable housing has on the city and all residents.