Dig In!
Come dig in to the most important meal and topics of the day!
Kick Off Your Morning with a Great Cup of Coffee and Intriguing Conversation
Join your fellow UCalgary alumni for breakfast and an expert-led, intimate and interactive discussion examining current trends, innovation, technology and more.
Dig in to the most important meal and topics of the day!
Dig In! Imposter Syndrome
Date: March 7, 2019
Time: 7 – 8:30 a.m.
Location: Phil & Sebastian Coffee Roasters, 102 8 (Stephen) Ave S.W. (see map)
Cost: $10, includes breakfast
Imposter Syndrome can affect your job satisfaction and career advancement, not to mention the toll it takes on mental health.
Imagine breaking through this endless cycle of self-doubt to confidently thrive at work and in life.
Join us at Dig In! on March 7 for an eye-opening conversation with alumnus Derek Luk, BN'07, founder of the mindfulness-training organization Mimentra.
You'll discover how prevalent Imposter Syndrome is (it's expected to affect 70 per cent of people, regardless of age, gender or profession) and the many different ways persistent feelings of inadequacy can manifest in your life.
And you'll leave armed with Derek's advice on how to use mindfulness to cut through negative self-talk and how to lean into feelings of discomfort to cultivate a courageous sense of self-compassion.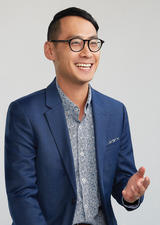 Derek Luk, BN'07
Derek Luk is the founder of Mimentra, an award-winning social enterprise offering mindfulness-based programming. Through his collaboration with the community, he was named a member of the Top 40 Under 40 in Avenue Magazine and Nursing Educator of the Year from College and Association of Registered Nurses of Alberta in 2018. He has collaborated with organizations such as the University of Calgary Students' Union Wellness Centre and Calgary Police Service. Derek's current role as a senior consultant with Alberta Health Services focuses on emerging education and quality improvement.
Arts, Sports, Culture, Jobs — What Makes Calgary a Great City?
As a global hub, Calgary has been raising its hand for all kinds of opportunities. With all this talk about diversifying Calgary's identity, we started to wonder: What makes our city great?
At this event, leaders in Calgary's economic and arts sectors discussed:
how hosting international events impact Calgary's local economy and global identity;
what it means to be a desirable city; and
why it's important that Calgary stop comparing itself to other cities.
How Does the Melting Arctic Affect Us All?
It's no secret the Arctic is dramatically changing, but what are the consequences? 
At this talk, we explored:
the geopolitical history of the Arctic and increasing political tensions; and
how the melting Arctic effects our economy, environment and military.
 
How Augmented Reality is Changing What we See
From Google Glass to Pokémon Go and Snapchat filters, augmented reality is changing the Calgary business landscape and how we perceive our current reality.
At this talk, we explored how augmented reality is:
changing the Calgary business landscape — from big business to small business, non-profits and everything in-between;
transforming our most-used devices; and
changing how we see our current reality.
The Transformational Potential of Blockchain
Perhaps best known for its use in cryptocurrencies like Bitcoin, blockchain technology has the potential to transform many industries, from health care and natural resources, to clean tech and transportation. 
At this talk, we explored how blockchain:
is revolutionizing technology around the world;
could impact your personal life and business in Calgary; and
still has much untapped potential to offer.
Why is Affordable Housing Good for Everyone?
High housing and rental costs, coupled with a rising cost of living, are evolving the landscape of affordable housing in Calgary, including what it looks like, who needs access to it and how everyone benefits. 
At this talk, we explored:
why Calgary lags behind the national average for affordable housing and how this issue is being addressed;
the evolution of affordable housing in our city, including those who benefit; and
the broad-reaching benefits affordable housing has on the city and all residents.