Idea Exchange
Join us in Calgary and around North America to explore ideas that challenge our perceptions and push boundaries! 
Idea Exchange in San Francisco | Oct. 29, 2018
How can we best improve our health care system to prolong human life?
We can look at complex diseases that are already heavily researched — but still difficult to cure.
Another, often-overlooked area is slow diagnostics, which can have compounding and life-threatening implications.
Join us in San Francisco to discover how UCalgary is tackling this issue by:
identifying current technical limitations;
developing a new generation of rapid-diagnostic tools and practices; and
partnering with Calgary Laboratory Services — one of the largest consolidated testing laboratories in North America — to research and test new technology at a unique scale and speed.
UCalgary President Elizabeth Cannon invites alumni, donors and friends to join her for her final official visit to San Francisco to explore how the university and its partners are leading life-saving research by focusing on technology first!
She'll be joined by Dr. Ian Lewis, PhD, UCalgary assistant professor and Alberta Innovates – Health Solutions Translational Health Chair in Metabolomics. Dr. Lewis will lead the evening's discussion about how improved technology will reshape disease management and potentially save countless lives worldwide. UCalgary alumnus Todd Simpson, BSc'87, PhD'90, partner, iNovia Capital, will moderate the discussion.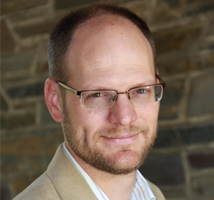 Meet the speaker
Dr. Ian Lewis is an assistant professor and Alberta Innovates – Health Solutions Translational Health Chair in Metabolomics in the Department of Biological Sciences at the University of Calgary. Dr. Lewis earned a PhD in biochemistry from the University of Wisconsin-Madison and completed his postdoctoral training at Princeton University. He was recruited by UCalgary to launch a research program that harnesses state-of-the-art technology to detect and combat infectious diseases. As a part of this program, Dr. Lewis built the Calgary Metabolomics Research Facility (CMRF), an analytical lab that specializes in unravelling the complex host-pathogen metabolic interactions that occur during infections. Recently, he partnered with Calgary Laboratory Services to launch a suite of new diagnostic tools and treatment practices that may significantly reduce the number of people who die from infections. 
Every great idea starts with a question.
And every great question unveils an answer that sparks action.
Come discover the big questions and answers that have propelled UCalgary researchers to explore groundbreaking ideas that will transform how we live, work and play.
Watch for our 2019 Idea Exchange topics to be announced soon.
Topics we explored in 2018 included:
the ways in which we're outsmarting cancer;
what the future of energy looks like;
how augmented intelligence is revolutionizing medicine;
why the brain is the key to healthy aging; and
how we're improving concussion prevention and treatment in young athletes.
Join Us in a City Near You!
Watch for us to announce our 2019 Idea Exchange Tour locations soon.
Our 2018 tour included stops in:
New York
Washington, D.C.
Houston
Toronto 
Ottawa
Vancouver
San Francisco