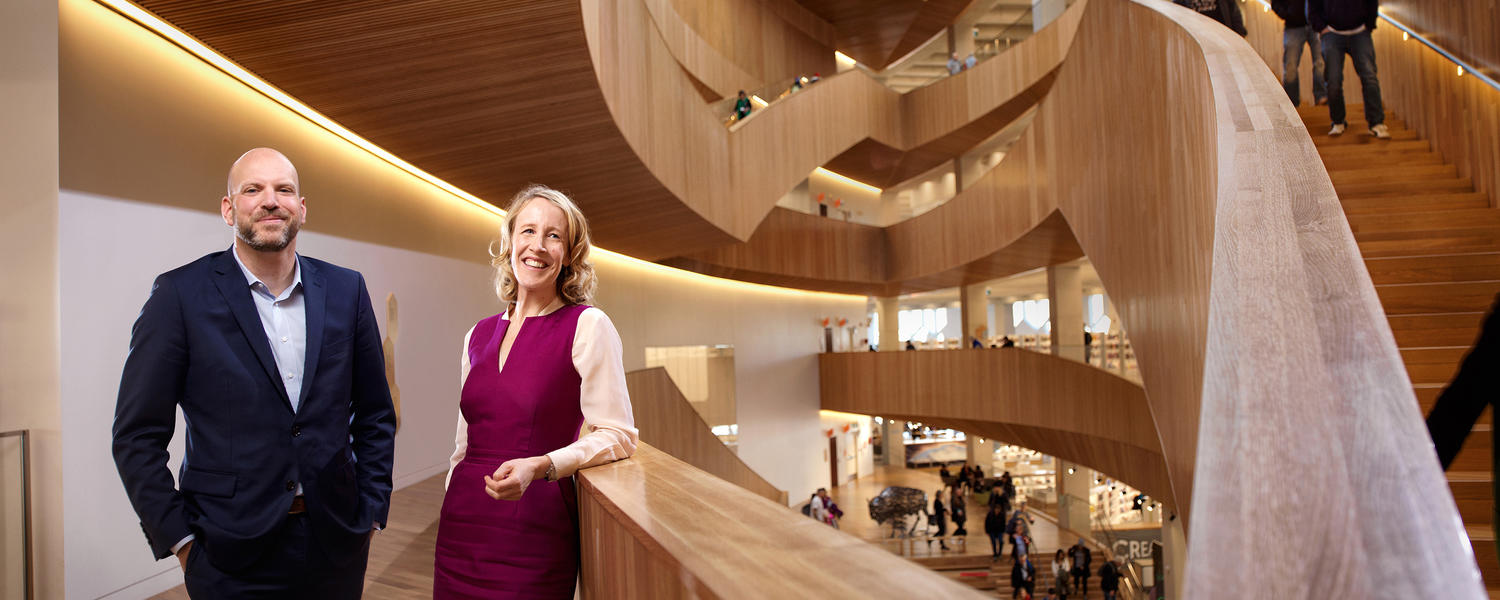 Central Library
Michael Brown, BA'98
Kate Thompson, MArch'02
by Christina Reynolds    main photo by Roth and Ramberg
THE CHAMPIONS OF PUBLIC SPACE
On the fourth floor of Calgary's new Central Library, there is a hallway that curves around the main reading room. Cut into the light-wood wall that faces geometric windows are a couple of semi-circular seating nooks: It's the perfect out-of-the-way spot for a quiet conversation, or maybe even a sunlit catnap. This is Kate Thompson's favourite spot in the library.
"It's an in-between space and it embodies the architectural concept on a small personal scale," says Thompson who, as vice-president, development, at the Calgary Municipal Land Corporation (CMLC), has managed the library's project management team since 2013. Her team oversaw architects, hired contractors — and completed the project early and under budget. She also leads the development of master plans for the East Village and the Rivers District.
Originally from Winnipeg, Thompson was drawn to the city for her Master of Architecture; she has been a UCalgary sessional instructor since 2004 and is a member of the Dean's Circle in the Faculty of Environmental Design, newly renamed the School of Architecture, Planning and Landscape. When she graduated in 2002, she couldn't have imagined this career that she describes as a "project champion" — in fact, such a role didn't exist at the time. The City of Calgary created the CMLC in 2007; it was one of the first organizations of its kind in Canada. "The impact and influence on the urban landscape that I can have through this job is bigger than I thought it could be," Thompson says. "It shows the richness of potential in this profession."
Michael Brown, a born-and-raised Calgarian who studied political science at UCalgary, has been president and CEO of the CMLC since 2011. He is thrilled to be leading what he calls a "place-making company" that creates inclusive, functional, adaptable, affordable community spaces. His job is to look at the bigger picture — and to the future.
"Projects aren't as successful if they are designed in isolation," he says. "It's about connecting the larger community. There can't be too much focus on just the buildings; it has to be about using whatever we have." As an example, Brown cites the redevelopment of St. Patrick's Island in the Bow River with its 31 acres of parklands, playmounds, picnic groves, plazas and pathways. "These are places where we can all come together," he says of the library and the nearby island park — as well as the other public spaces that connect them all together.
The CMLC's partnership with UCalgary's new downtown City Building Design Lab is another big part of enhancing the city's connections. "I love that we will bring more professors into public spaces, and right into the core of the city," Brown says.
Projects aren't as successful if they are designed in isolation. It's about connecting the larger community.