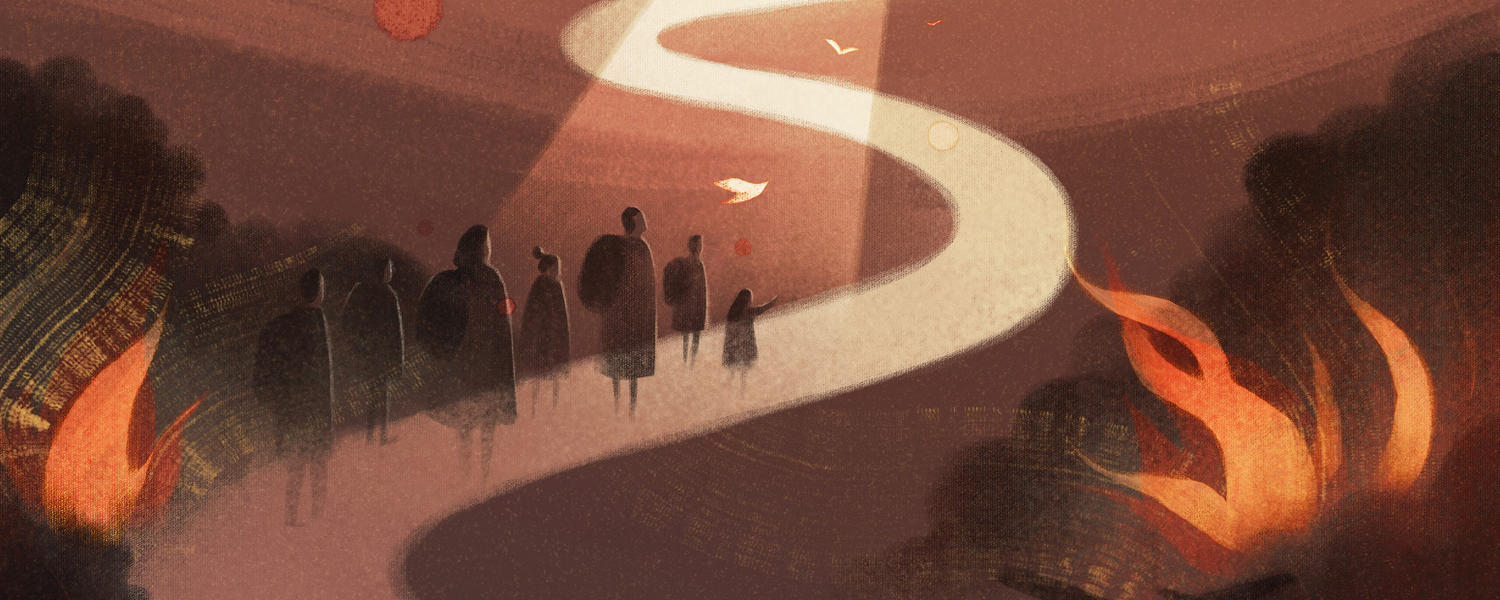 How Do We Protect the Most Vulnerable?
With a willingness to take on entrenched and challenging urban issues, UCalgary alumni, students, faculty and researchers are assisting those who live on the margins
by Mike Fisher    illustrations by Jasu Hu
For Dr. Ibrahim AlMasri, the long road from Damascus, Syria, to Calgary began on April 17, 2012, when a Land Cruiser rolled up as he walked on a crowded city street.
A working physician in his fourth year of residency as a pulmonology specialist at Damascus University, he was enjoying a bright spring day.
The passenger window eased down and a bulky man with a shaved head and dark sunglasses motioned to him. "Can I help you?" asked AlMasri, figuring the four men in the car needed directions.
Help? No.
They jumped out of the car, pulled AlMasri's hands behind his back, ratcheted plastic ties around his wrists, pulled his shirt up to cover his eyes and pushed him into the vehicle, then sped off.
"I couldn't catch my breath," AlMasri says, recalling the scene from almost seven years ago. "They were Syrian air force intelligence, dressed in jeans and T-shirts, armed with Kalashnikovs. They didn't identify themselves. They just grabbed me and that was it."
Demonstrations were erupting in Damascus as civilians protested for their rights, and AlMasri found himself caught in the tectonic political shifts that would later erupt into war. "As a physician, I was beginning to see human rights issues," he says. "I believed then, as I do now, that everyone has the right to get medical treatment, regardless of their political views."
He swiftly found himself in jail along with other alleged dissidents. He spent four months there, enduring torture at times, before being suddenly released, without explanation.
Some of his friends had been killed, arrested or had fled the country. Finding himself fired from his residency program, AlMasri fled to Lebanon where he established a medical clinic to help refugees, which has become a celebrated Multi-Aid Program. Then he had to leave Lebanon for Canada because the Lebanese government cracked down on physicians who were not licensed; refugees were only allowed to work in construction or agriculture. He came to Calgary with his wife and one-year-old son in 2017 as a privately sponsored refugee.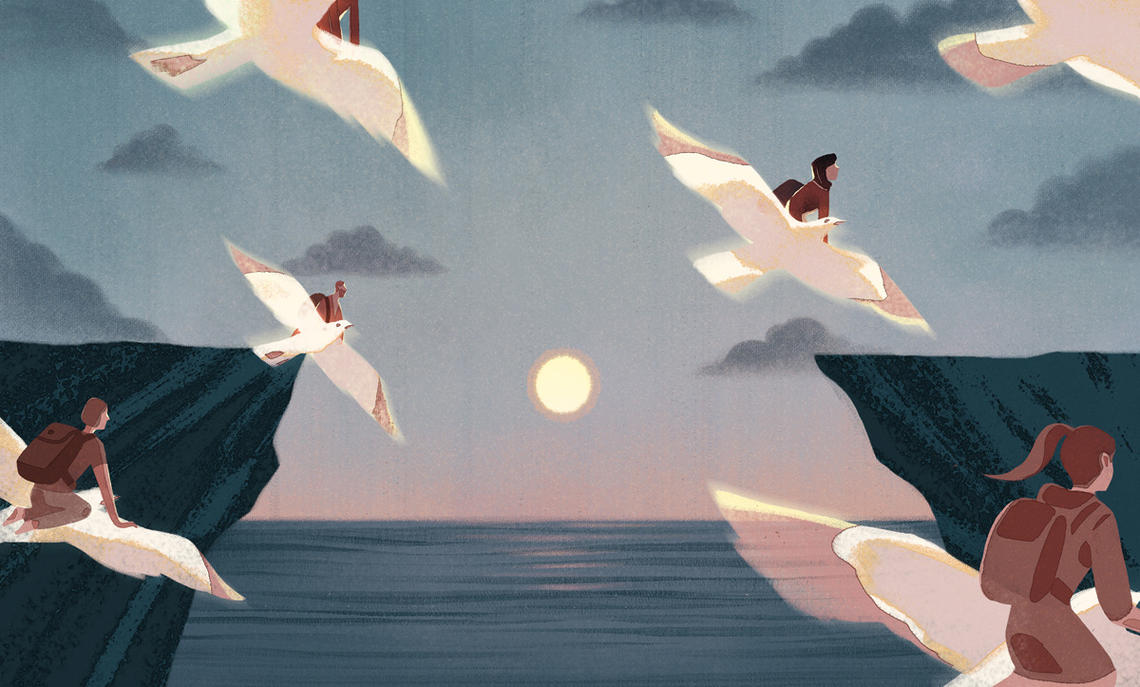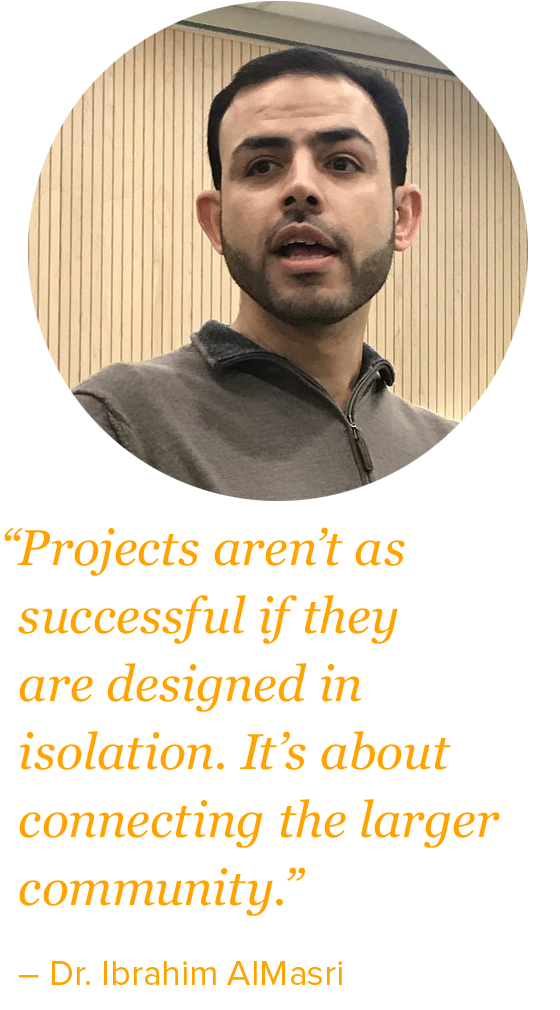 Gaining perspective from high on the hill
Now a research assistant with UCalgary's O'Brien Institute for Public Health, AlMasri swivels in an office chair to take in the view of the Foothills Hospital and a jumble of low-slung office buildings that rise above the Bow River pulsing through the city.
Both the Foothills and main campuses sit high on a hill, overlooking the city where AlMasri and other researchers live and work amidst its daily thrum of triumphs and glitches. They're working to study, evaluate and find solutions to urgent problems in Calgary — issues that are common to many modern cities. Newcomers to Canada, homeless people, teens in crisis, the elderly — urban problems flaring around the planet that require hands-on work that reaches beyond the halls of academia.
"Whether it's Calgary or Beirut or another big city, we see similar challenges," says AlMasri, who divides his time between working with seniors and refugees. "People being displaced as refugees often come directly from cities now, rather than from refugee camps — that's just one example, and it is one of many as we look to the future."
In the next year, AlMasri plans to work with Cumming School of Medicine (CSM) supervisors Dr. Gabriel Fabreau, BSc'04, MD'08, and Dr. Kerry McBrien, MD, on a proposed "health navigation for newcomers, by newcomers" project, to which he can bring his hard-won experience. He remembers how, when he arrived in Canada a few years ago, he was left bewildered at times by the Canadian health-care system. Many newcomers, while grateful to have access to health care in a new country, are unsure how to navigate it, especially if they don't speak English. 
The CSM, other UCalgary faculties and community frontline groups serving those who are most vulnerable in Calgary, work together on finding solutions to diverse, thorny problems. UCalgary faculty, staff, students and alumni work with frontline agencies including Calgary Urban Project Society (CUPS), the Calgary Drop-In Centre, the Alex Community Health Centre and Mosaic Refugee Health Clinic (MRHC), among others.
"The world is facing the highest numbers of forcibly displaced people ever and the numbers continue to rise — it is a growing problem," says Fabreau, who heads up Refugee Health YYC, a UCalgary program that is advancing research and innovation to improve health outcomes for refugees in Calgary and Canada. He also practises medicine as a clinician with the MRHC, which serves more than 1,800 clients annually, making it one of the largest of its kind in the country.
"The City of Calgary is a leader in refugee-    resettlement and health care because there is a historical context of relationships within the community that stretches back to 2002, in response to displaced Sudanese from the war in Darfur," Fabreau says. "Partnerships, including the Calgary Catholic Immigration Society, along with Alberta Health Services, are a strength."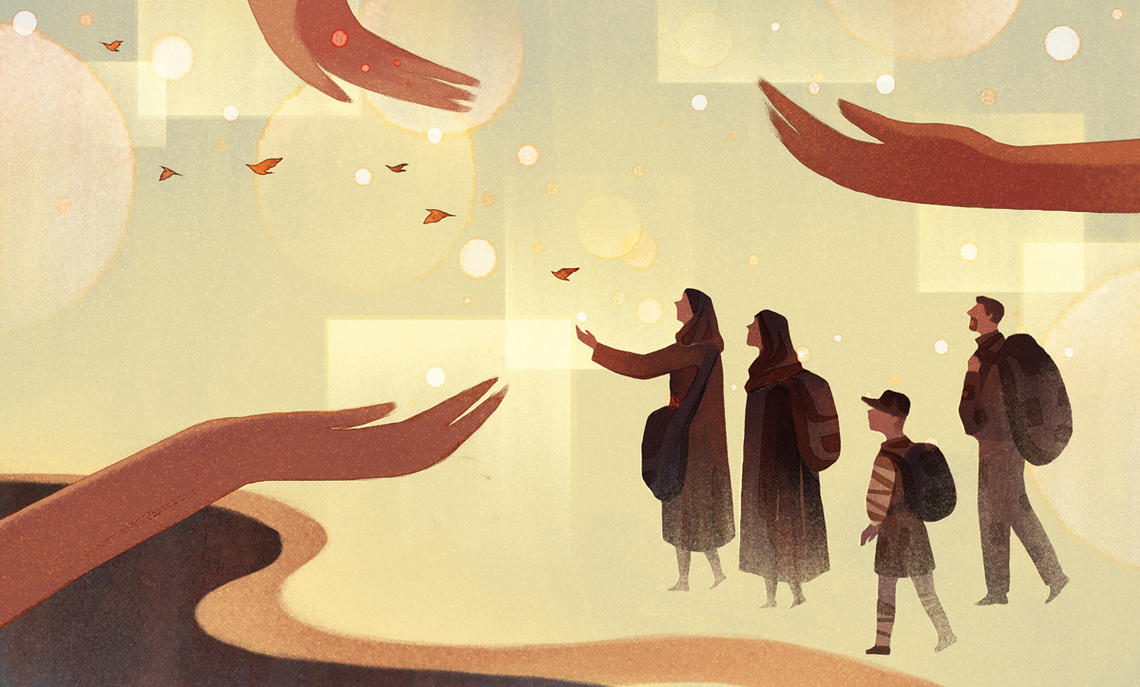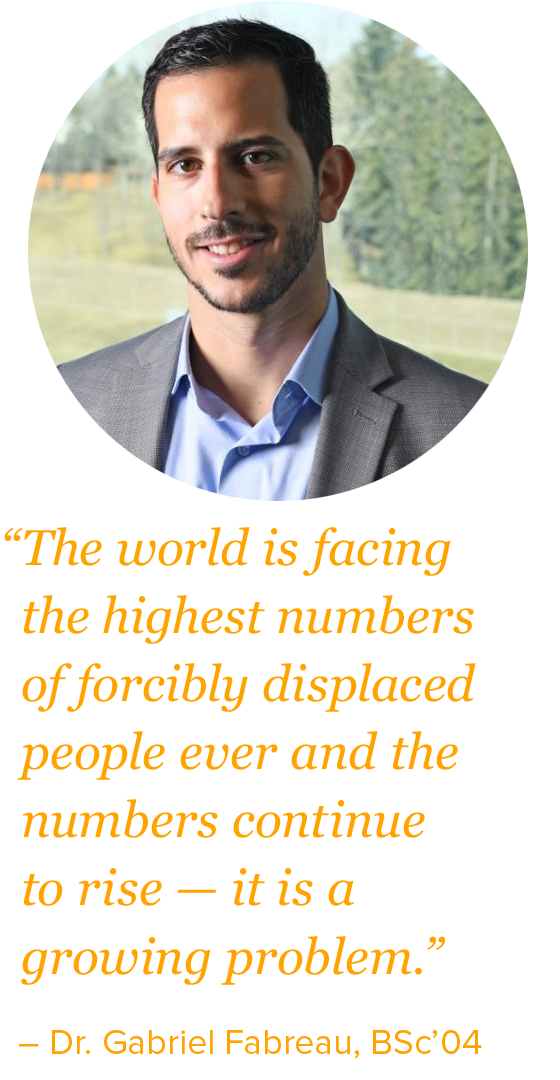 Making a difference with community engagement
At UCalgary, medical school students who elect to do a concentration in global health equity can be linked to a Street CCRED (Street Community Capacity in: Research, Education, and Development) collaborative physician, gaining a local perspective they could apply elsewhere in the world.
"One of the key pillars of the [CSM] strategic plan is community engagement, which aligns with the University of Calgary vision to be accountable, responsive and engaged with the communities that we lead and serve," says Dr. Jennifer Hatfield, PhD'01, professor in Community Health Sciences.
Dr. Bonnie Larson, BA'96, MA'99, MD, a clinical assistant professor in the Department of Family Medicine at CSM and director of the Global Health Enhanced Skills Program, has long dedicated herself to serving marginalized people and vulnerable populations. Last year, the Alberta Medical Association honoured her as a public health hero.
"The main obstacle that Calgary faces, as do other cities, is distribution of resources," says Larson, who is a family physician at CUPS, a non-profit agency dedicated to helping individuals and families in Calgary overcome poverty through integrated health care, education and housing services. "Marginalized folks are chronically under-resourced. To remedy the problem, we need the right infrastructure and the political will."
She views collaboration as a key to solving urban problems. "Complex problems require complex solutions," says Larson, who, among her many roles, has worked as a family physician with the Calgary Refugee Health Program, attending to newly arrived refugees. "We need to work together on multiple levels to apply what we know in academia. If we involve the community to create solutions, we can generate a compassionate community response to suffering."
At the centre of several major collaborations between the City and UCalgary, Larson is the lead and a founder of Street CCRED, a hub for community members, frontline workers, social agencies and scholars working to solve homelessness and other urban problems. Additionally, she co-founded Calgary's Allied Mobile Palliative Program (CAMPP), which works to improve end-of-life care for the vulnerably housed.
Housing for vulnerable populations is a major challenge for cities, today and in the future, says Larson. "We need to pay very close attention to the issues arising from an aging population's impact on our health-care system and housing, and it's something that we need to watch globally," she says. An estimated one in four Canadians will be over the age of 65 by 2030, accounting for 80 per cent of housing demand in Canada.
A team from UCalgary's newly renamed School of Architecture, Planning and Landscape isn't waiting until the 2030s; it's exploring housing solutions for the aging population now. With CSM's O'Brien Institute for Public Health and the City, it is designing aging-in-place laneway housing prototypes that are expected to be brought to market in the future. And Calgary is watching; in January 2019, city council was considering new plans for laneway homes.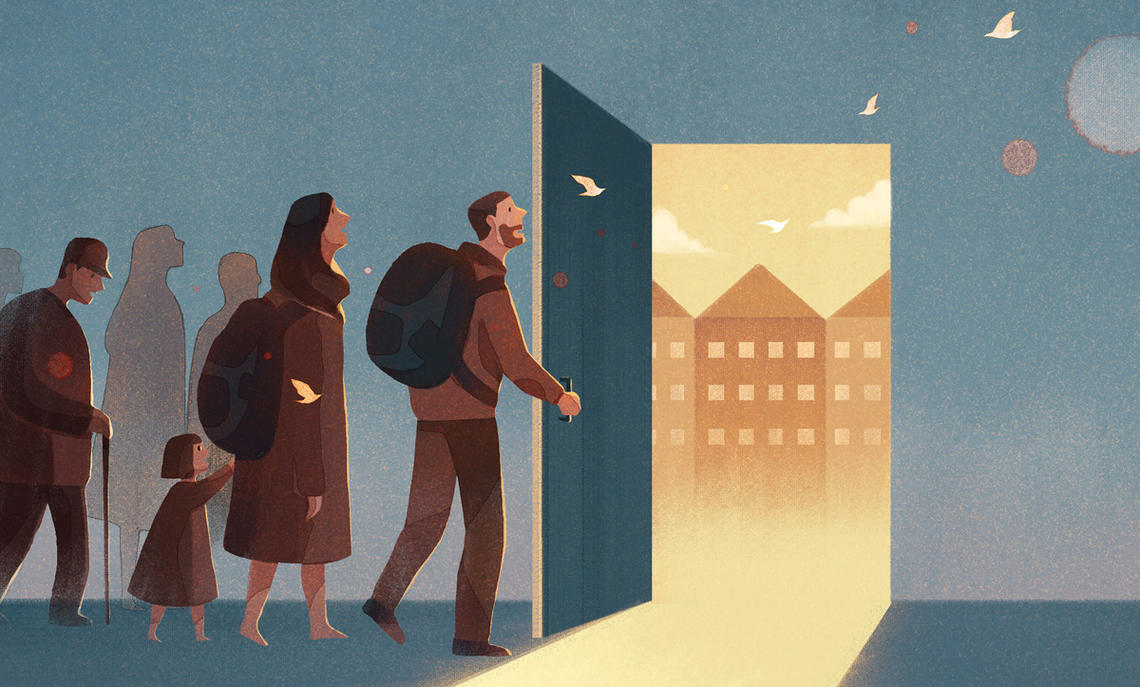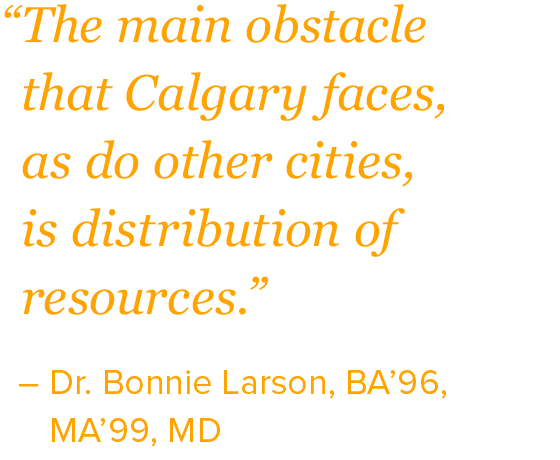 Community agencies collaborate on massive research project
Even as the university innovates with housing, there is much work to be done to eradicate homelessness in Calgary and elsewhere, says Dr. Katrina Milaney, BA'92, MEd'07, PhD'14, a CSM public health researcher. Born and raised in Calgary, she's seen wrenching changes in the city over the past 25 years, including homeless rates that worsened exactly as the city's traditionally boom-bust economy allowed many people to thrive.
After leading a wide-reaching collaborative research project with the Calgary Recovery Services Task Force that focused on 300 chronically homeless people in the city by examining their health and needs (a project involving 26 agencies, community groups and levels of government), Milaney is well aware that the one thing many Calgarians want — another boom — can also bring tough times for those less fortunate.
"Calgary is largely a very transient city, so we have a lot of people who come here for work when the economy is good, but it creates high rents and low vacancies," she says.
That spike in homelessness appears to have stabilized now that the economy is tepid. A Calgary Point-in-Time count, released in July 2018, identified 2,911 people experiencing homelessness in the city, and it continues to see a downward trend, according to the Calgary Homeless Foundation. That's almost a 19-per-cent decrease from its peak in 2008 when Calgary's 10 Year Plan to End Homelessness was launched.
The collaborative research that Milaney steered has resulted in concrete benefits for vulnerable citizens, particularly an investment of $750,000 in new funding from Alberta Health to push the recommendations ahead. Engaging organizations in the community was essential to the project's success, she says.
"The university is building evidence around the issues," says Milaney. "We can work toward fixing problems through collaborations with community-based organizations."
Milaney's current research sees her actively engaged with family shelters in the city, the Aboriginal Standing Committee on Housing and Homelessness, Inn From the Cold, and Awo Taan Healing Lodge Society, an emergency shelter for Indigenous families. She says one of the biggest issues facing Indigenous families is a deep and profound experience of racism and discrimination.
"We're looking at gaps they are facing to sustain housing in Calgary," she says. "We know that family homelessness is increasing, and family homelessness is child homelessness."
Just ask Randy Pages, who came to Calgary from another city, only to experience the best and the worst of times.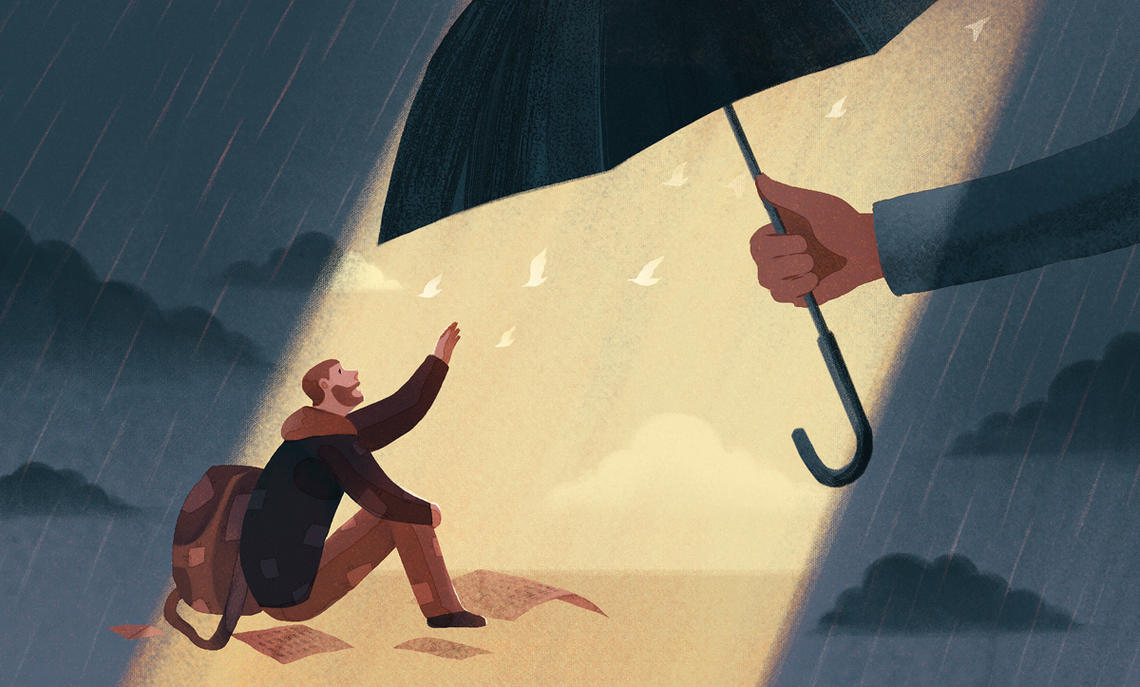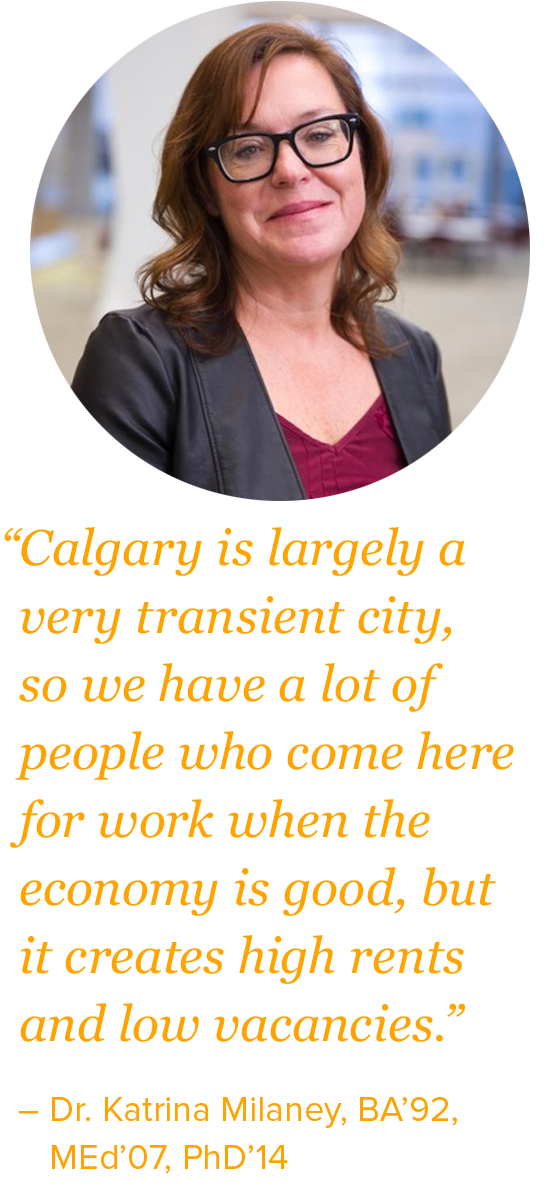 From living on the street and in shelters to affordable housing
It was snowing so hard during a massive blizzard in Winnipeg that 10-year-old Pages, who was poised on the edge of his second-storey bedroom window, could barely see what was below. The falling snow that had barricaded the main door to the family house was still rising. He wriggled in his parka, scrunched his hands in his mitts and, and not sure where he'd land, leapt.
"Hey, clear the door so we can get out," yelled his uncle a few moments later, throwing a shovel down to the boy, whose heart was beating quickly, thump thump thump — part fear, part thrill, part: how am I going to get out of this?
Thirty years later in Calgary, Pages was curled up on a bench in downtown Calgary's James Short Park, trying to get some sleep before daylight. He'd come to the city to visit a cousin and find a job, but things didn't work out as planned and he'd become homeless. That trajectory of his life, from carefree boyhood to being a guy on a bench with nowhere to go but up, seemed a blur. In some ways, things hadn't changed. On the streets, he still felt part fear, part thrill, part: how am I going to get out of this?
"I'd never really pictured me being that person, the guy sleeping in parkades or using the shelters, but, when the chips are down, you have no choice," says Pages, now 44, who has become a remarkable success story. "I was on the streets for four years. There was some freedom to it, sure, but the days blended into each other, months into years. You lose track of time. In survival mode, you're only thinking of getting through the day."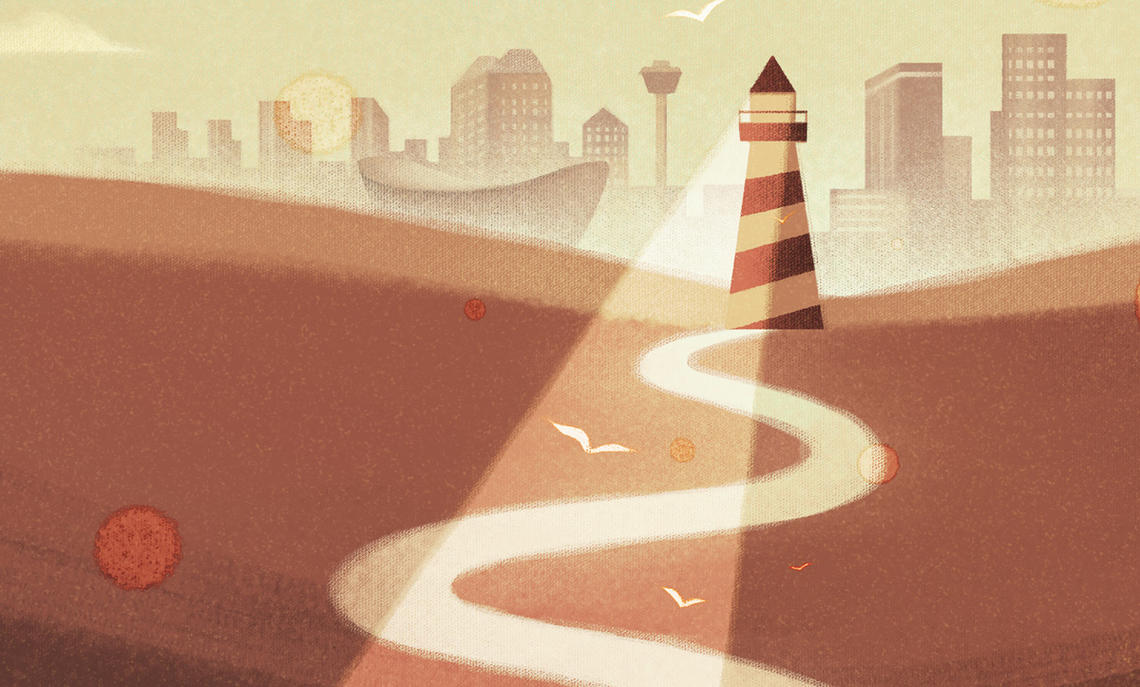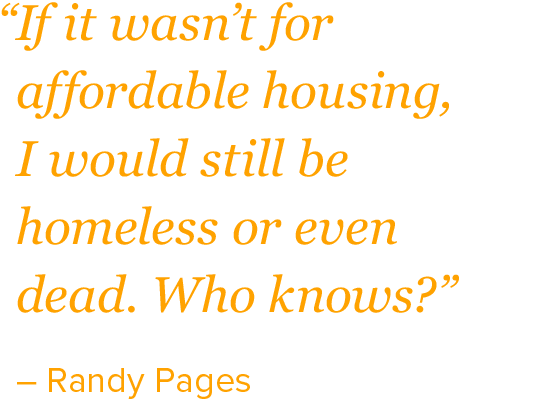 Pages spent years in Calgary's homeless shelters. A chance meeting with someone who worked with one of the agencies that helps people in the inner city get back on their feet led to another person at another agency who gave him a hand up. Soon, he was volunteering to help others, part of the intricate, sometimes haphazard chain of compassion that hoists lives upward.
"These people changed my life," Pages says. "They saw something in me at the time. It eventually got me into affordable housing, which is so important. If wasn't for affordable housing, I would still be homeless or even dead. Who knows?"
The affordable housing process in Calgary aims to provide access to safe and stable housing while creating inclusive communities. Nowadays, Pages uses his apartment in Bankview as a home base to do extensive volunteer work with the homeless community; he was named the Calgary Homeless Foundation's Volunteer of the Year in 2017.
The City of Calgary is working in collaboration with its wholly owned subsidiary, Calgary Housing Company, along with non-profit agencies, federal and provincial governments, and private-sector developers, to address the housing issue. But, with one in five Calgary households struggling to pay for housing costs (according to the City's Office of Land Servicing and Housing), the need for affordable housing is growing.
After 15 years of working with vulnerable populations, Milaney sees barriers to progress for the homeless that are invisible to many. "Homelessness is a complex issue. Many are in this situation because of forces that were out of their control," she says. "There's the idea that, if you're struggling, you're not trying hard enough. But people can carry challenges such as childhood trauma into adulthood, and it's not something you can see."
Dr. Kerri Treherne, MD, medical lead at the Alex Community Health Centre, who did her residency at UCalgary, has attended to hundreds of people considered to be part of vulnerable populations, including teenagers in crisis, some of whom have dealt with early childhood trauma. She's a tireless advocate for building strong communities, which she believes leads to better health. The Alex provides a wide range of health services to vulnerable populations.
"Kerri really helped me when I was a teenager," says Carla, who asked to use an alias for this story. "I was going in and out of homelessness and in the throes of alcohol addiction. Kerri and the Alex connected me to counselling and other resources that really helped me get on track."
Carla, who is now in her early 30s, works at a social agency in the city, using her experience to help others who face misfortune. She'd gone to the Alex for help because her mother, who was bipolar, was a client there.
"The Alex is a very forward-thinking organization, and the people there make it a very accepting place, which is so important. They do not judge," Carla says. "I came to realize later that early childhood trauma may have been a part of the reason I responded to life the way I did."
Dr. Keith Dobson, PhD, a professor of clinical psychology who leads UCalgary's Research Depression Laboratory, is working on research on Adverse Childhood Experiences (ACEs) that has included data from the Primary Care Networks in Calgary. An open trial of an intervention program for adults with high ACE traits has shown improvements in terms of anxiety and depression outcomes, he says.
A Syrian refugee, a once-homeless person now living in affordable housing, and a teenager who was helped by a frontline physician — UCalgary programs, initiatives and people have influenced each of them, and they, in turn, are giving back to the community.
Research may start in a campus office high on a hill, but the gains built with collaboration and compassion in the city are rooted in the grit of its citizens.