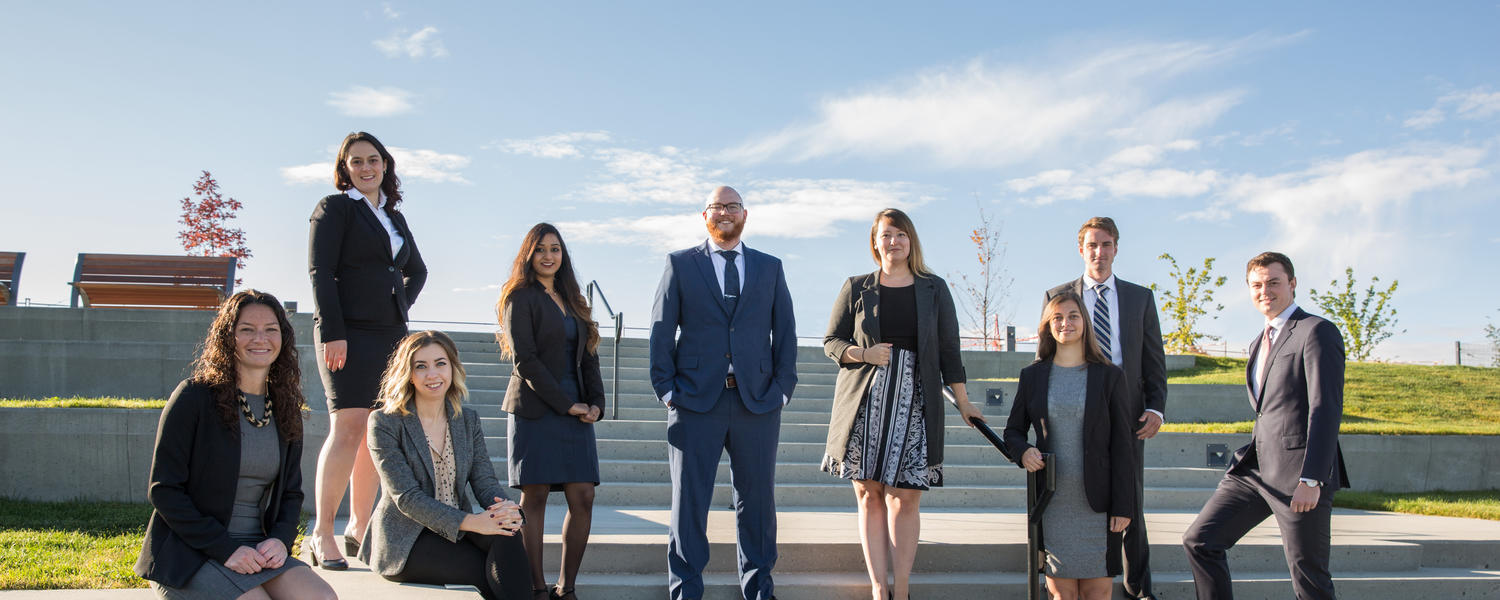 Access to Justice for All
by Mark Witten
The city's most vulnerable populations find it hard to get timely and affordable legal advice and services, which puts them at a serious disadvantage in gaining access to justice. These three programs from UCalgary's Faculty of Law provide free or low-cost legal information, advice and services that help to ensure more Calgarians have access to the support they need.
Student Legal Assistance (SLA) offers free legal information and representation to about 2,000 low-income people living in Calgary and the surrounding area each year:
About 100 student caseworkers advocate for clients in the following areas: criminal, civil, family, traffic/bylaw, landlord/tenant matters, prison justice, wrongful convictions, notaries and Tax Court of Canada.
Student caseworkers provide outreach services to several partner Calgary agencies including the Calgary Dream Centre, Alpha House and the Calgary Urban Project Society (CUPS). The health-justice partnership between SLA and CUPS aids people in overcoming poverty by providing legal advice for medical, housing and family issues.
Caseworkers alert people to early case-resolution options, such as the Adult Alternative Measures Program and the Mental Health Diversion Program, for eligible clients who commit minor, low-risk offences. "We make people aware of the options that can help them avoid a criminal record and address the root causes through rehabilitation programs. It's satisfying to help clients achieve a just outcome when they are facing these matters and don't have a lawyer," says second-year law student Brad Webber, an SLA group leader and incoming SLA student director.
Pro Bono Students Canada's (PBSC) Calgary chapter has more than 130 law students working with partner agencies to provide free services to underrepresented and disadvantaged communities through 16 projects:
In the Hearsay Podcast project, students create legal-education podcasts on topics such as freedom of expression, immigration law, knowing your rights under the Charter of Rights and Freedoms, and knowing your rights during the arrest process.
In the Emergency Protection Orders project, upper-year students work under the supervision of Legal Aid Alberta Duty Counsel, helping with intake, interviewing clients and assessing requests for an emergency protection order. "Students guide applicants knowledgeably through the process and can make sure the right information is included to assist the Duty Counsel," says second-year law student Amy Wilhelm, a program co-ordinator with PBSC's Calgary chapter.
In the Consent Project, law students run workshops with junior high and senior high school students designed to help them understand their rights and responsibilities with respect to sexuality and consent.
In the Discovery House Project, student volunteers deliver legal-information presentations to the agency's staff, who often face legal questions from their clients, women and children fleeing from domestic violence.
The Public Interest Law Clinic provides legal services to individuals, community associations and public-interest groups pursuing law reform and litigation strategies involving issues such as residential tenancies, animal welfare, endangered species protection and environmental impact assessment:
The clinic argued in the Supreme Court of Canada in February 2018 on behalf of an organized group of Alberta farmers against an Alberta court ruling that lets bankrupt energy companies leave oil and gas wells open without permanently sealing them to prevent pollution, and without cleaning up existing environmental liabilities. The farmers believe it is unjust to leave surface landowners or the public with these environmental liabilities. "The local landowners had been shut out of the discussion. We sought permission to appear at the hearing and reminded the Court that another voice needed to be heard," says Shaun Fluker, LLM'04, an associate professor in the Faculty of Law and former executive director of the Public Interest Law Clinic. On Jan. 31, 2019, the court held that bankrupt oil and gas companies cannot walk away from environmental liabilities.
The clinic helped an interested party build legal evidence for a complaint with the Alberta Human Rights Commission in relation to an Alberta Government funding model that created a bottleneck, resulting in a very limited number of transgender patients being able to access final-stage gender-reassignment surgeries such as phalloplasty or vaginoplasty. "The funding model created an obstacle to accessing care," says Drew Yewchuk, JD'17, a staff lawyer with the clinic.