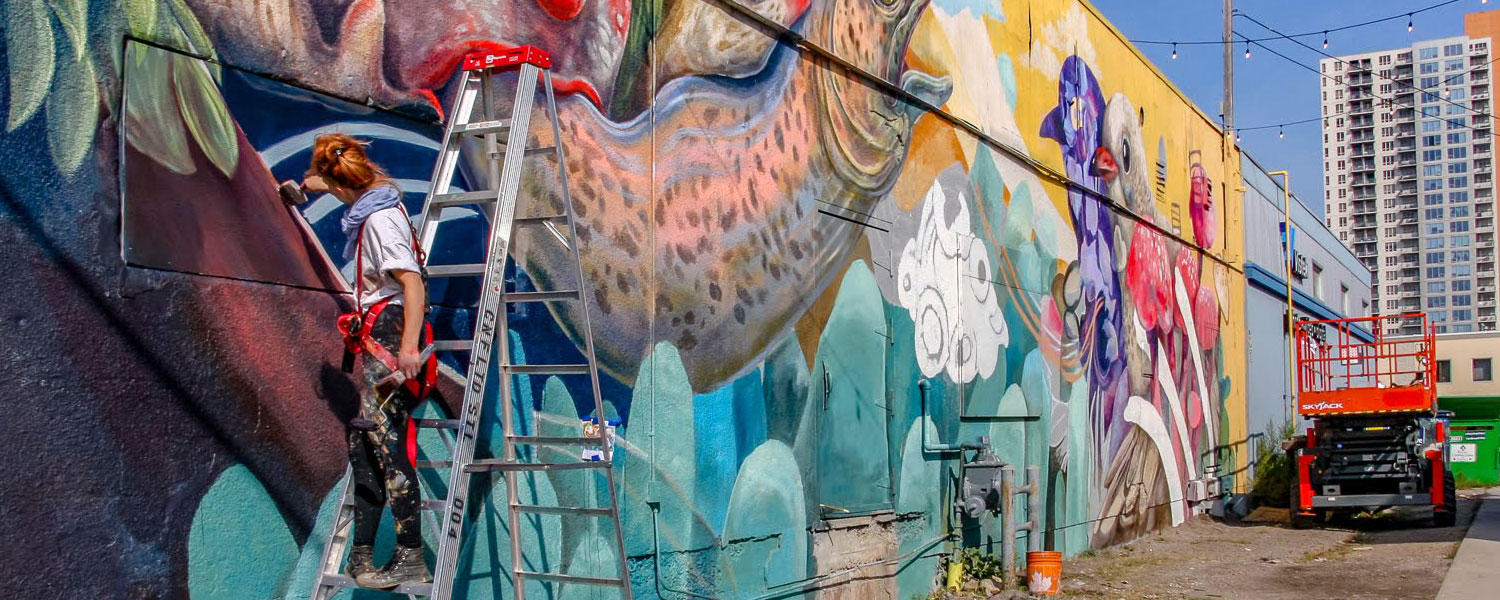 The New Face of Street Art
Rather than power-wash a dreary cinder-block wall, more organizations are hiring mural painters to add pizzazz to a space that can double as a conversation-starter
That's the thing about artist Katie Green, BFA'14 — when she's up against the wall, why . . . she can paint it.
Behind the elegant tangles of human limbs sprouting out of animal heads — seen in Calgary's Beltline Urban Mural Project (BUMP), the stairwell at cSPACE or the entrance to UCalgary's Art department — the subject matter behind this recent graduate's murals reflects her fascination with our primal/animal selves. And the intricate details Green brings to all her work is directly connected to the access she had to a biology lab while studying fine arts at UCalgary.
"I was able to get into a biology lab three times a week, where I could draw still lifes from the different specimens that were there," she explains.
That interdisciplinary nexus led Green to explore the "unconscious archetypes and patterns that repeat themselves in our dreams," that, in turn, collided with her desire to take her practice out of the privacy of her home studio and into a more public space.
Having just returned from Santa Fe, Green's work (in collaboration with other artists, but mostly with fellow alumnus daniel j kirk, BFA'07) can also be viewed in downtown Nelson, B.C., in front of the SPCA; in Santa Fe, N.M., in a water tank at Meow Wolf, an interactive arts museum; and further afield in Taiwan, India, Sri Lanka, Nepal and Germany.
Like so many good murals, Green's work at BUMP, which took a week to paint, fostered on-the-street engagement making the bystander part of a live show. Last August's spectacle of painters hanging from a wall at 10th Avenue and 12th Street S.W. became as much of the product as the mural itself — precisely why Green and the other artists behind this work created a time-lapse video:
What's in a Wall? Find out with Katie Green