Attitude of Gratitude
By Deb Cummings
Don't let the Grinch steal the holiday spirit. Discover how Eva Friesen, MBA'00, stays grateful all year round.
On a sharp December morning, Eva Friesen, MBA'00, takes me on a tour of the Calgary Foundation's sunny space on the 11th floor of the Kahanoff Centre. It's not the stunning floor-to-ceiling panoramic view, however, of which president and CEO Friesen is most proud — it's the millwork, from the elegant board room table and reception space to the kitchen cabinetry. As I run my hand over the silky eucalyptus wood, Friesen is quick to say it's not the wood, but the people who did the millwork that make it so dear to her — the Calgary Drop-In & Rehab Centre's WoodWorks program.
For that, she is grateful.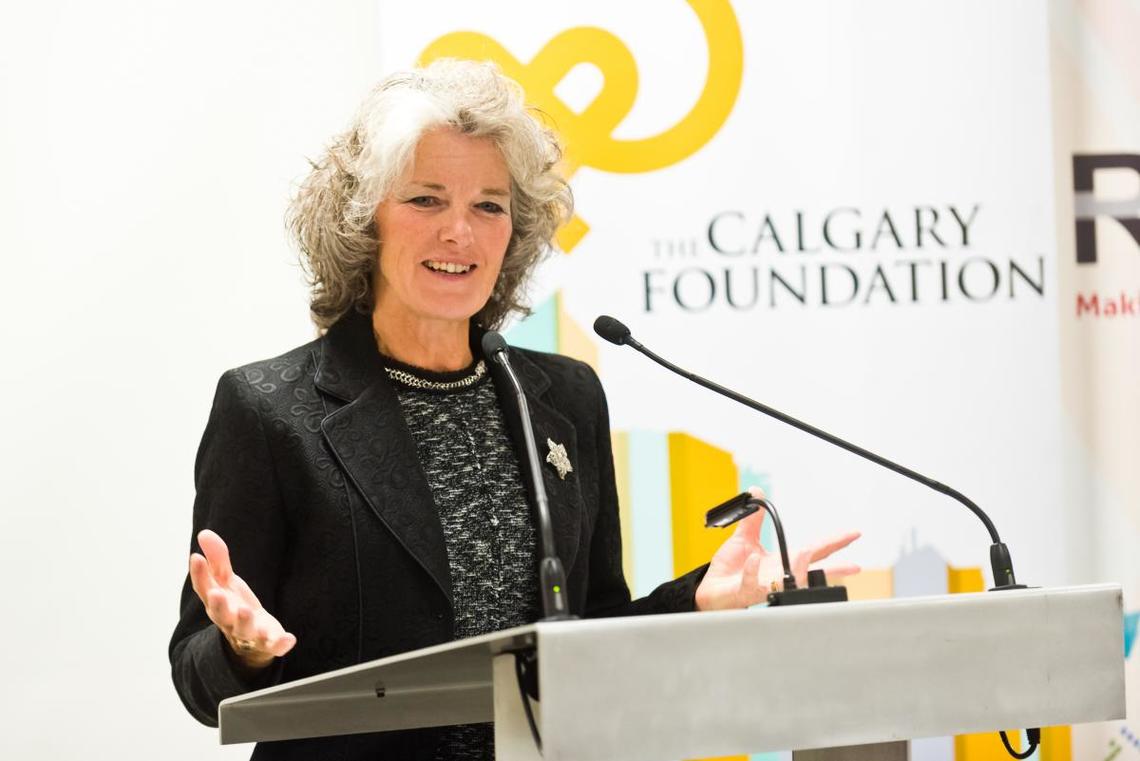 In fact, "gratitude" is something Friesen loves to discuss — and not, she says, just at Christmastime. "I am grateful all year round," she is quick to stress. "Just listen to the news and you'll know how lucky we are as Canadians. And we are constantly reminded of this at the Calgary Foundation where we know there is no end of good we can do. In fact, there is no end to people's generosity and, regrettably, there is no end to people's needs in this city."
To avoid letting the Grinch steal the holiday spirit, Friesen constantly weaves in the theme of gratitude, not only with me, but with conversations she has with her two girls: Natalie, 19, and Maria, 21.
"Gratitude is one of the themes we have always encouraged in our family," says the alumna whose two volunteer commitments involve UCalgary. Currently on the search committee for the next chancellor, as well as acting mentor with the Scholar's Academy, Friesen believes gratitude can certainly come from volunteering or from our work, but, most often, is in our DNA. As parents, she says, we should ensure it's in the very air we breathe. 
"After my girls tell me something, I will often say, 'That sounds to me like you are feeling grateful for the opportunity to have done...' I think we need to reinforce that message, all the time."
Research suggests there's a link between the benefits of gratitude and your well-being. Indeed, your mental health is influenced by what you focus on — in other words, if you focus on the positive, you'll likely feel positive, as well. Pondering over why so many more people today seem to be challenged with mental health issues, Friesen suggests social media usage compounds the breakdown of family connections.
"To stay whole starts at the very core of your being," says the alumna who knows all too well about the potential stress fractures in relationships, having taken seven years to complete her MBA while juggling night classes alongside being the CEO of YWCA Calgary, as well as having two babies. "So much of our society isn't about the core of your being. It's about the external trappings that stress doing, getting and acquiring — we don't have to wait until we're old to realize what matters is relationships, not stuff. We need to teach that."
Mustering gratitude after losing her husband, Don, to brain cancer when her girls were only six and eight, couldn't have been easy. Today, one of Friesen's key memories of that devastating time is the Calgary Foundation's patience and compassion in not only hiring her in the last six months of her husband's life, but also giving her two months off to spend with him. 
For that, she is grateful.
Some 12 years later, Friesen remains at the helm of the Foundation, believing she still has "the best job, in the best city, in the best country." Not in competition with any charities — it does not fundraise — Friesen likens their enterprise to a savings account, one that benefits the community.
Dispersing $40.2 million to some 896 charitable organizations last year, the Calgary Foundation receives gifts and bequests from donors who may channel funds to a specific charity or pool and invest their donation. How the Foundation selects its recipients is based on community needs which are defined by a fundamental vision dubbed Vital Priorities. Keeping that strategic document current is its Vital Signs survey that recently probed 2,567 citizens to divulge what really matters to them, which in turn drives the selection of recipients.
Two societal shifts that Friesen has witnessed in the Vital Signs surveys that have been conducted annually since 2010 are the growth in people's care and interest in mental health issues, and Calgarians' interest and value in the role of arts in our community.
As for setting vows or new intentions for 2018, Friesen doesn't want to guilt-trip anyone into volunteering or giving back to our community. The key, she says, is finding an approach or a cause that fits us. When we do, then the more we give, the more we stand to gain purpose, meaning and happiness — all of the things we look for in life, but are so hard to find.