Careers in Motion: Bindu Cudjoe, BComm'96
By Deb Cummings
In our series, Careers in Motion, we bring you interviews with alumni who are innovators, thought leaders and experts in their field. From entrepreneurs and financiers to lawyers like this month's featured alumna, Bindu Cudjoe, BComm'96 — we hope you find these candid conversations illuminating.
This month, our featured alumna is Toronto-based lawyer Bindu Cudjoe, BComm'96, whose current role is Deputy General Counsel for Technology and Operations Legal and Chief Knowledge Officer at BMO Financial Group. A mother of three who toils up to 60 hours a week, she is married to another lawyer and is also the director and secretary of the Oakville Community Foundation, as well as the director and chair of the nominating committee for the South Asian Bar Association of Toronto and an executive member of Women General Counsel Canada. We thought we'd find out how she balances it all!
When did you know you wanted to be a lawyer?
Growing up in an immigrant family, being a professional was my only option! I used to watch L.A. Law and thought being a corporate lawyer and working in a tall office tower looked cool.  I was 12. Advice: don't make career choices based on representations made in television shows! I do love what I do, but it certainly wasn't what I thought it would be.
Besides L.A. Law, what influenced you to study law at the University of Toronto?
I grew up in Calgary and attended UCalgary for a business degree and, while doing that, I took a couple of business law classes which confirmed my interest in pursuing law … but I had been very tempted by management consulting opportunities while at the U of C. I spent my summers during university working at a variety of oil and gas companies including TransCanada Pipelines, Home Oil (there's a throwback!) and Petro-Canada in roles in marketing and accounting. I moved to Ontario in 1996 to start law school at University of Toronto and was called to the Ontario bar in 2001.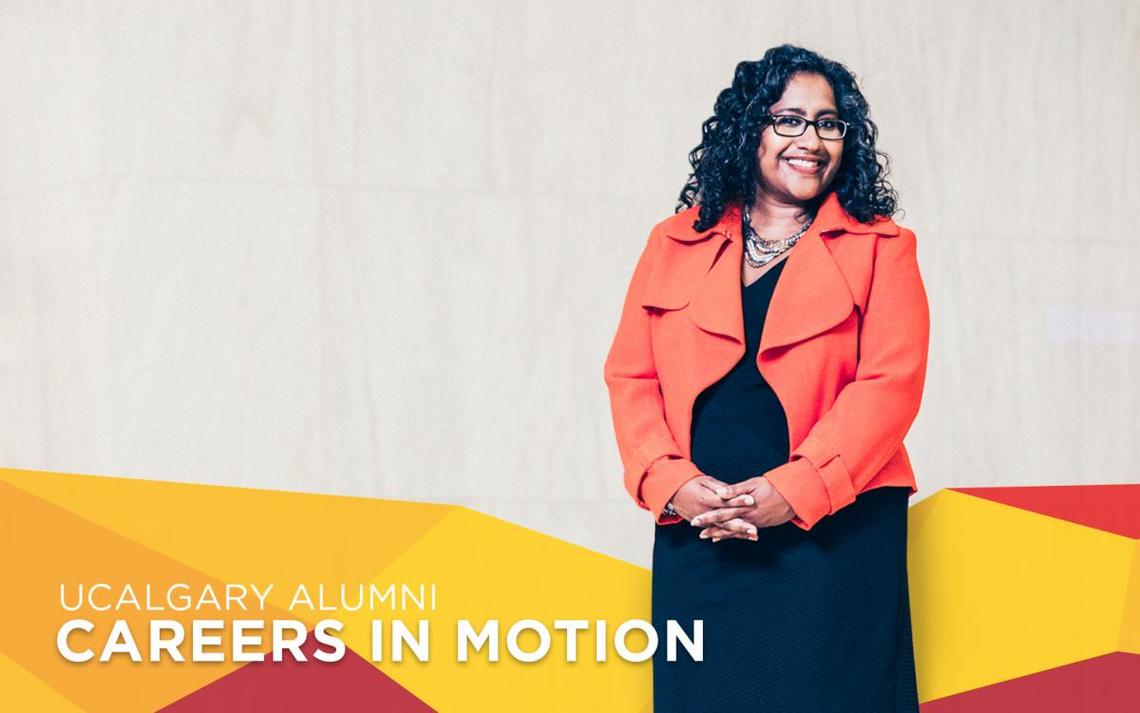 What, exactly do you do at your current job?
My current role at BMO Financial Group means I have a team of 25 legal professionals and we manage legal and regulatory risk relating to technology, procurement, outsourcing, intellectual property and enterprise brand, marketing and social media across the bank. As Chief Knowledge Officer, I have a team of 30 and we look after knowledge management for the Legal and Compliance group, including board and senior management reporting, project management, records and information management, centralized litigation support (including e-discovery and legal holds), and internal knowledge-sharing systems. The work is varied, interesting and exciting. I love it!
What are the top three lessons you learned while at UCalgary?
There were many, but here are three: (1) You have something to learn from everyone you meet. (2) University is better when you spend time studying things you love. (3) Being involved in your community is how we make a difference in the world.
What do you love most about your job?
I love the ability I have to bring ideas to life. This is, in part, because I have authority and a budget, but mostly it's because I have the encouragement of my leader and great colleagues to dream big, be creative and solve problems. And it's fun and energizing!
How many hours do you work a week?
Probably 60. But it's not a burden (mostly!) because it inspires me. 
I understand you have three kids and a commute from Oakville to contend with every day, which must require living by military precision. How do you do it?
In trying to be the parent I want to be, and living up to the expectations of my role, I can only do what I do because I have many supports. I have a marvellous husband who is truly a partner and supports all of my ambitions at home and work. My children are so open to learning and change and inspire me every day (and accept me as I am). I have generous parents who encourage me and help us keep on top of life and kid stuff so we can pursue our professions. And I have great friends, including an amazing executive assistant and colleagues who keep me connected and keep it interesting! 
Are there common traits that are shared amongst most lawyers? 
At our best, lawyers are curious, inquisitive and analytical thinkers. We are trained to identify risks and spot gaps, and to really add value (and) find creative and reliable solutions to address gaps or mitigate risks. People bring us their problems and want help solving them. This can be daunting, especially for a new lawyer. But that's when we can help the most, by helping our clients navigate tough situations by applying our ability to understand systems and law, bringing our experience and judgment and thinking about it with empathy and a desire to fix it.
What advice do you have for law students and newly minted lawyers? 
My advice for law students is that practice is very different from your studies — law school trains you to think like a lawyer, but you can only learn how to be a lawyer by practising. So, if law school isn't your thing — keep on! Practice is very different and requires skills like empathy, relationship-building and thoughtful listening, in addition to being able to interpret law, regulations and cases. For new lawyers, my advice is to always be curious and have a growth mindset and to find other lawyers, within your own practice or elsewhere, who are willing to explain the "why" and "how" of lawyering.
Do you hold any positions on boards or do you volunteer at all? 
I learned at UCalgary that being active in your community brings different parts of your community to life. I have always made volunteerism part of my life (and, admittedly, it has been harder at different times of life!). Right now, I am a director and secretary of the Oakville Community Foundation, a director and chair of the nominating committee for the South Asian Bar Association of Toronto and an executive member of Women General Counsel Canada. In the past, I have been chair of my kids' school council (four years!) and director of a non-profit that delivers services to the developmentally delayed children. I always try to be active in my local and professional communities.
If you never intend to be a practising lawyer, is law still a good degree to have? What kind of alternate jobs are there for those with a law degree? 
Law is a powerful degree to have, regardless of whether you want to be a lawyer. I know many successful business people, artists, entrepreneurs and academics who studied law, and I think it enhances your confidence in navigating the world. However, law school is increasingly priced as a professional training ground, so it can be tough to make the kind of salary to justify the cost of the study of law without becoming a lawyer, and that's unfortunate in that financial pressures may drive certain choices.
Besides work, what do you value?
Outside of work, I love to spend time with my family and travel. There isn't much time for a hobby right now, unless you count driving my kids to sports and activities as a hobby!