Top Tips to Help Grow Your Career
By Deb Cummings
This was not the place to hide behind your business card.
In a collegial atmosphere, UCalgary Alumni's first Grow Your Career Conference saw more than 125 attendees swapping cards and job experiences for the latest in tips, coaching and best practices during a jam-packed Saturday. Part career development, part preparation for careers in transition, this was a terrific opportunity for alumni to network and explore options they may not have even known they had.
In the morning's keynote address, Dr. Derek Hassay, PHD, of the Haskayne School of Business energized the crowd by giving them real-deal stuff to kick-start some entrepreneurial thinking — much as he's done with thousands of students in the 17 years he's taught at UCalgary. Some of Hassay's tips:
It's far better to beg for forgiveness than to ask for permission.
People want to hire problem-solvers. Be that person who seeks, delivers and communicates the value of the product or solution.
Everyone talks about elegance. What that means is something that is simple, cheap and easy to implement.
Constantly test and try new things. Fail early, fail cheap.
Don't freak out about challenges. Be jazzed about them.
Don't pen 80-page business plans. No one reads more than an executive summary. Examine what's going on in your business, in your industry and with your market. What needs to change? To be jettisoned? To be embraced?
In Reigniting the +50 Worker, career consultant and alumna Ann Nakaska, BA'00, MEd'09, challenged workers with one question: What would you do if your current industry became obsolete?
Moving on, she hammered home the importance of always developing your personal skills, career know-how and areas of professional development — in other words, mature employees need to amp up their career decision-making skills.
After all, stressed Nakaska, the 50-plus worker might have to recalibrate and think beyond traditional jobs. Lifting the barriers on ageism, Nakaska suggested all workers should be constantly examining the marketplace and evaluating choices and career opportunities — advice that serves us all, at any age.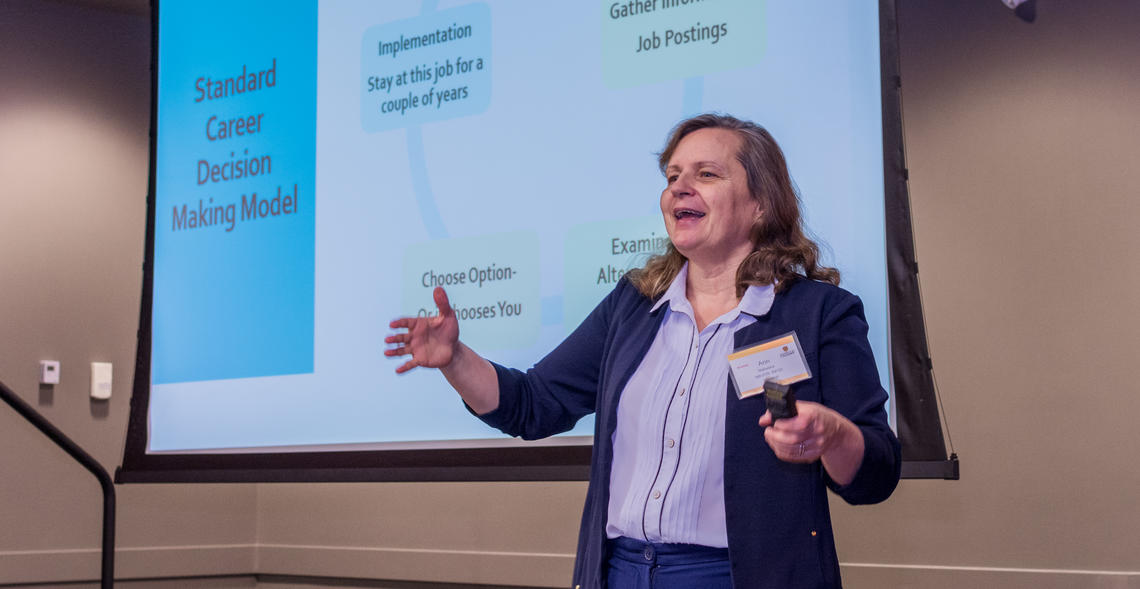 For attendee Martina Payette, BA'89, "the topics are less important . . . what I value is the networking. Between the little group huddles and interactive sessions, I am getting so much out of the day." Having just learned in one session that it's not your resume that lands most people a job, but networking (some 70 per cent of hires occur through networking), Payette agreed, adding she also likes to stay on top of job trends.
For geologist and entrepreneur Ken Hugo, BSc'82, MSc'85, it wasn't networking that prompted him to attend, but something much more pragmatic. Having happily worked in the same industry for 30 years, he found himself asking, "Now what?"
Admitting he knows only his area of expertise, Hugo said, "this conference has shown me that I need a bit more of a formal approach to a career transition if, say in the next few years, I ask, 'What's next?' I need to get prepared."
And preparation for the next big thing is exactly what resume strategist Brian Palmer, BComm'06, delivered in his step-by-step presentation dubbed Insights from an HR Recruiter: Winning Resumes. Format is critical (Palmer rules out 20 per cent of resumes due to sloppy or tough-to-read formats), as is an effective profile statement (a.k.a. an objective) and specific details that flesh out the scope and measurement of previous accomplishments. "Gone are the days when a cover letter counts for much," added Palmer. "It's been replaced by your profile statement. And don't include overused terms like 'strong leadership,' 'detail-oriented' or 'highly organized' . . . show those attributes through the examples you provide of your previous work."
And as for the ideal length of a resume? "There's no such thing," said Palmer. "On average, I'd say two to three pages is fine, with one exception. If you're in IT, I want to see your entire background in great detail — however many pages that may take."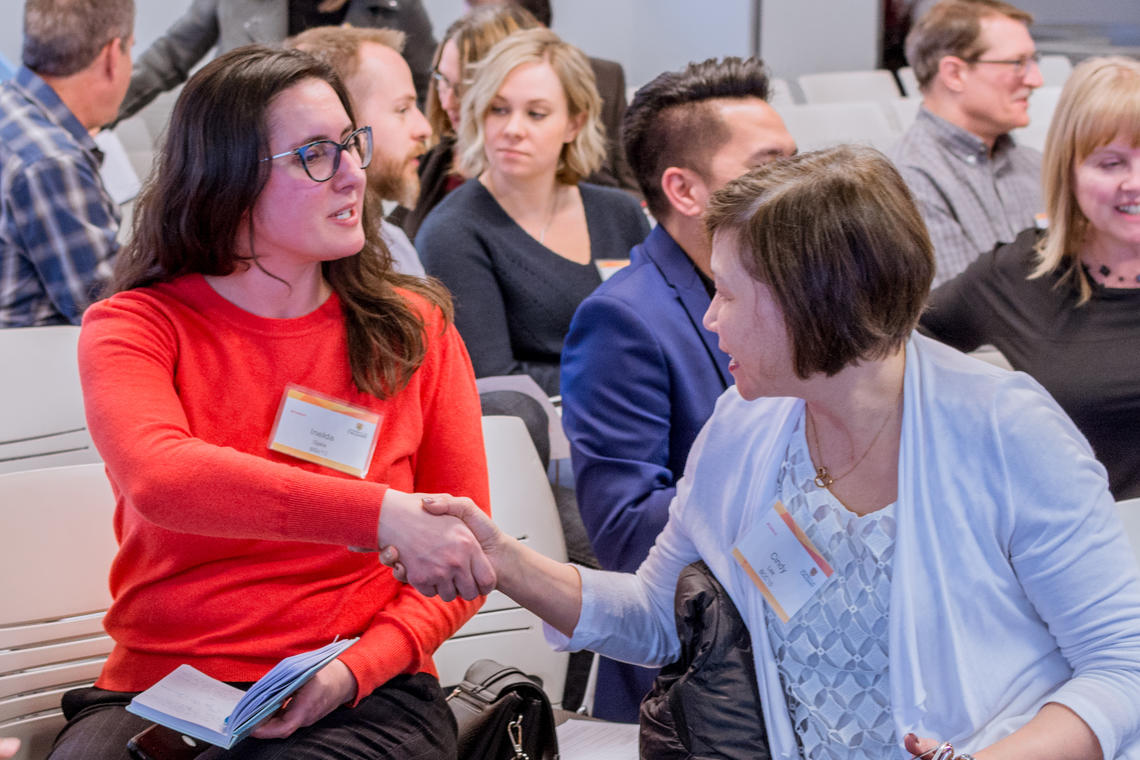 Other sessions spanned career resilience and mentorship, as well as workplace culture, personal development and interview skills. A panel of job interview experts used case studies to prompt lively discussions which they turned into these key takeaways:
Don't just study shareholder reports; see if the company you're applying to work at has appeared on any news channels. 
Be your authentic self. Don't be too rehearsed in an interview.
Ask employees of the company about its culture.
Mirror the energy of your interviewer.
Think of an interview as being like a conversation or a business meeting.
Always go prepared with questions. You're not considered a rookie if you have a checklist in front of you during the interview.
If you're confused by a question, take a breath and ask yourself, "Why would they be asking me this?" Most often, it's because they want to get to know you and understand how you'd fit on their team.
When the panel was asked what questions they like to ask potential employees, they collectively said they've abandoned the standard interview questions about strengths and weaknesses in favour of new approaches:
If you were an animal, what would you be?
Tell me about a time that you failed.
What are you most proud of?
Tell me about yourself.
Conferences such as Grow Your Career are an ideal platform, said the day's lead organizer, Carol Wert, manager of career programs for UCalgary Alumni. "Career development touches everyone," she said. "Conferences, such as this one, are a great opportunity for alumni to support and learn from each other. I was amazed at how many people told me, throughout the day, that this was the first time they'd reconnected with their alma mater — and how it wouldn't be their last."