Top 5 tips for connecting with the future of work
More than 160 alumni and staff received insider advice and tips on future-proofing their careers at UCalgary Alumni's second annual Grow Your Career Conference on Feb. 2.
Connecting with the Future of Work
Themes of agility, transition, emerging industries, human connection and automation carried throughout the day as experts divulged how to cope with — and excel in — today's rapidly evolving and uncertain career landscape.
"There's no such thing as a safe job anymore," said keynote speaker, alumnus Miro Reljic, BA'04, CEO and coach of Reljic Coached.
"Jobs will be lost, but new jobs will be created."
He stressed that success, now more than ever before, will be awarded to those who proactively identify their goals and prioritize human connections.
"It's so important to see where you want to go," said Reljic, suggesting a five-year plan. "Then you'll see what skills and experience you need to get there."
He added that your vision will also help identify the people you need to acquaint yourself with.
"Remember, it's people who create opportunities," said Reljic.
Career tip 1
Embrace technology — it's the primary means for connecting today. Utilize digital tools (social media, blogs, forums, etc.) to create new relationships and to interact with your network.
Energy is here to stay — but it's changing
Oil and gas may be struggling in the current economic climate.
But Pat Hugnagel-Smith, partner of Creative Links International Inc., said the industry is not approaching its demise — she argued it's actually expanding.
"The fossil fuel industry is not going anywhere quickly because we don't have a commercial substitute for oil," said Hugnagel-Smith. "Oil and gas is going to be around for a long time, but it's going to have to be different. We are living in a lower-carbon economy, and that's what's going to drive the new normal."
This means the evolution of energy as a whole, with industries such as clean technology, renewable energy and petrochemical manufacturing providing workers with opportunities to transition into new careers where they can utilize their skills.
"Typically in Calgary, we think of the energy sector as oil and gas," said alumna Cheryl Knight, BA'80, a consultant who specializes in talent and workforce strategies. "But the energy sector is evolving and transforming. If you're going to leverage your skills, don't discount the full spectrum of the sector and jobs that you could transition to more easily."
Career tip 2
If you're considering a career change, look to similar industries where you can put your education, qualification, skills and relationships immediately to work.
Riding the storm of the green rush
It's expected the Canadian cannabis industry will create approximately 125,000 jobs in the first year of legalization, ranging from cultivation to pharmaceutical, sales and business development.
"But, overall, I think the industry is looking for people who are entrepreneurial in nature," said alumnus Khalid Abdul Razak, BA'09, chairman of the Alberta Cannabis Collective. "It needs those who are willing to ride the wave, organize the ambiguity and create structure instead of chaos."
This is because opportunities and challenges have been changing daily since recreational use was legalized in October.
"We're going to see changes in regulations for at least five years," said Abdul Razak, adding the next big change will be the legalization of edibles later in 2019. "Businesses are going to need to adapt over time and continue to work with government to see how those changes are going to impact them."
Despite the instability, Abdul Razak said the benefits of improved regulations will include rapid improvements in product and innovation, as well as an increase in medicinal cannabis research.
Career tip 3
In order to thrive in an emerging industry you must constantly adapt, fail fast and learn from your mistakes. Reflect on whether you're up for the challenge.
Robots are here — just don't become one yourself
Automation and artificial intelligence are already in the workforce; however, Dan Semmens, managing director transformation with ATB Financial, said the next five years will see the technology more broadly implemented.
And, by 2028, it's expected that automation will affect at least of half of Canadian jobs.
This mass technological adoption will indirectly impact every industry, but the hardest-hit jobs will be those that have repeatable tasks — which actually frees up time for more enjoyable and value-added work.
"This is a really exciting time for people to focus on things that are intrinsically human and more fun to do," said Meriya Dyble, managing director of connected learning with ATB Financial. "Focus on the skills that are more creative, more problem-solving, more human-connected — and start building upon these skills now."
Career tip 4
Emotions are often touted as one thing humans have that robots don't — but our imagination is another. Building and flexing your creative muscle will bode well for your career.
Embrace continuous learning
The day-long conference, held at the Downtown Campus, offered more than 10 sessions broken into three streams: the future of work, professional development and career transitions.
Regardless of their topic, the speakers shared a common motto: Never stop learning!
This, they said, is the ultimate key to success — no matter if you're looking to make a career change, enter an emerging industry or grow in your current role.
Career tip 5
Now, more than ever, you need to constantly bring value to your jobs. Do this by learning new skills, expanding your digital know-how, honing your human skills and staying current with career trends.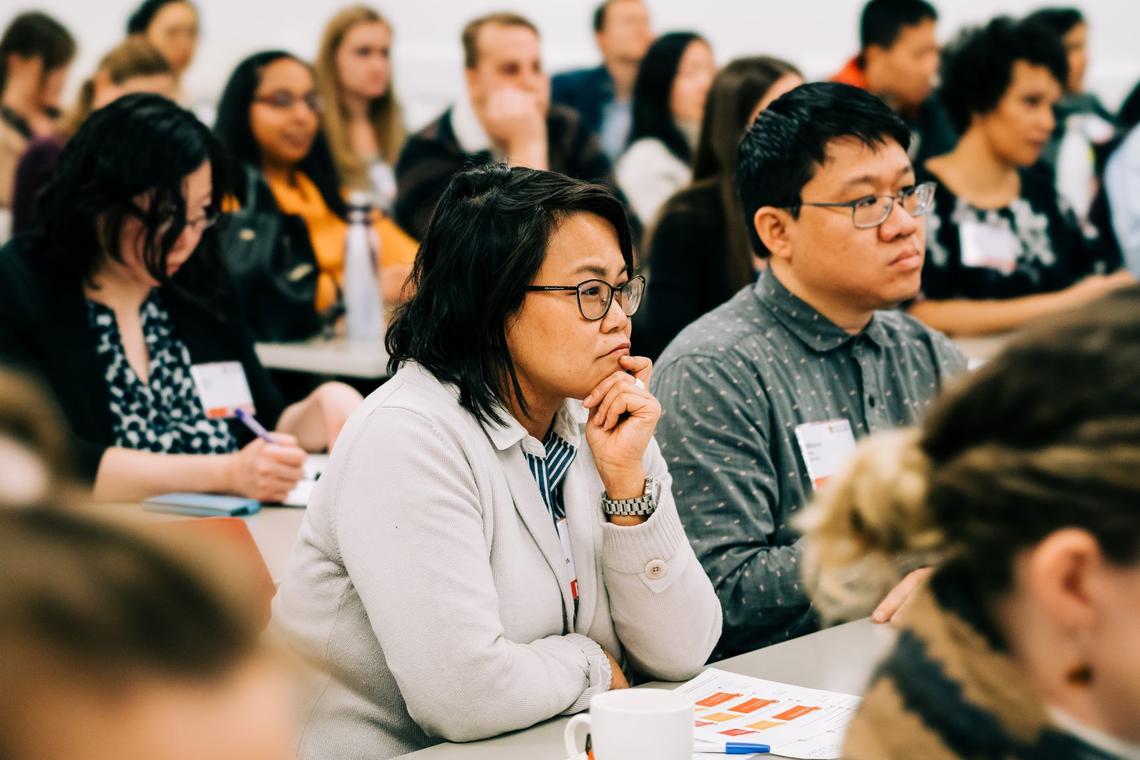 All photography by Louie Villanueva