The Family Way
By Deb Cummings
Family businesses are different from other sorts of enterprises — they are held together by strands of DNA, as well as the logic of profit. They can be rich in loyalty and flexibility, but can also be highly combustible, subject to family feuds and wayward patriarchs. In a salute to Family Day, we checked in with a trio of alumni-operated family businesses
In most of the world (including Canada), family businesses make up more than 80 per cent of all companies. According to Canada's GoForth Institute, family-owned businesses are responsible for about 60 per cent of Canada's GDP per year. Think Bombardier, McCain Foods, Rogers Media, Molson Coors, Shaw Communications Inc. — they are all family-owned Canadian success stories. This story, however, is not about any of these giants. No, this piece is about old-school family firms that, in the face of big-box behemoths, have somehow, astonishingly, held it together and survived, even flourished.
It's one thing to live together as a family, but it's quite another challenge to live and work together while surviving all those internal dynamics and each other's quirks, year after year, and, in some cases, decade after decade.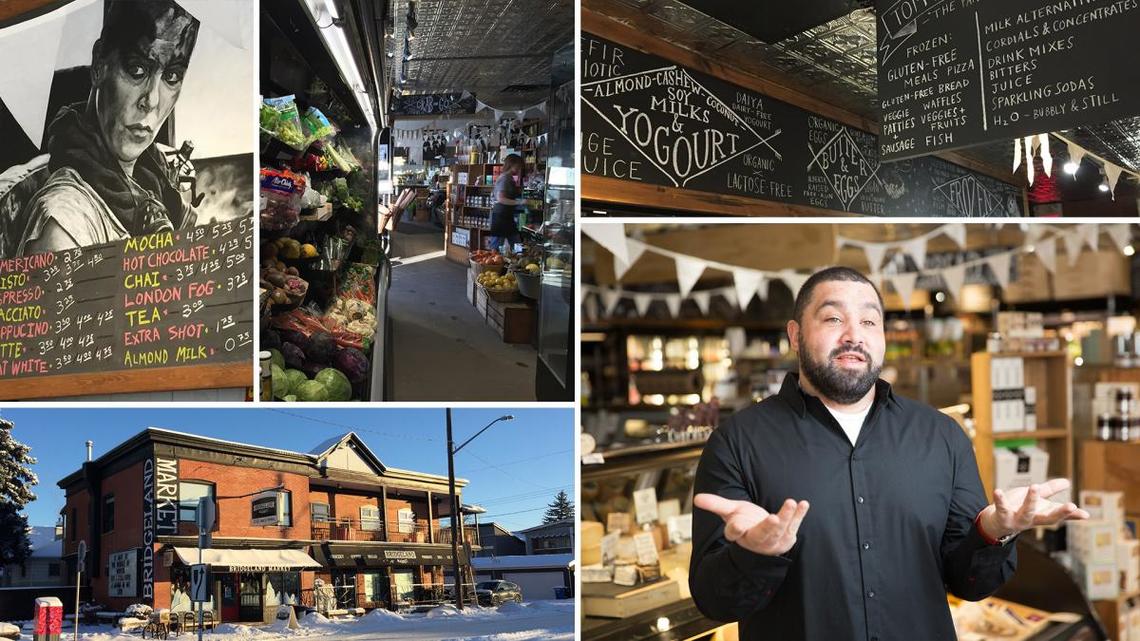 Yousef Traya, BCR'01, struggles to remember living anywhere else besides atop his family's grocery store, the Bridgeland Market. Sure, there were his first five years when he lived in another neighbourhood — but life before the store's big and hissy 1912 hot water tank that terrified him as a tot are fuzzy, and not nearly as seminal as the years that followed. For more than two decades, seven people lived above that shop while Yousef's parents, Fatima and Nawaf, toiled below. Yousef, who comes from a long line of Lebanese grocers, rebooted the family store when he took it over in 2011. His mum, Fatima, still works across the street at the Lebanese deli, Tazza, and Yousef still lives above the funky brick, 2,900-sq.-ft. grocery store.
Despite Fatima's warnings that life in a grocery store was akin to a prison, Yousef plowed on and admits to working, nay "grazing," in the shop seven days a week. As for what it takes to work with family members, he offers this: "Take the 'I' out of 'patience' and 'understanding' and realize that you may think you know what you're doing, but you actually don't.
"What you need to do is slump back and relax," he adds. "One member will always say they have done more than the other. One will always be the go-getter and the other a do-gooder, and there may be a martyr in the mix, too. Try to picture an old-country wedding with all your cousins and sisters and brothers . . . there will be moments where it will look just like that."
Although he left the family firm to work in the U.S. for a year and then used his degree in community rehabilitation to work at Wood's Homes for several more years, Yousef returned to his roots to carry on the family legacy, giving the family store a serious refresh. In salute of Family Day, Traya admits that "working with family members is the toughest thing to do in the world, but it's also the most rewarding. I love the 'all for one and one for all' spirit that occurs and the unconditional work ethic that many family businesses possess."
Calgary's Beloved Sausage Makers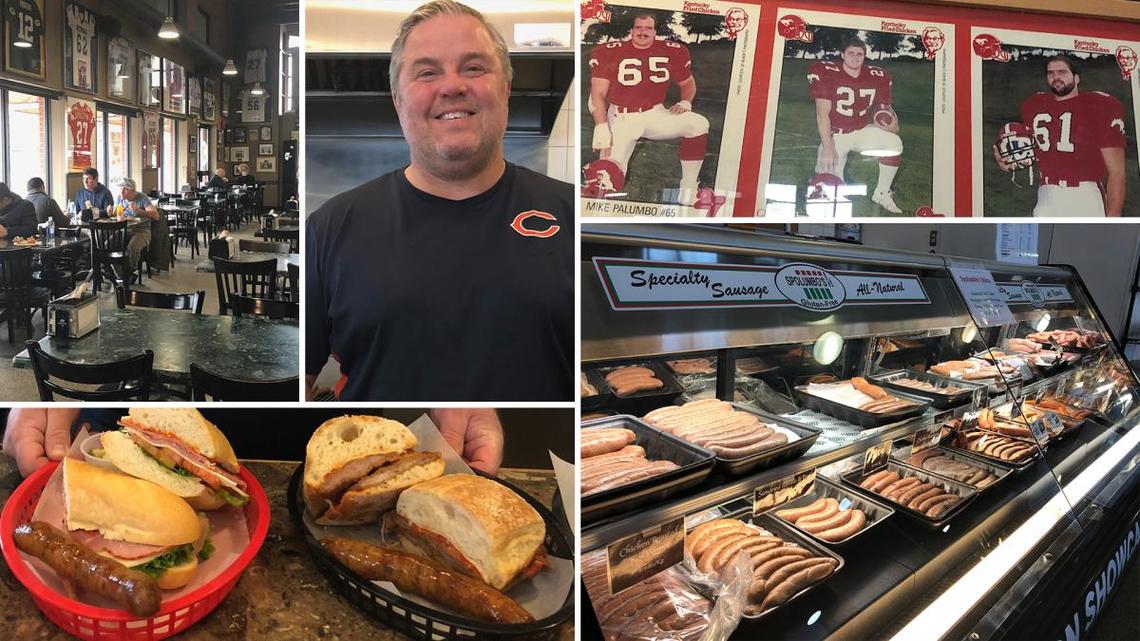 Belly up to the counter at Spolumbo's Fine Foods & Deli in Inglewood and look about. Behind the glass counters, piled high with pudgy sausages, are walls and walls covered in sports memorabilia —  jerseys, helmets, chaps and signed photos galore. That's because the trifecta behind one of Canada's most popular delis is made up of three former Dinos football players, all of whom went on to play pro.
When the two cousins, Tom and Tony Spoletini, hung up their cleats in the early 1990s, they joined forces with another Calgary Stampeder Mike Palumbo, and began deboning meat, grinding it by hand and then stuffing it into sausage casings in the basement of their first 9th Street N.E. deli.
After more than three decades in business, they have witnessed their revenue shift from their deli/catering shop to wholesale sales. Their deli still provides them with constant cash flow (a busy day may see them serve 300 to 500 meals) but the 5,000 sq. ft. sausage plant at the back now provides them with 70 per cent of their revenue. The ability to put egos aside and focus on the entire operation and not on who runs what has saved them from tumultuous turns in the market, says Tony. The company is divided into three very separate areas: Tony is the frontman and runs the deli/catering area; Tom is in charge of wholesale; Mike operates the plant. All told, they employ about 50 staff — many of whom are New Canadians (just as their parents were 50 years ago) and UCalgary students (lots of UCalgary athletes, drama students and musicians . . . they hire students who are involved in extracurricular activities).
"We've lasted," says Tony, "because we counterbalance each other. Mike is the buffer. Tom is a very smart businessman who can make tough decisions. I am a little loose with the purse strings so, without any control, I would probably give everything away."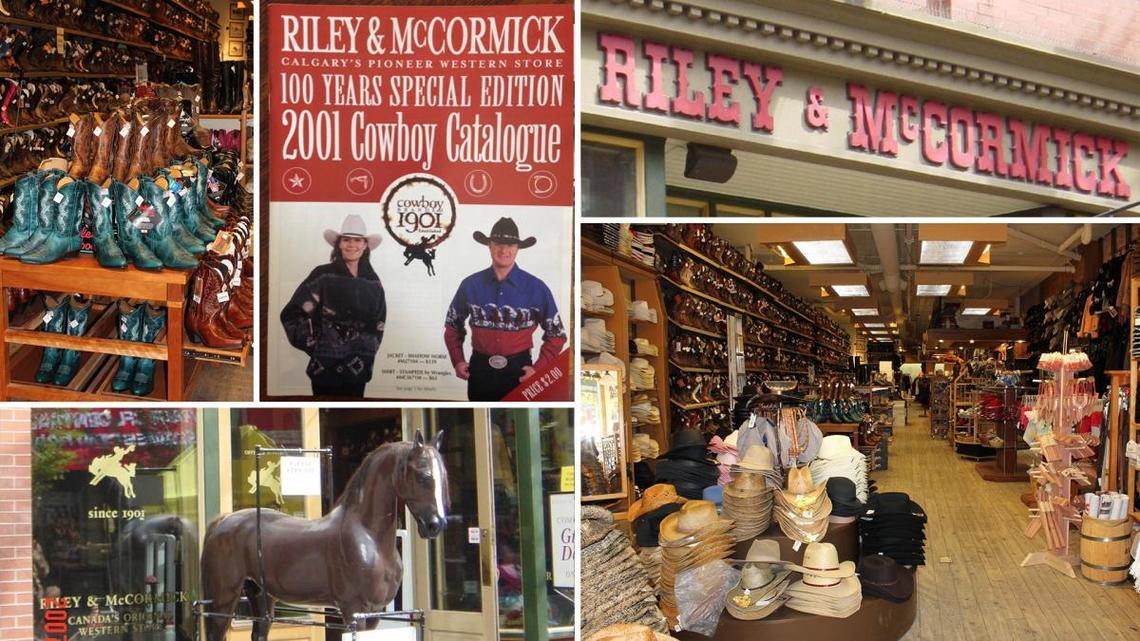 In 2016, one of Calgary's oldest stores — Riley & McCormick — packed up its iconic wooden horse that had fronted the Stephen Avenue shop for decades and rode off into the sunset. After operating for 115 years, the family-owned western-wear shop had outfitted thousands of real cowboys and urban wannabees with millions of items, from saddles and Stetsons to boots and buckles. In fact, in 1980, it was considered the world's largest retailer of western wear with 33 stores in Western Canada and the U.S. Although, today, Riley the horse (and retail operation) is gone, the business continues with an online wholesale and corporate division.
Ever since its opening in 1901, Riley & McCormick functioned as a family enterprise, with siblings changing positions and appointments through the decades. When Carolyn Guichon, MBA'88, retired from her role as CEO in 2007 (the same year she was appointed to UCalgary's Senate), her brother Greg, BA'76, was a silent partner and her other sibling, Brian, BA'88, was president. Prior to that, her dad, mom and uncles had run the firm, with her grandfather at the helm when it first began, before Alberta was even a province.
"The company has always been used as a teaching tool for the children of the family," explains Carolyn who, coincidentally, retired as a faculty member at Haskayne School of Business after 20 years the same year she retired from Riley & McCormick. "When my grandfather ran the company, his children worked in it at various times in their lives. My siblings and I all worked in the Calgary store as kids — after-school, on weekends and especially during Stampede. My children, nieces and nephews have all worked during Stampede, selling and learning about business. Every family member understands the hard work that goes into keeping the firm in business."
One of the great advantages to running a family business is, due to its collaborative nature, the ability to pursue other interests such as teaching — one of Carolyn's passions. "One of the biggest disadvantages is that sometimes one makes decisions that are good for the family, but not the company, and sometimes good for the company, but not the family," she says. "It can be hard to keep a balance."
Carolyn offers this final piece of advice for anyone thinking of setting up your own firm: "Don't forget that you are always working; you and your family will live and breathe the business. Remember that the company exists to serve the interests of the family shareholders and not vice versa. It is so easy to put oneself last!"