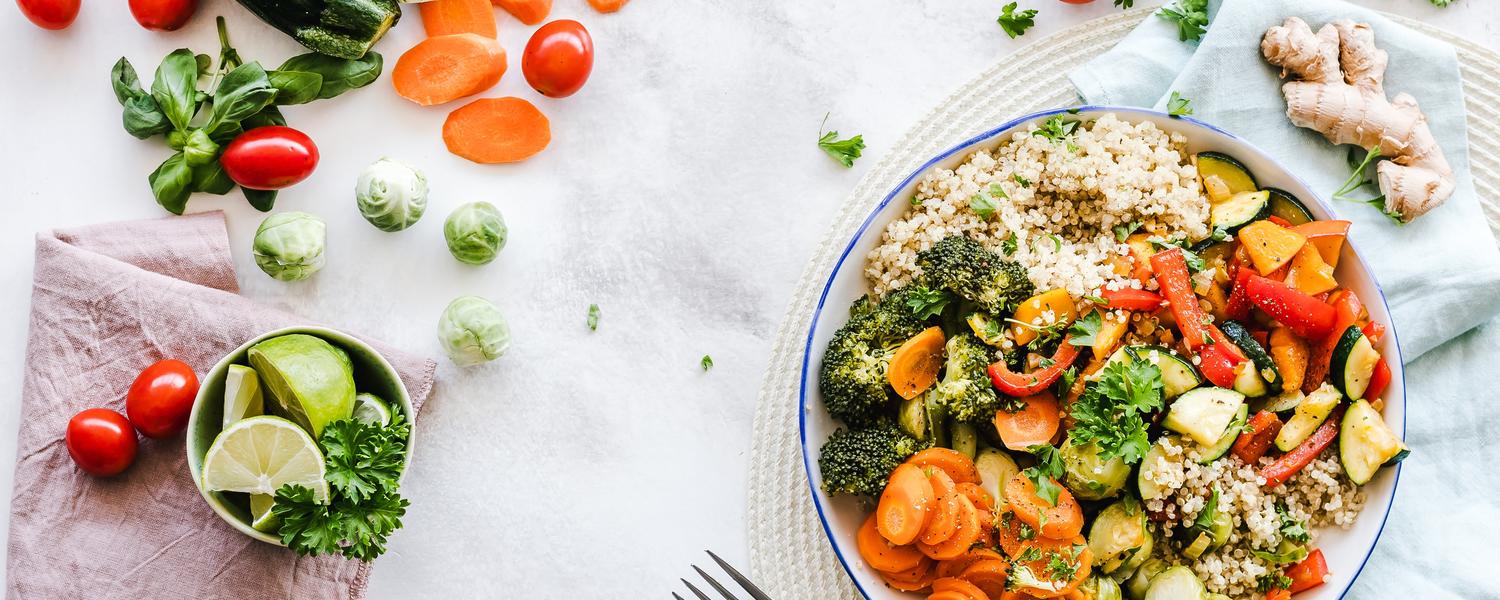 Two Recipes as Healthy as Canada's New Food Guide
Goodbye, rainbow. By now, you've likely heard that the 2019 update to Canada's Food Guide depicts a plate loaded with fruit and vegetables on one half, a quarter-plate of protein and a quarter filled with whole grains. Your plate is supposed to look like a new photograph each time.
Although some critics of the new guide suggest it will cost more to follow, Danielle Arsenault, BFA'04, BEd'06, who owns Pachavega Living Foods Education, a raw vegan culinary school in Canmore, doesn't buy it.
"Six boxes of Kraft Dinner cost more than a bag of brown rice," she maintains. "Taking processed foods out of the equation and following the new food guide will cost consumers less and be less of a burden on our natural resources (think about plastics and waste used in packaging).
"If we are concerned with nutrient-to-cost ratio, let's buy the most nutrient-dense foods," Arsenault suggests. "Red cabbage, for example, has infinitely more nutrition than a green cabbage, and it will cost the same. Same goes for red onion vs. white onion. The red and purple colour denotes the food is full of anthocyanins, which are powerful antioxidants. Another tip is to cut broccoli and garlic ahead of time — before you consume it. When you do this, the plant-chemicals within these foods mix and provide a stronger antioxidant value and their nutrition is, therefore, enhanced.
"These are just a few tips to up your nutrition intake, without having to pay extra. The truth is, in-season, whole plant-based foods cost less and you get the most value out of these foods than anything you would find in a package."
Here are two simple and easy recipes from Arsenault's cook books. Download more recipes here.
Broccoli Bowl with Tahini Garlic Dressing
2 cups broccoli (stalks, too) 
2 cups sweet potato, cubed
1/2 onion, chopped
pink salt (Himalayan)
cumin powder
Chopped purple cabbage (purple cabbage has more antioxidants than green cabbage — always choose purple veggies over their green counterparts)
Sliced tomato
Brown rice
1/2 Tbsp. coconut oil
Sliced avocado (full of healthy fats and vitamin E - optional)
Sesame seeds (full of calcium - optional)
Procedure:
Drop 1/2 Tbsp coconut oil in a pan on medium heat. When melted, add broccoli, sweet potato and onion; cook on medium heat for 10-15 minutes, stirring occasionally. Add a pinch of pink salt and a dash of cumin powder. Continue to stir until cooked (about 15 mins).  
Cook rice as instructed (make double the amount you'll need for leftovers to be used the next day — this will save you time tomorrow).
Assemble the bowl with a scoop of rice, some shredded purple cabbage, add the broccoli, sweet potato and onion, sliced tomato and sliced avocado; top with sesame seeds and Tahini Garlic Dressing.
Tahini Garlic Dressing
1 cup olive oil
1/2 cup nutritional yeast flakes
1/2 cup water
1/3 cup tamari/soy sauce
1/3 cup apple cider vinegar
2 cloves garlic, crushed
2 Tbsp. tahini paste
1/2 tsp. pink salt
Procedure:
Blend all ingredients in a high-speed blender until smooth. This yummy dressing will keep for two weeks in the fridge; store in an air-tight container such as a mason jar.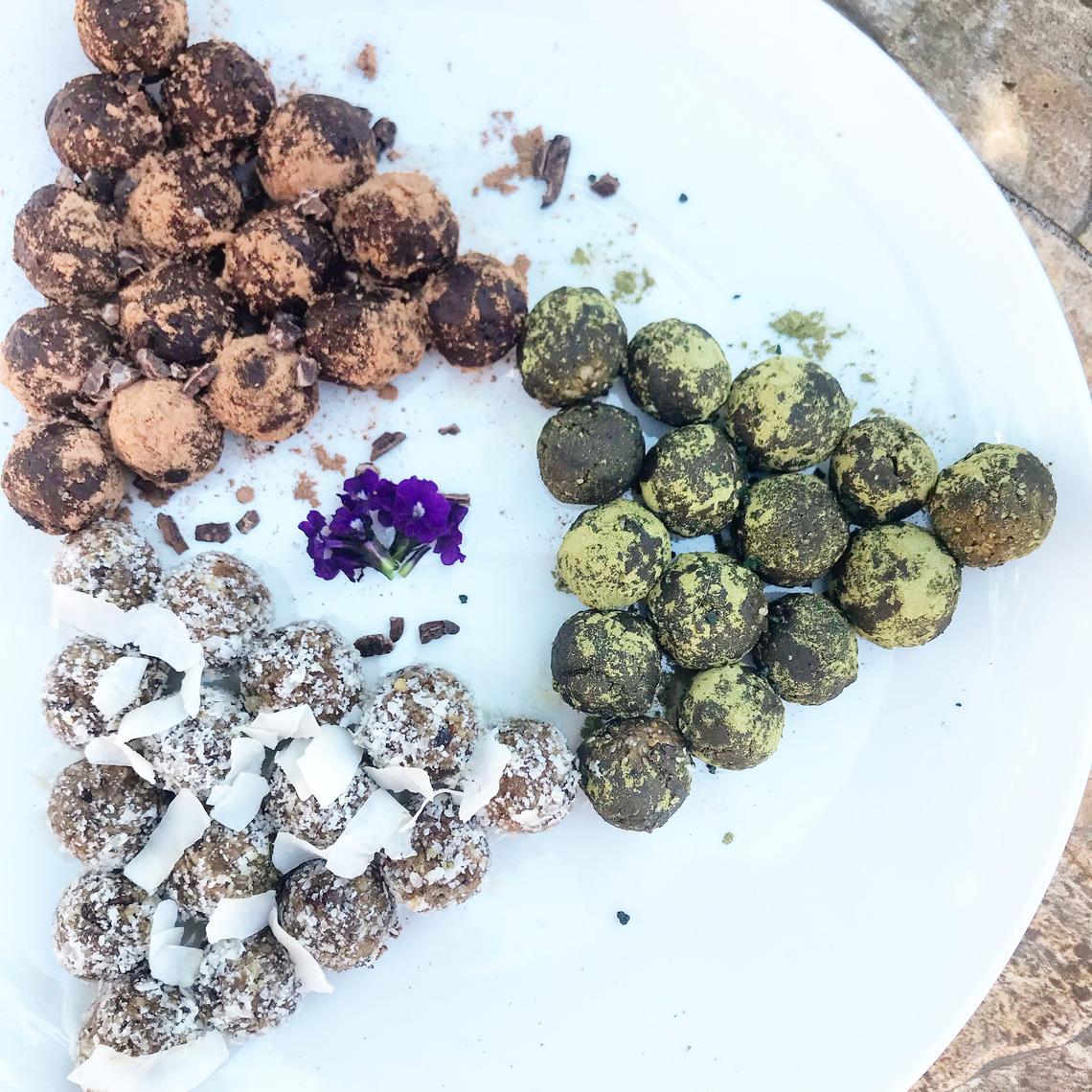 1/2 cup dates, pitted 
1/2 cup coconut flakes
3/4 cup walnuts
2 apples, chopped
1 tsp. cinnamon
pinch of pink salt
Procedure:
Place all in a food processor and process into a dough-like consistency. Scoop out with hands and roll into balls and coat with coconut flakes, cacao or matcha green tea powder (optional). These delicious sweet treats will keep fresh for 1 week in the fridge or 3 months in the freezer. 
Pro Tips:
Check for used blenders and food processors at your local thrift store
Get bulk nutritional yeast, tamari, sesame seeds, apple cider vinegar, dates, coconut flakes, walnuts, olive oil and pink Himalayan salt online at omfoods.com for an affordable price.