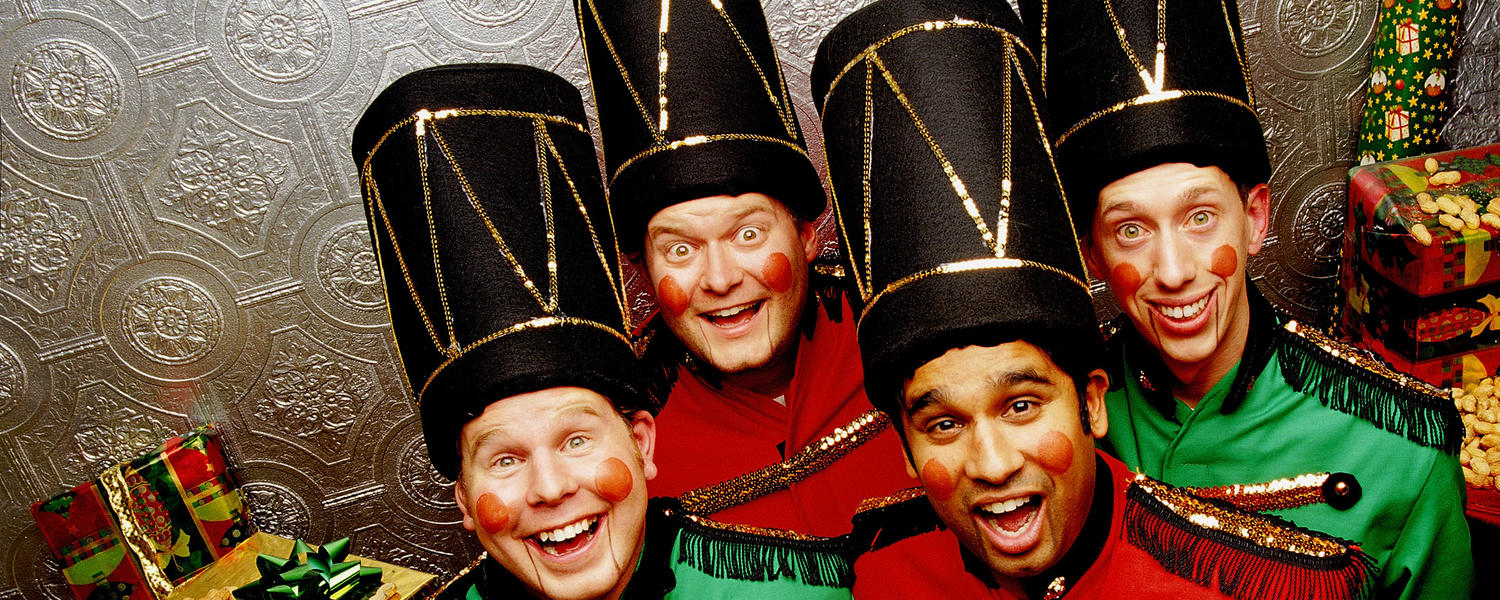 Alumni A Cappella All-Stars Keep Hitting the High Notes
With the Heebee-jeebees celebrating 25 years, we dive into their valuable education and how they keep racking up hit after hit
By Deb Cummings
What happens at the University of Calgary, doesn't always stay at the University of Calgary.
Case in point: the Heebee-jeebees — the award-winning a cappella quartet whose story may have begun in the stairwells of Craigie Hall, but has since catapulted on to venues ranging from the Scotiabank Saddledome and Olympic Plaza to stages in New Orleans, Las Vegas and beyond.
While their annual Christmas fundraiser for the Calgary Food Bank marks the band's 25-year history, our very own Jersey Boys (Cedric Blary, BMus'00; Chris Herard, BMus'95, BEd'96; Ken Lima-Coelho, BA'94; and Jonathan Love, BA'97, MFA'03) have stayed close to their roots, their home and their city, which has always been Calgary.
Tenor Lima-Coelho remembers their very first concert for the food bank. "It was back in 1993 and it was for the campus food bank, but the cause has remained the same," he says.
"Causes," it turns out, are a big deal for the fun-loving, always-quick-to-laugh Heebee-jeebees. Now in their 40s, these four family men with full-time jobs are no longer trying to be a "better band," admits Lima-Coelho, Calgary YMCA's vice-president of Community Engagement, "just a bigger part of the community." With eight albums, three CARA awards (the Grammys of a cappella) and thousands of performances under those baggy polyester jerseys, it's tough to imagine them getting much better.
But 25 years? Now that's a bragging right, a commitment, that not many bands can claim. But the group's origin — well, it's an origin story as typical as any other.
"There was a girl. But . . .  isn't there always?" recalls Lima-Coelho. 
Back when he was a communications student at UCalgary, Lima-Coelho volunteered "his band" to play at a wine-and-cheese party that his department was hosting. "Trouble was, there was no band," he laughs. "I knew a couple of guys who could sing, you know from high school, and seeing that we didn't have a bass or even a vehicle to transport equipment, had we had any equipment . . . well, all we really could do was sing. In other words, we had a gig before we had a band. Or a car."
By the time the wine-and-cheese party had wrapped and people had heard the Heebee-jeebees (the name was cribbed from a Calvin and Hobbes comic strip) play California Dreamin' and Walk on the Wild Side over and over again, the quartet had snagged three performance offers. In a couple of weeks, they had nailed down 10 songs that they played at gigs from law firms to non-profits. Today, that repertoire is somewhere between 200-300 songs and the number of gigs hovers around 100 a year. 
In fact, you'll see much of that history when you scroll through their Facebook pages where you'll find a shot of four guys in denim shirts wailing in the stairwell; another snap of them looking cool in leather jackets and suits from their first clothing sponsor, Supreme Menswear; and then a long run of what's become their sartorial trademark — jerseys. From those worn by the Flames, the Hitmen, the Stampeders and all sorts of customized versions, jerseys were chosen because, "Love [the band's lead singer, who cut his chops with the Calgary Boys Choir] was constantly losing bits of formal wear and other guys weren't into ironing," says Lima-Coelho, laughing. Always laughing.
Comedy, high energy, upbeat music — that's the Heebee-jeebees' shtick. "If we don't get a laugh within 30 seconds, we're worried," says Love, who works in marketing and communications at Mount Royal University. In fact, flip over the band's business card and you'll read, "the most fun you've ever heard."
Lima-Coelho admits the band has obviously evolved from a way to "meet girls and get free food." Though he's quick to point out that all four members did, indeed, meet their wives through music. But today, rather than balancing studies with concerts, they juggle full-time jobs and family responsibilities with the demands of two shows a week. There remains, however, one constant.
"Our wives are saints," the members say, almost in tandem, certainly in tune.
And, Lima-Coehlo adds, "We still get free food."
Other vital facts you may not know:
All four singers are serious Star Wars fans, but only one — Jonathan Love — can actually claim to have been a part of the franchise. Love played Obi-Wan Kenobi in the Clone Wars video game for LucasArts. An expert in voiceovers, he's also worked on Dragonball, Inuyasha, a lot of anime series, and will be heard in an upcoming feature film called Valley of the Lanterns.
The Heebee-jeebees have opened for groups such as the Commodores, Spirit of the West and sung alongside Paul Brandt and Percy Sledge.
Every Jan. 8, they join forces with Steve Pineo to perform an Elvis tribute — always on Elvis's birthday.
The Heebee-jeebees have a mantra. It sounds like that Talking Heads line from Once in a Lifetime, but Love says they always look at each other before a show and say, "How did we get here?" Explains Love: "That's really our way of saying, 'Let's not screw this up.'"
They almost called themselves Merge instead of the Heebee-jeebees. En route to their first gig as a band (that wasn't), they discovered they needed a name. The story goes that they looked out the car window and saw a road sign — merge. They're very glad they opted to use an expression of Calvin's — when he has an existential crisis over a dead raccoon — in an old Calvin and Hobbes strip.
It's easy to imagine how an a cappella group can tire of singing "A-weema-weh, a-weema-weh, a-weema-weh," night after night, show after show. After three years of desperately wanting to move on from the iconic melody, Love had an epiphany: "It seems so straightforward now, but I remember realizing, 'It's not what we want to sing, but what they want to hear.'" Everyone knows that song, says Love. "We now use it as a connective moment to bring people up on stage, from [Mayor Naheed] Nenshi and [Village Brewery co-founder] Jim Button to every premier . . . who can't sing The Lion Sleeps Tonight?"
They always — always — begin their shows with Good Lovin' and, if it's in December, then it's Santa Claus is Coming to Town.
One of the quartet's highlights was elbowing their way in to meet Harry Belafonte, who was singing in Calgary at a private reception where people had paid $10,000 a ticket. After getting booted out, the quartet circled back at the end of the evening, played two songs for Belafonte and were shaking hands with the voice behind Day-O when all Lima-Coelho could think to say was, "You were my favourite guest on The Muppet Show."