Careers in Motion: Jill Tynan, BPE'72
By Deb Cummings
In our series, Careers in Motion, we bring you interviews with alumni who are innovators, thought leaders and experts in their field. From entrepreneurs, financiers and actors to all-star teachers like this month's featured alumna, Jill Tynan, BPE'72 — recent recipient of the Order of the University of Calgary — we hope you find these candid conversations illuminating.
When did you know you wanted to be a teacher?
For a brief spell, I thought about pursuing medicine, but I didn't get in and I wound up liking kids so much that it just sort of fit. And then I discovered that I loved being a phys-ed and math teacher, which is why I did it for 25 years. 
What were some of the challenges you faced in your teaching career?
When I first taught Math 30, I had to do every question I assigned as my own personal homework. My fear was that someone would say: "Mrs. Tynan, you know Question 37? I didn't understand it." And that I'd answer: "Neither did I. It was tough going, wasn't it?"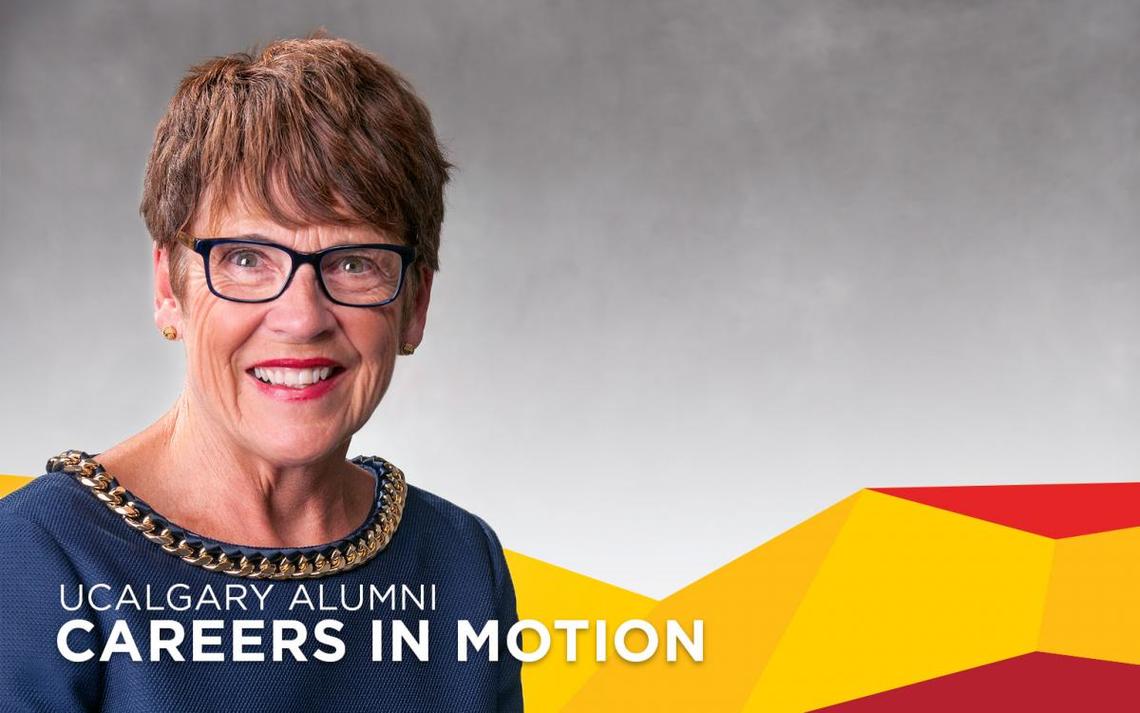 What have you been doing since you retired from teaching?
I've been working at the United Way for the past 11 years as a major gifts organizer. In many ways, I still feel like I am a teacher there, but without the marking or discipline problems. Plus, I was a senator at UCalgary from 2010 to 2016, which kept me very busy. 
What was one of the highlights of being a senator?
Acting as an ambassador for the university meant I was constantly connecting people which was not only fun, but really rewarding. But perhaps the biggest thrill of all was chairing the committee that searched for a new chancellor. We found Bob Thirsk and I got to make that phone call . . . I will always remember calling an astronaut!
Were there any moments that really stood out for you as a teacher? 
So many, but the one that circled back to remind me of the legacy teachers can leave happened during track and field season at my first school when we were recruiting students to the team. How it worked back then was that points were awarded for all students who were on the team, regardless of how well they fared. There was this little Grade 8 girl who badly wanted to be on the track team, but didn't have a lot of skills. We were getting closer and closer to the actual track meet day, but we were still short of students for the 1,500-metre race. I talked to this young girl and asked that she run the race for our school. If she finished the race, she would get points that would help our school win the track meet. If she needed to do so, she could even walk part of the way. She readily agreed and, when the day came, she ran the whole way. Others ran past her and she was lapped. At the end, she was the only athlete on the track when she crossed the finish line. She was horrified to be the last one and was crying. I hugged her and congratulated her and tried to explain that winning doesn't always matter; it is the effort that one gives that matters. The next day, during announcements, I made sure that she was recognized for her great efforts.
Fast-forward 25 years: I was leaving the Calgary Board of Education to join the United Way and my name was mentioned in a retirement announcement. A few days later, I got a letter written by this girl who was now all grown up. She worked for the CBE and had learned that I was leaving. She wrote to say that what happened so many years ago after that race had changed her life. That race had taught her that you don't have to be the best, but you need to give your best in life. She now runs marathons, her children are active and they also run. Her words to me as I left teaching were the most wonderful gift a teacher could hear. I will never forget Anna.
 
What did it feel like to be introduced as a senator? 
Frankly, it made me feel enormously proud of the university. I loved the title. But here's a funny story. For so many years, I would accompany my husband (Russ Tynan) to Stampede events where I was always "the wife of Russ." The good side was the fact that I bought myself lots of new outfits that I wore to these events. When I became senator, he was introduced as "the husband of" . . . but I didn't give him a clothing allowance!
Do you have any advice for wannabe teachers?
Go for it and love every minute of it. You have to have a passion and you have to love kids. 
Do you have any fears about the future of the teaching profession? 
Teachers are drowning in administration. When I taught at Western Canada High School, I often worked 60 hours a week and I didn't have the admin duties they have today. So I worry about that and the size of classrooms, which are ridiculous. I have a granddaughter who is deaf and we don't think she'll be able to go to a public school because the class sizes are so large that she'd be lost. 
Your family is known for many things, one of which is the time you give to volunteer. Why do you do it?  
It's that good feeling. It's like philanthropy. If you give to something you believe in, you feel good about yourself. If you know you're helping someone else, it makes you feel good.  
How do you feel, having just been awarded the Order of the University of Calgary? 
I am still in awe that I was asked. While I was senator, I met some of the recipients so I knew what a privilege this award was . . . but I never thought I'd be asked. Never.