People-Powered Parties Are Gearing Up
By Deb Cummings
In our series, Careers in Motion, we bring you interviews with alumni who are innovators, thought leaders and experts in their field. From entrepreneurs and financiers to people in the film industry, architecture and law, you will find illuminating insights from all-star professionals in this monthly slot in our newsletter.
This month, we chatted with Calgary-based entrepreneur and alumnus John Reid, BKin'09, operating partner and "pilot" of Calgary's latest party bike operation — Pedal Pub. You may have seen him driving one of the company's 15-person Dutch bikes from brewery to brewery in Inglewood or around what's been dubbed the Barley Belt (in the Manchester Industrial Park, home to six or seven microbreweries).
While human-powered taverns have been a staple in the Netherlands since 1997 and, in the past decade, have become enormously popular in Nashville, Portland and Minneapolis, they only entered the Calgary market last year with Urban Pedal Tours — Pedal Pub's No. 1 competitor. 
We caught up with Reid to ask him: why Calgary? Why now?
With 43 microbreweries currently in Calgary (with four more on the way), Reid says the city's "local brewery scene is incredible," with "lots of room to showcase many of them along with some cool neighbourhoods."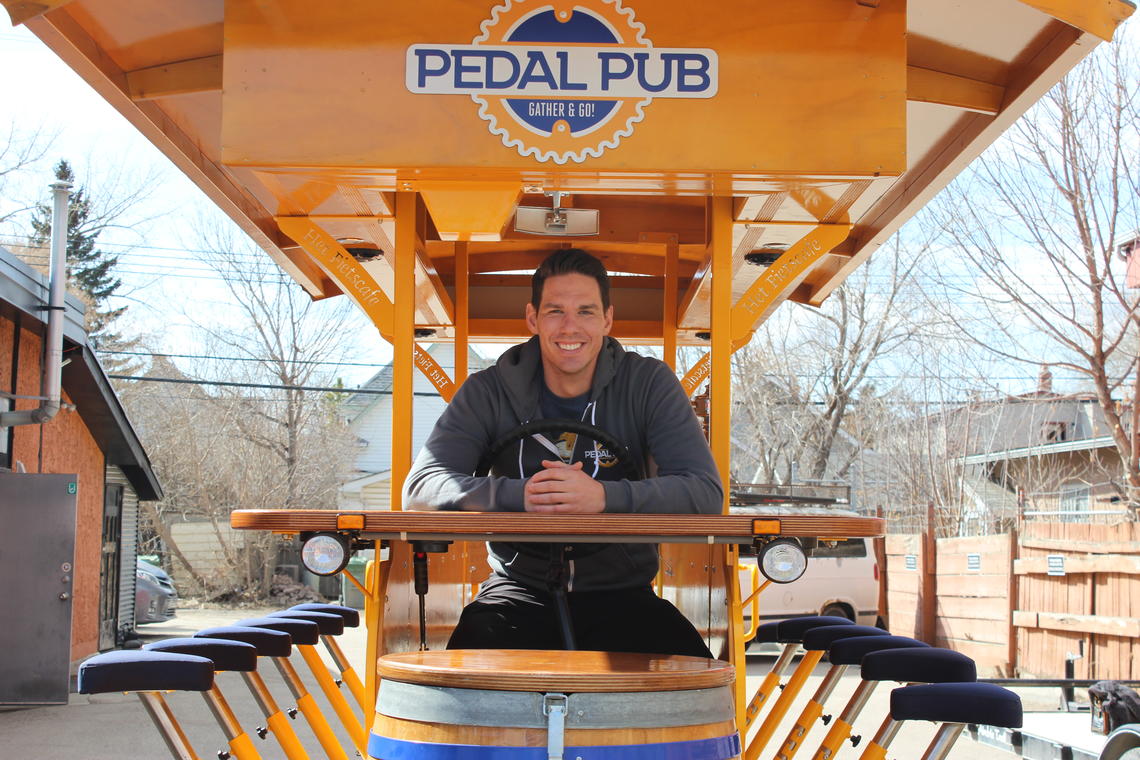 What happens on a two-hour, $40-per-person tour?
Typically, we'll pedal to three breweries and drop you at a fourth, which means you have about 20 to 25 minutes at each stop where you can order a pint (at a discounted rate of $5). And the guided content is tailored. Beer aficionados will want to know more about the breweries, while others may want to know about the history of the buildings or neighbourhoods — it all depends on the group.
Who are your clients?
Right now, we're running more corporate events from Monday to Thursday, with curious locals and out-of-towners on weekends. Plus, we've had a few stags and stagettes thrown in the mix.
What's your capacity?
Each of our three bikes holds 15 people apiece, so we can take 45 people out at the same time. During Stampede, we are hoping to run five (two-hour) tours a day. And, with WestJet's Dreamliner flying in 150,000 new tourists from Ireland this summer . . . well, we see a lot of potential.
How does it feel when you're on the bike?
It's wild. People are waving at you, snapping photos . . . making you feel like a rock star. Seeing the reaction of everyone is the best part.
How is your operation different from, say, what we'd find in Nashville?
Different cities have different rules and attitudes. In Nashville, alcohol is allowed on board the bikes, where here and in Portland, the bikes are dry. Our angle is slightly different where we want to focus on Calgary's hyper-local brewery business.
Do you use your kinesiology degree in this business?
No, but I think I knew by Year 2 that I wouldn't likely use it in a direct way. But I was really involved. I wrote for the Gauntlet and was VP of the Kinesiology Students Society. Years later, I am still utilizing the networks I formed at university.
What did you do after you graduated?
I travelled for a year and then went to SAIT where I took broadcast journalism. I worked at Breakfast Television for a couple of years, but that early morning shift wore on me. Plus, the structure of journalism got to me — it wasn't the creative outlet I thought it would be. That led to other jobs and some startups, which I really liked.
If I had met you when you were a student, would you have said you were an entrepreneur?
Probably not, although at that time I was fund-raising for lots of initiatives and causes and parties and school trips. But, back then, I would have said an entrepreneur needs a staff and HR . . . which isn't true at all. Entrepreneurial thinking really is a mindset.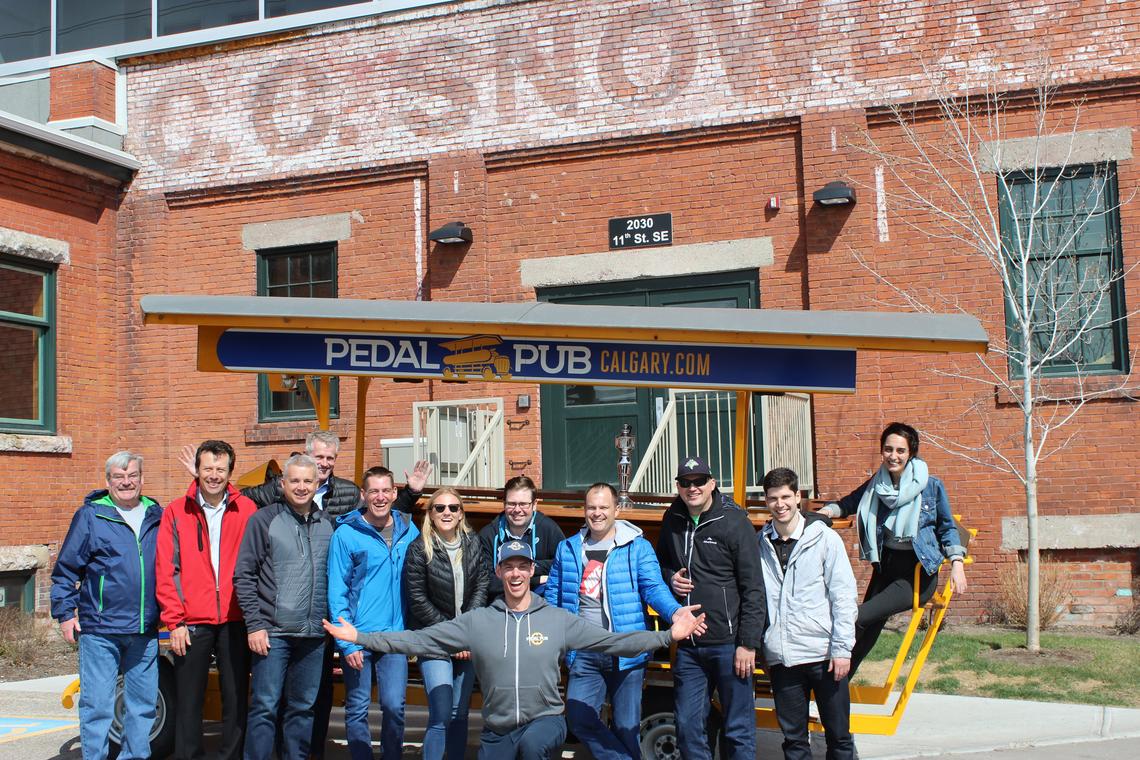 How do you define an entrepreneur?
I think I classify them as visionaries and integrators. Are you somebody who has great ideas or someone who executes on those? I am more of the integrator-executor, so I look for partners who compliment me — that's when things happen.
What has been one of your biggest failures?
Having too much money at the start of a business. If you are going to attract outside investment, you better have your ducks in a row, or you'll waste it. The startup I was involved in didn't have a clear path before we started and we blew the money. It was a very good lesson to learn.
What keeps you up at night?
All the logistical and operational things. It sounds like an easy business, but there are so many details . . . (1) How do we give people the very best experience on the bike? (2) How do we make them laugh the most? (3) How do we make sure the brewery partners are on side? (4) How do we give our pilots all the information they need for a backstory, or several backstories?