Her Olympic Dream Ended, But She Thrived
By Mike Fisher
It was a beautiful day on Feb. 1, 2009, when Charmaine Ironside, a gifted snowboarder ranked No. 2 in Canada in the half pipe and training for the Olympics, landed hard and shattered her back — and her dreams.
After a lifetime of snowboarding and six years of intense training and dedication to reach the summit of her career as an amateur athlete, she began to live her worst nightmare.
"I was mounted on a spine board," says Ironside, BKin'10. "I just kept praying to God for the best outcome — more specifically, that I would not be paralyzed."
Doctors determined she'd suffered a burst fracture of her T12 vertebrae, right in the middle of the back between the neck and tailbone, along with other fractures of the spine. Through the years of competitive snowboarding, she'd become an "iron woman" — lots of metal in her back, knees and right arm from injuries. But this injury was different.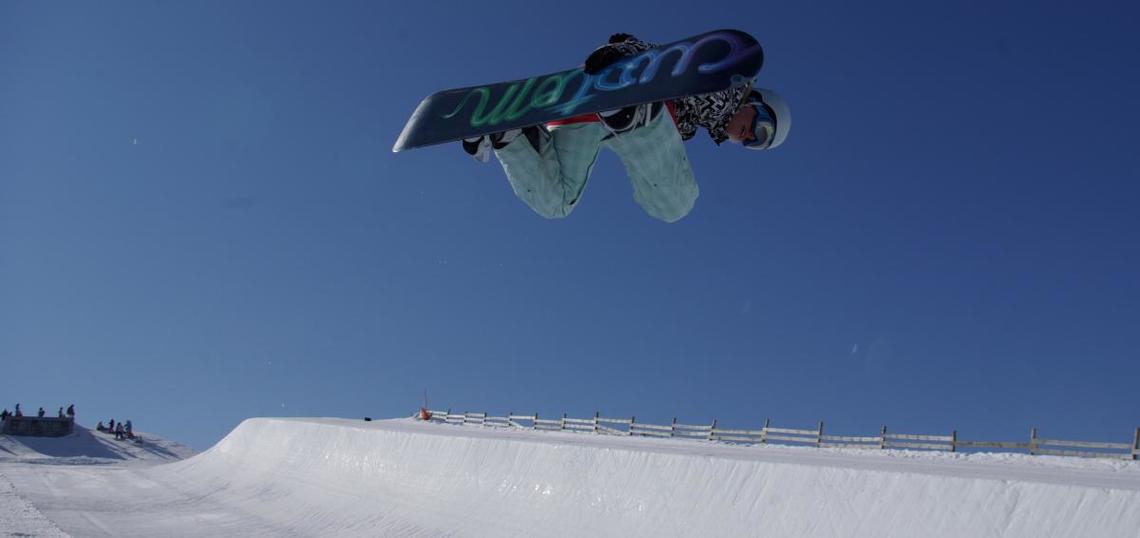 It changed her life.
Today, as the founder of Ironside Fitness, with two locations in Calgary, the fitness trainer and wellness coach dedicates herself to helping others achieve their goals and dreams with exercise and nutrition guidance.
During the long and tortuous road to recovery after that disastrous training accident, Ironside took one more shot at the 2010 Winter Olympics in Vancouver. Then another fall pushed her out of the lineup. She made the painful decision, with the strong influence of her doctor, to let her body heal rather than to keep pushing to qualify for the Olympics. 
"It was the right decision, but it was not easy to give up that dream," says Ironside, now 33.
She was still able to attend the 2010 Olympics as an alternate for the Canadian team because of her ranking in Canada as a National team athlete, though she was not called upon to compete. "It was the next best thing to actually representing Canada at the games — and the perfect closure on a fun career," says Ironside, who is a mom as well as a business owner and trainer.
Interviewed as the PyeongChang 2018 Winter Olympics were under way in South Korea — nine years after her accident — Ironside offers tips in this Q & A on everything from how you can achieve your own goals to how to be an entrepreneurial thinker.
Why is it important to set your own goals?
It's been proven that, if you have something you are passionately moving toward and you have a direction, you will be happier. My direction and passion are to give back to the world and leave it a better place. Your goal doesn't have to be going to the Olympics; it could be anything, including just to be a good mom or to enjoy the simple pleasures of life.
Do you have any specific tips on goal-setting?
Every three months, I write down what I want to have happen in my personal life and my career and with my health and wellness. I write what I want and what the actions I need to take to get there. Every day, I read my goals and I intentionally do things.
I am very intentional with my time. Every decision is guided by, "Will this help me toward my purpose of life, which is to help and inspire other people?" Just take the time to write it out and have something to aim at — you are moving forward; that is the point. Most people don't achieve their goals because they beat themselves up when they are not perfect. But a goal is just something to aim at.
How do you move past a devastating accident or loss?

Step by step. One of the most important things is to grieve the accident or loss. Whether you have therapy or grief counselling or something else, make a conscious decision that you are going to learn from the experience — and decide that you will thrive because of it, rather than deciding the world is against you. Get support, surround yourself with positive people, but the foundation is what I call being a "thriver."
What happens when you must leave a dream behind — and how can you create a new one?

It is so powerful to let yourself be angry and sad — but you must decide to move forward with another dream.
I had to grieve the loss of my career and I was extremely sad. But my injury gave me so much compassion for other people who struggle with injuries or their body weight or whatever is their personal challenge.
I was close to paralysis and I still have nerve damage, but I consider my accident a gift. If it hadn't happened, I wouldn't be who I am today or have the life that I enjoy. I am so grateful to be walking and running and snowboarding. I love the mountains. I judge snowboarding competitions for youth as a way to give back and I am enjoying teaching my daughter to ski.
What other aspects of living a good life did the experience teach you — and how are you teaching others?

For me, it was an aha! moment. I learned our bodies are precious and a gift. I want to show people their body is a gift worth honouring. Exercise and nutrition are ways of honouring your body. Come from a place of loving yourself to take care of yourself.
How can someone become an entrepreneurial thinker to achieve their goals?

The entrepreneurial spirit comes down to believing in yourself more than anyone else does. When I first graduated from university, most people told me I was making a mistake opening a fitness studio because there was so much competition. Even when I started out for the Olympics, some people thought it was a pipe dream. But I believed in myself.
For me, entrepreneurial thinking means that you see a need that is not being filled, you are passionate about it and so you find a way to fill the need. I saw there was a lot of people who did not feel comfortable in the gym as exercise-beginners and they needed to have fun while working out, so I started Ironside Fitness to make it friendly and community-driven and fun.