The Canadian Museum of Making — A Buried Treasure
Ian MacGregor's vast collection is literally underground, but his passion for it is sky-high
By Mike Fisher
As private collections go, this one's an inspiration.
After all, Ian MacGregor's 20,000-square-foot underground Canadian Museum of Making in the foothills near Cochrane is the stuff of collectors' dreams. MacGregor's personal collection is a treasure trove of form, function and beauty that translates into a word he uses often — cool.
So, what drives a guy to build his own underground museum?
UCalgary alumnus MacGregor, BSc(Eng) '71, began the museum in 2001 to save machinery and tools that he found significant, some of which may have been destined for the scrap heap.
The 69 year-old is a self-admitted tinkerer, always building or creating something or other, often working with his hands. While he's founded and sold several businesses during his many years in the oil and gas industry, he's got a rooted respect for people who can make something that lasts.
"My mom was teaching me to weave at three years old; she was always making things and, as a kid, I visited junkyards on Saturdays with my dad, who worked at a machine shop," says MacGregor, CEO of North West Refining and chairman of Enhance Energy. "I got interested in ironworks, started making stuff out of metal, and later I realized I liked to collect really cool stuff."
His collection includes an 1895 steam engine, a rare Cleveland twist drill prototype, a linotype machine, machine tools, African metal work and so much more, amounting to about 500 pieces. Some date as far back as the 1750s. All are neatly displayed and artfully lit in underground tunnels that wind into the museum.
MacGregor has ensured that his personal passion is available to the public, to a degree, with private tours. In fact, UCalgary Alumni hosted an exclusive tour of the museum in early June 2019.
Piecing together a collector's dream
"I've always had a fundamental interest in how other people make stuff in a contemporary and historical way," says MacGregor. "Along with that interest, I've always wanted to make stuff. So, as I got lucky in business, I was able to hoard more of the things that I was interested in."
His parents supported his curiosity and interest in figuring things out when he was a boy, introducing him to a project that helped to push him along the decades-long path that led to the museum.
When MacGregor was 12, his parents bought him a car because they didn't want him driving motorcycles. They said he could take it apart, fix it up, and, when he turned 16, he would be allowed to drive it. And he did, knowing that his grandfather had told his mother: "He'll never get that car back together."
After he'd successfully pieced the vehicle back together, MacGregor happily drove it for a few years, but had to sell it to get the money for his tuition at UCalgary. He was the first person in his family to go to university.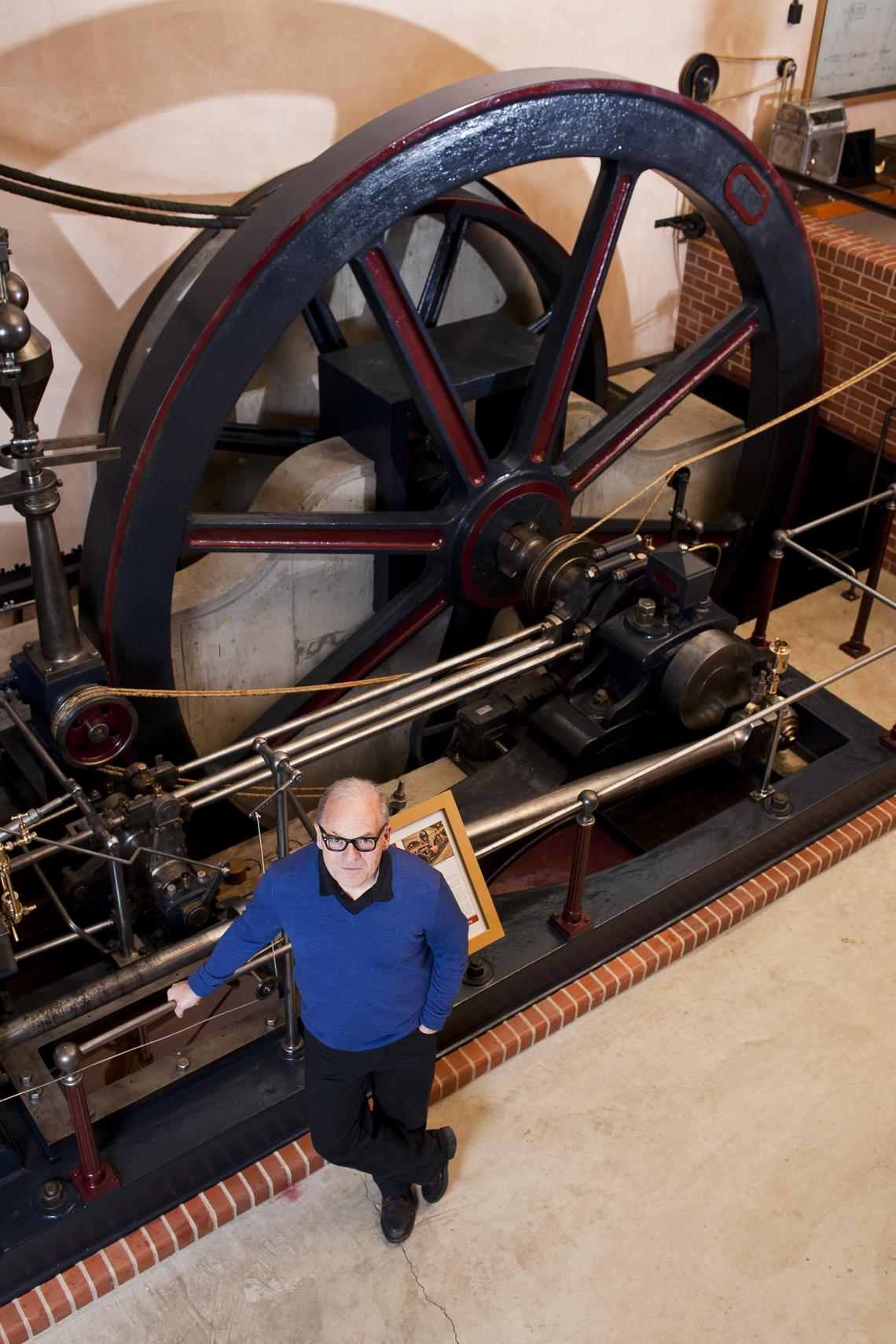 The lessons of living as an entrepreneur
One day, while a grad student in UCalgary's Mechanical Engineering program, MacGregor encountered some salesmen who were looking for someone to build a machine that would prevent cheques from being forged. He quit grad school, rented a double garage, bought a drafting board and a few tools — and became an entrepreneur.
His father loaned him the money to start — $2,500, which was all of the elder MacGregor's savings — giving the then-22 year-old the boost he needed.
"For me, it's an example of how you support the next generation," says MacGregor. "My dad didn't remind me of the obvious fact that I didn't know anything about business; he lent me his life savings and said get going."
MacGregor and his partner made some mistakes along the way, but eventually built a company with a couple of hundred employees. When it went under during the days of the National Energy Program in the 1980s, MacGregor moved on to create other businesses in the oil and gas sector.
One aspect of entrepreneurial thinking is learning and accepting that failure can lead to other successes. For MacGregor, it's all about the effort. Whether it's a new business or a personal museum, he aims to be in it 100 per cent.
"Rather than worrying about failing, I worry about trying my hardest," he says. "I've failed at a lot of things during my life but, when I was a child, I learned that there is no shame in failure, but the only shame is in not trying hard enough."
MacGregor likens being an entrepreneur to the life of a hunter. The excitement of catching something big offsets the feeling of starvation that must be endured first. People who don't like the discomfort of starvation probably shouldn't be entrepreneurs, he says.
"I don't know if being an entrepreneur is easily teachable. I think you can teach people to solve problems and moderate risks," MacGregor says. "I believe success comes from doing something that you like to do. Trying to do it as well as you can, trying to become an expert, and having a high tolerance and appreciation for uncertainty, that's part of the fun."
There is no shame in failure, but the only shame is in not trying hard enough.
Ian MacGregor, BSc (Eng)'71
Making life your fun hobby
These days, MacGregor has several big projects on the go, including developing a new exhibition at the museum devoted to the oilfields in Alberta, which will feature the tools and equipment that helped to build the industry in North America.
North West Refining partnered with Canadian Natural Resources (CNR) to build the new $9.7-billion Sturgeon Refinery near Edmonton — Alberta's first newly built refinery in three decades — and MacGregor continues to help oversee its development.
He's also building a subdivision of luxury homes west of Calgary called Carraig Ridge, an innovative community focusing on the rural lifestyle that MacGregor envisions will house world-class, contemporary architecture in a big private park in the foothills on the way to Banff.
Meanwhile, he also supports the Women Building Futures program that helps to prepare women for work in building trades industries where they have been historically under-represented.
Just don't suggest that the Canadian Museum of Making is his hobby.
"Life is my hobby," says MacGregor, who rides a bike to his office in downtown Calgary every day, and spars with a professional boxer on Saturdays to stay sharp. "There is no partition for me between a hobby and work. I do what I have fun at. I'm in charge of spending my life."