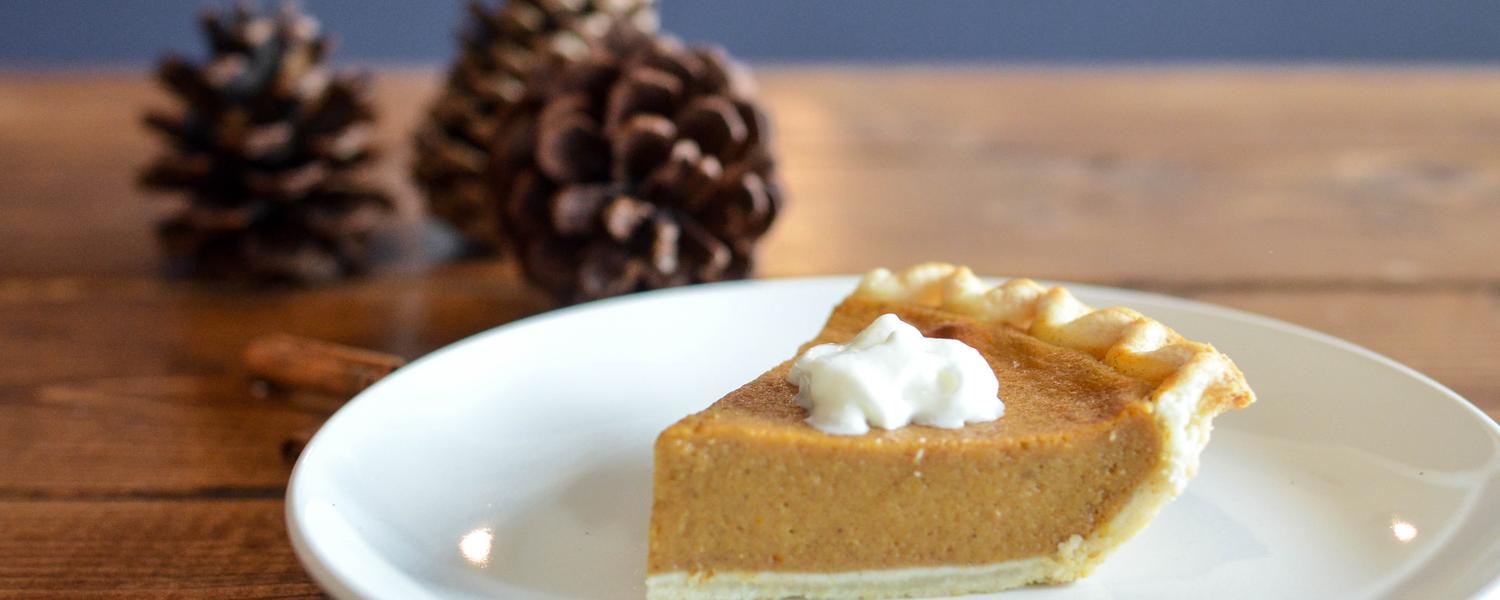 Pumpkin Recipes
We've put together these three pumpkin-based dessert recipes to inspire the chef in you
Every Thanksgiving, my mom would roll up her sleeves and make this divinely light and silky pumpkin pie. She maintained it had to do with using either real pumpkin (roasting or steaming it and then pureeing it) or canned pumpkin — never, ever, pumpkin pie filling. And now I keep this tradition alive . . . but, really, I should make it more than once a year. — Deb Cummings
INGREDIENTS:
Crust
2 1/2 cups all-purpose flour
1 cup powdered sugar
1 cup chilled butter, cut into pieces
6 Tbsp. whipping cream
Filling
1/2 cup sugar
1 1/2 tsp. cinnamon
1/4 tsp. ground cloves
1 tsp. ground ginger
1/4 tsp. nutmeg
3 eggs, separated
2 cups canned pumpkin (not pumpkin pie filling, just pumpkin puree)
1 cup milk (maybe 1/2 and 1/2) or whole milk
1 tsp. vanilla
METHOD:
For crust:
Preheat oven to 350°F. Blend first 3 ingredients in processor until mixture resembles coarse meal. Add cream and process until moist clumps form. Gather dough into two balls; flatten into disks. Wrap in plastic; chill 15 minutes.
Roll out dough on floured surface to 14-inch rounds. Transfer dough to two 9-inch glass pie dishes. Trim overhang to 1 inch. Fold overhang under. Make cut in crust edge at 1/2-inch intervals. Bend alternate edge pieces inward. Freeze 15 minutes.
Line crusts with foil, pressing firmly. Bake until sides are set, about 10 minutes. Remove foil. Bake crusts until pale brown, about 10 minutes more. Reduce oven temperature to 325°F.
For filling:
Separate eggs — yolks in one bowl, egg whites in another.
In the bowl of yolks, add canned pumpkin, milk, vanilla and all spices.
In another bowl, beat egg whites until they are stiff and dry.
Gently fold in stiff egg whites into the pumpkin/milk/yolk filling.
Don't over-mix.
Add the pumpkin filling to the shells and return to oven to bake for 10 minutes at 400°F. Then, lower heat to 350°F and bake for 35-45 minutes more, until the pies are cracked on top and not too jiggly in the centre.
Accompaniment: Lightly sweetened whipped cream (my mom used to add a little grated lemon and a tiny amount of molasses to give it more October zing).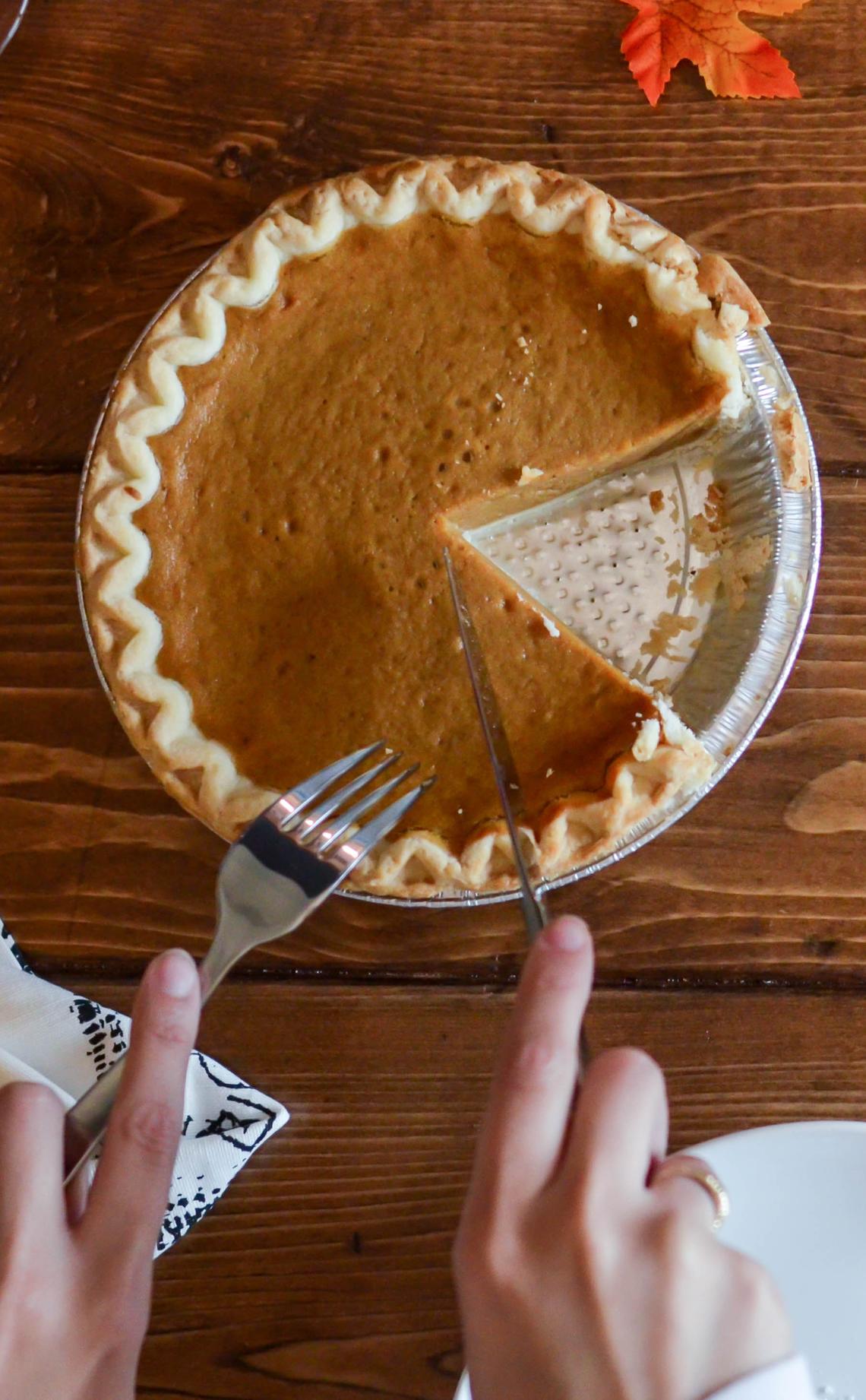 2. Pumpkin Chocolate Chip Whoopie Pies with Cream Cheese Filling
INGREDIENTS:
Cookies:
2 1/2 cups all-purpose flour
1 tsp. baking soda
1 tsp. baking powder
2 tsp. pumpkin pie spice
1/2 tsp. salt
3/4 cup granulated white sugar
3/4 cup brown sugar, packed
1/2 cup butter, at room temperature
1 cup canned pumpkin (not pumpkin pie filling)
1 egg
1 1/2 tsp. vanilla extract
1 cup milk chocolate chips (semi-sweet work, too)
3/4 cup chopper walnuts (optional)
Cream Cheese Filling:
4 oz. cream cheese, at room temperature
1/4 cup butter, at room temperature
2 tsp. vanilla extract
1-2 cups powdered sugar
METHOD:
Cookie:
Preheat oven to 350°F. Line cookie sheets with parchment paper or silpat.
In a medium-sized bowl, whisk together flour, baking soda, baking powder, pumpkin pie spice and salt.
Using a stand mixer, beat sugar, brown sugar and butter together until fluffy. Scrape down the sides, as needed. Add in pumpkin, egg and vanilla extract and beat again. Scrape down the bowl to incorporate everything evenly.
Slowly add in dry ingredients followed by chocolate chips and walnuts. Stir just until combined. Do not over-mix.
Scoop out dough balls roughly the size of a heaping tablespoon. It is important that balls are consistent in size so that the two sides of the whoopie pie are equal. Place the scooped dough on cookie sheets and bake for 9-11 minutes. The final product should be dense and moist — not crispy. Let cool.
Filling:
Beat cream cheese and butter together until smooth. Add vanilla extract and 1 cup of powdered sugar. Continue to slowly add powdered sugar until you reach your desired consistency. These are best when the filling is fluffy and not too sweet. Only when the cookie is fully cooled, frost the bottoms of half of the cookies. Top with an unfrosted cookie and serve.  — Michael Sclafani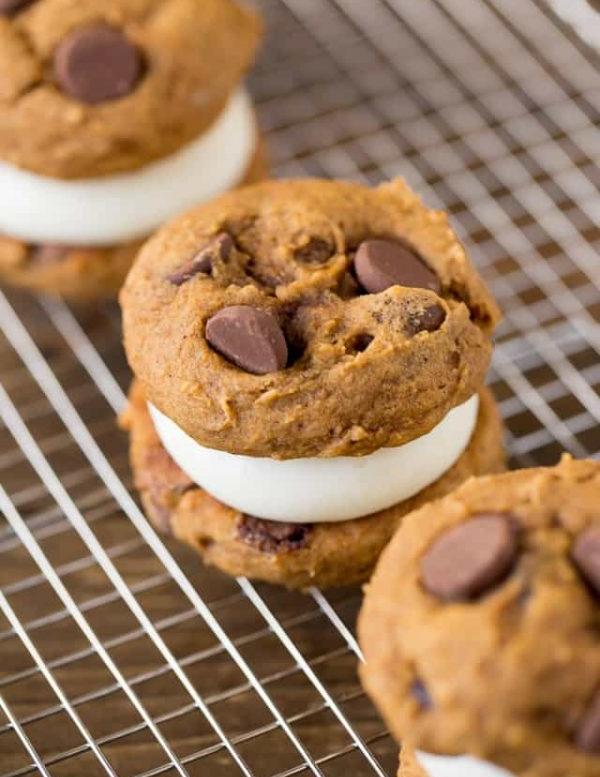 3. ​​​​​​​Pumpkin Mousse Parfait with Speculoos Crumble
INGREDIENTS:
Mousse:
1 envelope (1/4 oz.) unflavoured gelatin
1/4 cup spiced rum (I use Kirkland's Spiced Rum)
15 oz. freshly roasted pumpkin*
1/2 cup granulated sugar
1/2 cup light brown sugar, lightly packed
2 large egg yolks
2 tsp. orange zest
1 tsp. ground cinnamon
1/2 tsp. ground nutmeg
1/2 tsp. sea salt
1 1/2 tsp. vanilla
1 1/2 cups cold heavy cream
Whipped Cream:
1 cup cold heavy cream
1 Tbsp. granulated sugar
1 tsp. pure vanilla extract
Cookie Layer:
3 1/2 cups chopped speculoos cookies (Biscoff, the ones served mid-flight. If you can't find them, ginger snaps are a good alternative)
METHOD:
How to roast pumpkin:
Using fresh pumpkin really adds to this recipe. Cut a fresh pumpkin in half, scoop out the seeds and guts, and then roast (cut side down) on an oiled sheet pan at about 425°F for about an hour. Let cool enough to handle, then scoop out the flesh and puree in a food processor. Spread the puree out in a sheet pan and bake at 350°F; it is done when it darkens slightly or shows cracks. The second roast is optional but, in my opinion, critical. It reduces the water content of the pumpkin while concentrating the flavor. Cool completely before using in recipe. I recommend doing this in large batches and freezing so it is ready when you need it.
Mousse:
Pour the rum into a small heatproof metal bowl. Sprinkle the gelatin over the rum and let it stand for about 10 minutes, or until soft.
In a large mixing bowl, combine the pumpkin, sugars, egg yolks, orange zest, cinnamon, vanilla, nutmeg and salt. Whisk until combined.
In a 2-quart saucepan, add water to a 1-inch depth. Heat the water to boiling, then reduce to simmer. Set the bowl of softened gelatin over the simmering water. Heat and stir until the gelatin is dissolved. Immediately whisk the hot mixture into the pumpkin, making sure it is well-blended.
In a large mixing bowl, beat 1 1/2 cups cream on high until soft peaks form. Gently fold the whipped cream into the pumpkin mixture and set aside. Do not over-beat.
Whipped Cream:
In a large mixing bowl, beat 1 cup cold heavy cream until it begins to thicken. Add 1 Tbsp. granulated sugar and 1 tsp. vanilla and beat on high until soft peaks form. Do not over-beat as you want it to be creamy, not stiff.
To assemble: 
This can be assembled as a trifle or in individual parfait glasses. Divide half the pumpkin mixture into 12 small parfait glasses, or one trifle bowl. Divide half the chopped cookies on top of the pumpkin mixture, then top with half the sweetened whipped cream. Repeat layers and garnish with half of a whole cookie, if desired. Cover and refrigerate until ready to serve.  — Michael Sclafani