UCalgary Alumnus Sam Effah Takes Us Behind the Scenes
by Deb Cummings
photos: CTV
Some 2 million viewers tuned in to Season 7 of The Amazing Race Canada this past summer to watch the usual hiking and biking, blistering and bonking that takes place before some lucky team walks off with the $250,000 purse
In the world of hardcore adventure races, The Amazing Race Canada is considered "light fare."
But tell that to Sam Effah, BComm'14 — who, along with his teammate, Sarah Wells, snagged second place in the latest season — and the Olympic hopeful will tell you otherwise. It may not have been the most physically demanding event that Effah has ever faced, but some of those speed bumps, coupled with cabbie issues and the usual map-reading foolery, did unnerve Effah.
"I've always had a fear of heights," confesses the 30-year-old sprinter, who grew up in Calgary but now calls Toronto home. "So, when I had to do the Primal Swing [46 metres above the Nanaimo River], I was completely terrified. Doing it twice within 10 minutes was brutal." (Unfortunately, Effah blew the second part of the challenge that required him to correctly recite the ingredients in a Nanaimo bar.)
There is no denying the athleticism on The Amazing Race Canada. From swimming under ice (where the air temperature in Yellowknife was minus-22) and racing dirt bikes, to testing their lacrosse skills, the duo was able to physically claw their way back after a shaky start. A near-elimination happened in Episode 1, which still gives Effah nightmares — and, like knowing what goes into a Nanaimo bar, it had nothing to do with athletic prowess. The challenge was they had to perform a voiceover to part of the then-newly released movie, The Lion King. Effah misunderstood the instructions and thought they had to memorize the text, which set them back two hours.
"Always read your clue, very carefully," he advises. "I was nervous and lost focus and didn't properly read the clue . . . but to have been the sole reason for an elimination would have been the worst feeling ever!"
Teams who are persistent and understand that the race is meant to challenge you will get very far.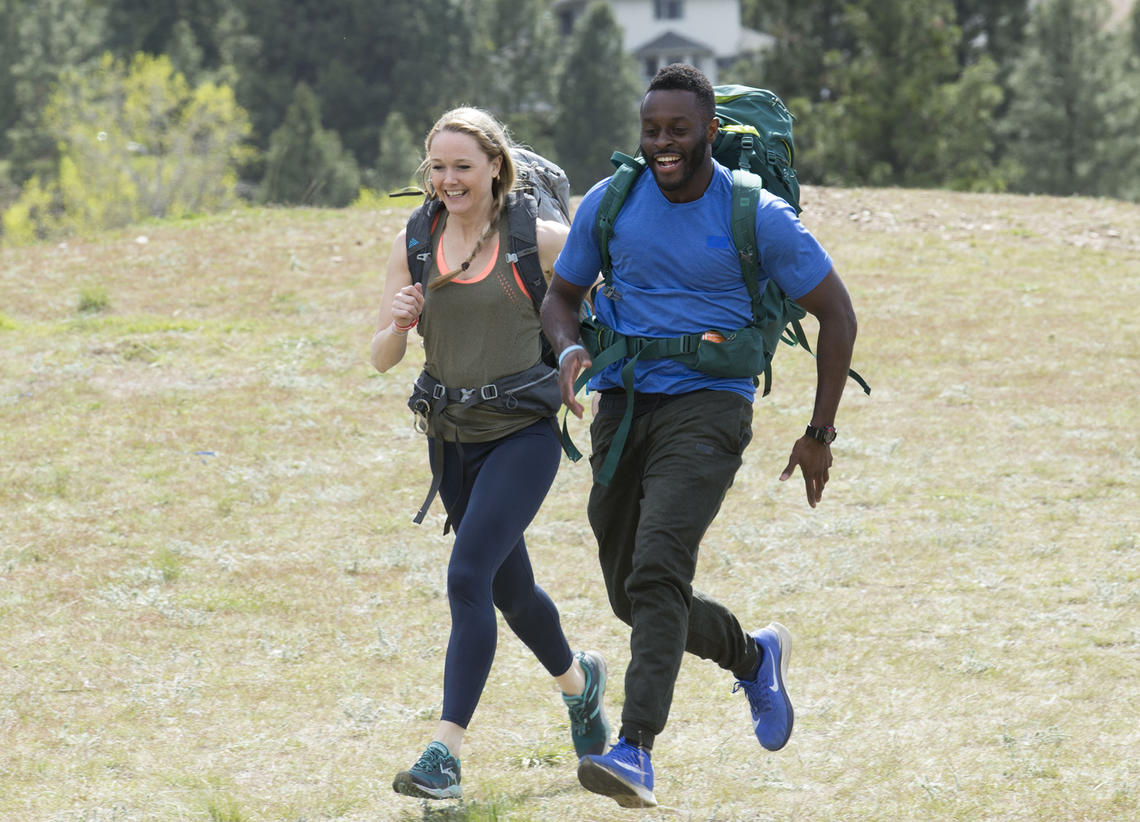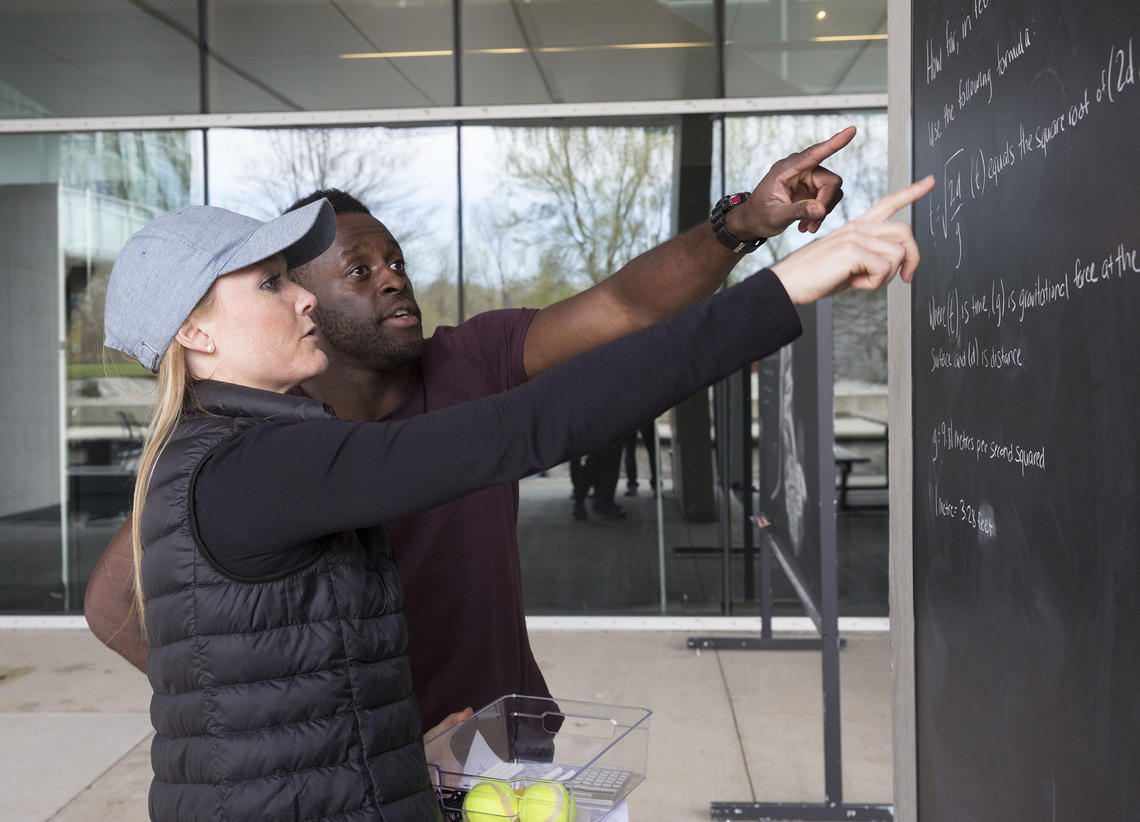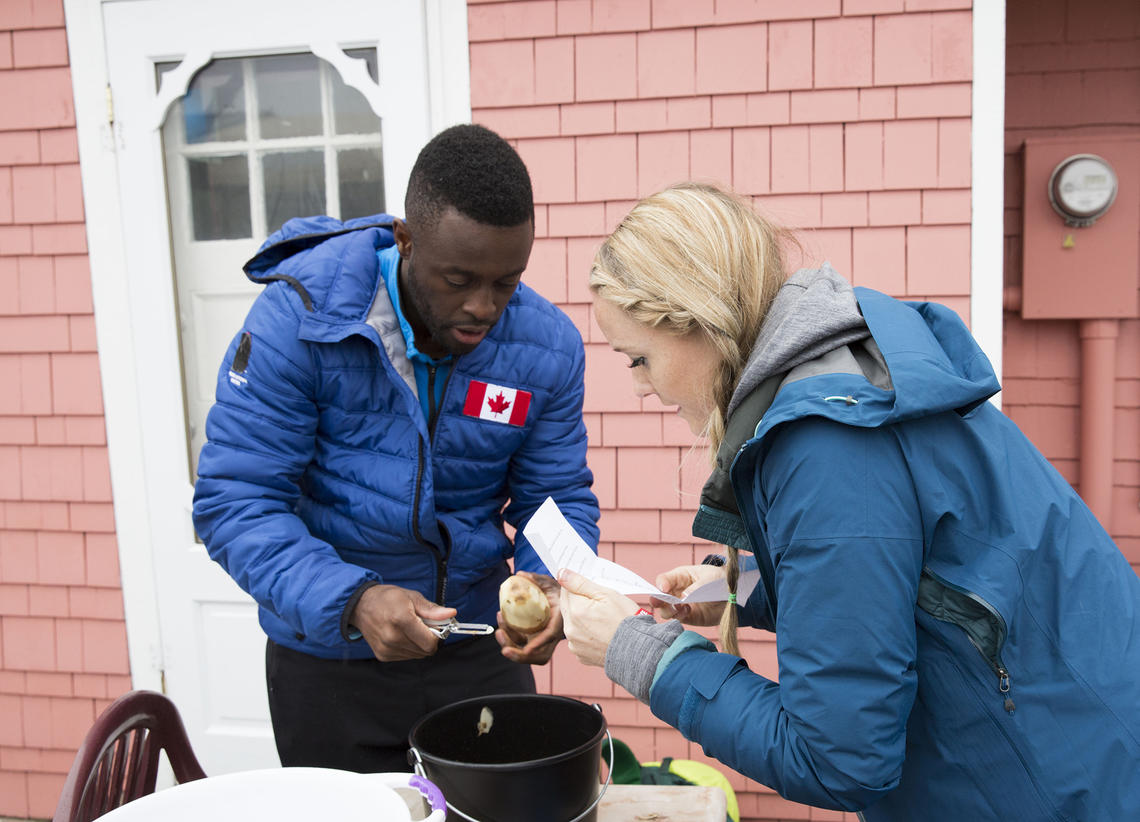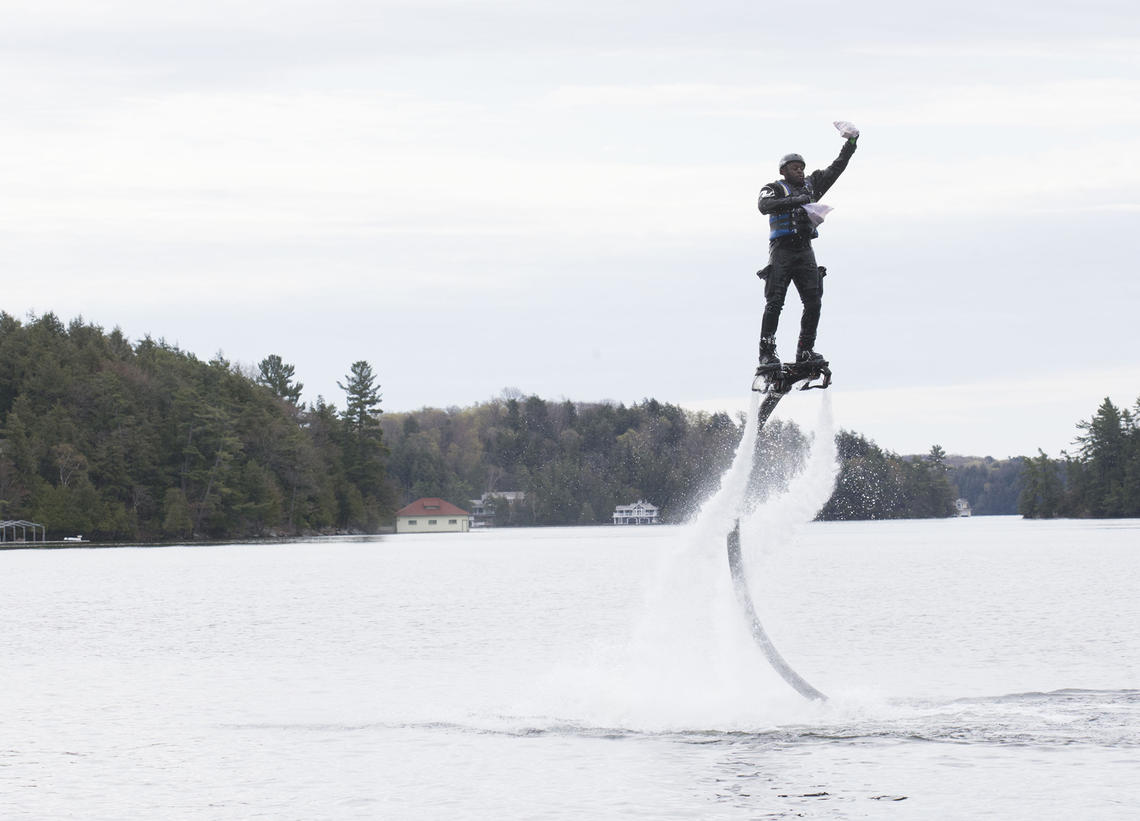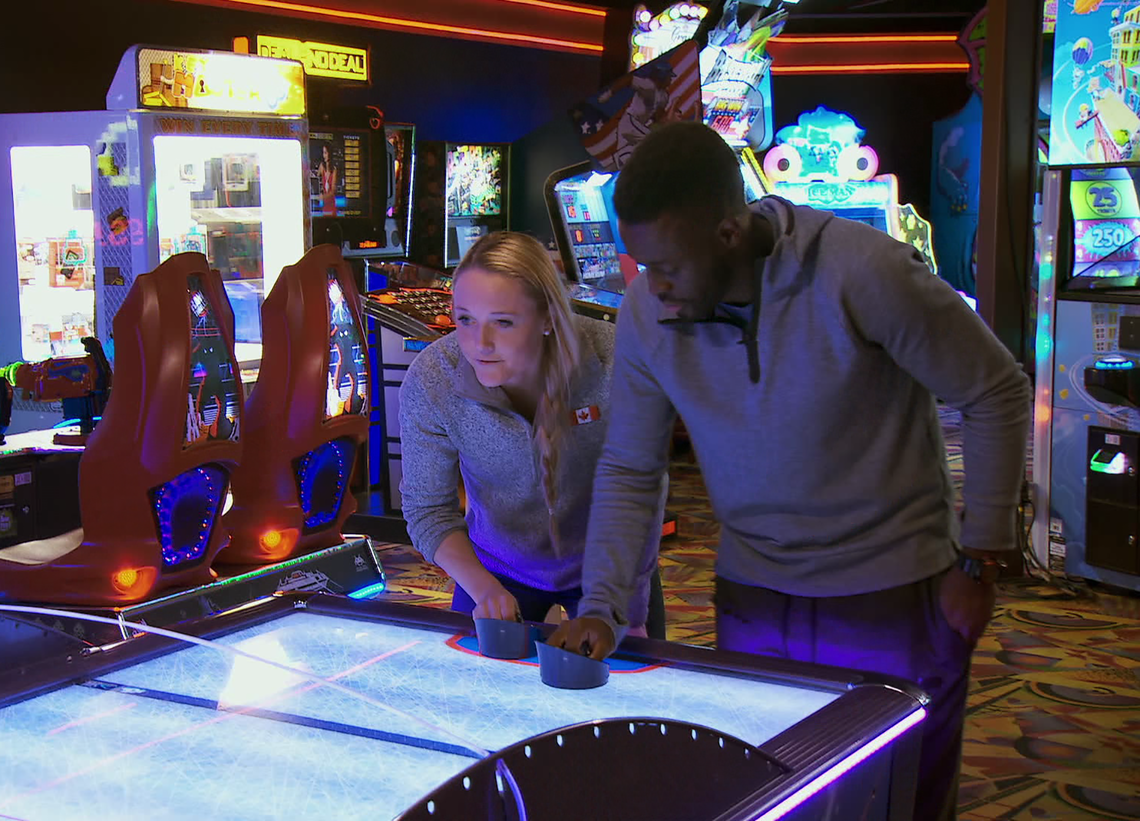 Effah, however, made up for it by sailing through the diamond challenge — using a tiny jeweller's loupe to find a Canadian symbol on a handful of diamonds. And again during Nanaimo's clam challenge and Wolfville, N.S.'s sledge hockey competition.
Why Wells (an Olympic hurdler) and Effah were selected to be one of 10 teams for Season 7 is one of the show's many secrets, but Effah admits he wanted to test, not his athletic skills, but his "marketing and storytelling abilities" — precisely what he uses for his work at the Royal Bank of Canada in the marketing and sponsorship department. "I remember thinking that, if I truly believed in the power of marketing, I should be able to get myself on the show," Effah says.
Knowing Wells from several competitions that spanned the planet from championships in Russia to Central America, the RBC Olympian called her up, they submitted a two-minute audition video and the rest, as Effah says, is history.
"Our mission was simple," explains Effah, who still holds the title of Fastest Man in Canadian University History. "We wanted to inspire Canadians and to show them that we are more than just athletes — we are community leaders, volunteers and people who want to make a difference."
And so they have. Being an ambassador for an international program dubbed Classroom Champions for six years, Effah had six classrooms of students from various places in Canada cheering on his every move. "They did follow me while I was on the race, with classrooms, teachers and communities reaching out almost daily," he says. "It felt like I had a mini fan club."
Other fans have also come forward since the race wrapped up on Sept. 10, booking Effah to speak at corporate functions about "finding your purpose" and "growth for transformation." Although these days Effah works part-time in marketing and mentorship with RBC, he attributes lots of his marketing know-how to the Bachelor of Commerce degree he earned at UCalgary.
"I remember learning a ton from Marc Boivin and Derek Hassay about creating a value sheet and sticking to that," says Effah, who won four consecutive Most Valuable Player awards at UCalgary. "When Sarah and I applied for the show, we kept our video simple, but aligned it to our brand, which was all about community development, inspiring Canadians and how to come back from injury in sport. It felt like a natural fit."
Both Effah and Wells know all about adversity. Both have suffered injuries — for Effah, it was muscle tears in his quads and hips that prevented him from making Canada's Olympic team in both 2012 and 2016; for Wells, who was a semi-finalist in the 2012 London Olympics, other injuries prevented her from doing so in 2016. But both are back and are training for next year's Olympics in Tokyo.
We wanted to inspire Canadians and to show them that we are more than just athletes — we are community leaders, volunteers and people who want to make a difference.
Effah, who won't know if he's made the next Olympic team until June 2020, is currently training five hours a day, five days week. After that, he works at RBC and then relaxes from 6 to 10 p.m., before tumbling into bed at 10:30.
And in case, dear reader, you want the inside track on what it took to make it to the final episode of The Amazing Race Canada, here are three pointers from Effah: (1) Stay motivated. You have to be highly motivated as you will definitely be put in a challenging position, where you will want to give up; (2) Be open-minded. You need to have a mindset to take on any challenge. This is the type of show that will definitely throw you out of your comfort zone; (3) Be patient. Being able to slow down, take your time and support your partner is key.
But, of all nuggets of advice, the one that Effah stresses is this: "Be ready to jump out of your comfort zone and learn to manage your emotions. The teams that can minimize this the most will be the most efficient. Crying, whining and not being a supportive partner are things that will slow you down the most. Teams who are persistent and understand that the race is meant to challenge you will get very far."
Besides facing his lifelong fear, Effah was also challenged by the constant stream of the unexpected. "That was my biggest mental challenge," he confesses. "I'm the type of person that likes to plan my day, set weekly goals and tackle obstacles. The feeling of never knowing what was up next was brutally tough for me."
As for managing expectations, Effah says he entered the race with very few.
"It was a complete surprise for me," he says. "And, to be honest, I was expecting to eat bugs or get dropped into a box of snakes. And, for not having to go through that, I am so extremely happy."