What Happens When You Say "Yes!" to Your Kids
By Deb Cummings
In a salute to multi-tasking moms, we thought we'd catch up with a local "mompreneur" whose tiny daughter sparked a new business
Anyone who is a parent has days when they wonder what the world — or, at least, their relationships with their offspring — would look like if they really listened and said yes!
That's exactly what Bonnie Blasetti-Clendon, BFA'03, finally did in 2015 when she said OK to her then-three-year-old daughter and launched My OM Little Yoga Mat.
Despite the fact her business was born in the depths of a recession, Blasetti-Clendon has managed to sell a whopping 20,000 mats. Available online, as well as in dozens of yoga studios across Canada, the stay-at-home mom says she's been "very surprised" at the demand for tiny tot-sized mats — and she attributes it all to her daughter, Sarah.
"The journey began when Sarah was about three months old and we went to a mom and baby yoga class," says the drama grad who has decided to return to UCalgary next fall to study education. "Back then, I would just put Sarah on a blanket and tickle her when I did a downward dog . . .  but that stopped working when she was a toddler and started wanting her own mat."
That's when Blasetti-Clendon went online and discovered the selection for small mats was sparse and the quality cheap. Her market research and negotiating skills that she had honed at ArtsCommons, where she'd worked for a decade integrating arts into the K-12 curriculum, kicked in and, 12 months later, she placed her first order with an eco-friendly yoga mat company in Toronto. By then, she had designed an adorable logo of a pudgy elephant surrounded by the words "My OM Little Yoga Mat," and hired Calgary Silk Screening to complete the project.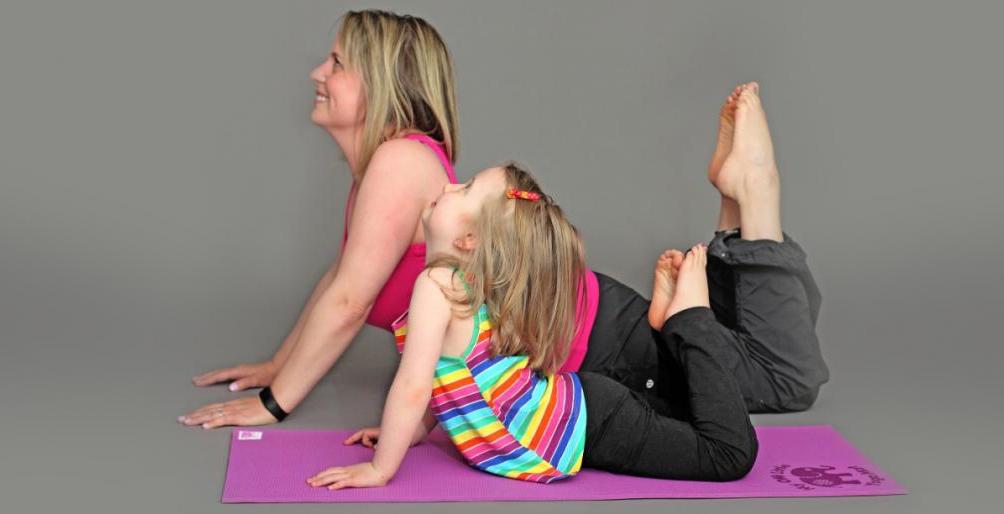 "At first, I just used social media channels to market the mats, but then I began doing presentations and word got around and I kept on selling out," Blasetti-Clendon grins while Sarah does a tree pose on her pint-sized mat.
"It's been enormously gratifying and, in some small way, it's validating Sarah's voice. Plus, we'll share this story for the rest of our lives. Kids have creative ideas and it's our job to listen to them and respond and to ask, 'How can we make this happen?'"
Google "parent and child fitness in Calgary" and you'll find dozens of City-run courses, from boot camps and outdoor aerobic classes to stroller fitness and parent and baby total resistance exercise (TRX) classes. For parent and tot yoga classes, here's a snapshot:
Blasetti-Clendon teaches a mom-tot yoga class every Saturday at Trico Centre for Family Wellness, 11150 Bonaventure Dr. S.E.
Allison Oxoby teaches a parent and baby yoga class on Wednesdays at Yoga Shala, 1511 19 St. N.W.
Oxoby also teaches a Baby & Me class on Tuesdays and Thursdays at Yoga Mandala, 201-3522 19 St. S.W.
There's also a parent and baby yoga class at Vecova Recreation Centre on Tuesdays, 3304 33 St. N.W.
 A Baby & You class is also in the works for a June start at Yoga Santosha, 2nd Floor, 1800 4 St. S.W.