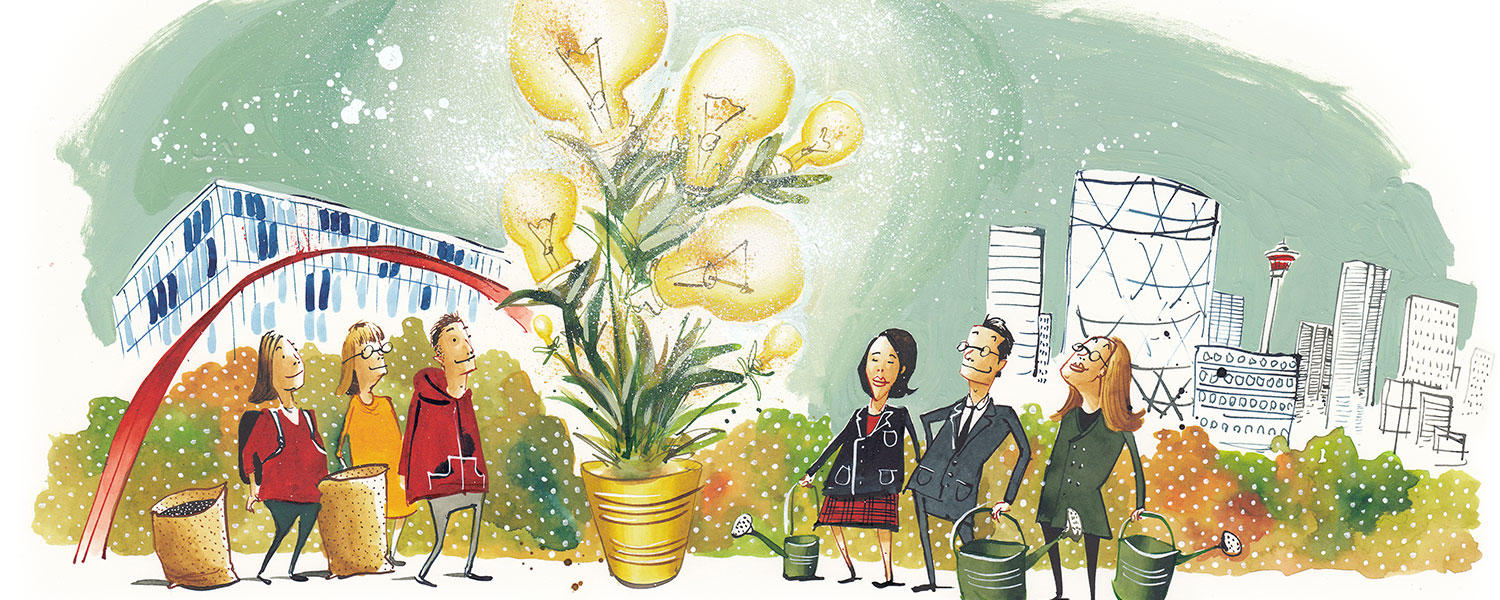 UCalgary Nurtures Startup Founders of the Future
by Deborah Yedlin, Chancellor, University of Calgary 
illustration by Kelly Sutherland
Universities are known more for their bureaucratic structures than for their entrepreneurial mindsets — but UCalgary is working hard to break that mould.
Back in December, former Governor General David Johnston was in Calgary to discuss his latest book, Trust.
Having received a copy as a gift, I brought it to the new Central Library and lined up to have it signed. When I got to the front, I introduced myself as chancellor of the University of Calgary and Johnston's eyes lit up.
He told me UCalgary was setting a very high bar for other universities to follow because we were daring to push the limits and do things differently. The UCalgary campus of today is very different than it was when Elizabeth Cannon became president and vice-chancellor in 2010.
There has been a deliberate shift — through the Eyes High strategy Cannon initiated in 2011 — to move UCalgary in a direction that shakes the ossified foundations characterizing many university campuses and aims to educate students differently, empowering them to move within and beyond their respective faculties and gain exposure to other disciplines.
UCalgary's bold direction is entirely in step with the entrepreneurial nature of the City of Calgary.
Pivotal to this metamorphosis has been three factors: the establishment of the Hunter Hub for Entrepreneurial Thinking; the support by Calgary business leaders to establish the Creative Destruction Lab Rockies; and, more recently, the addition of the University Research Park (URP).
While still in his position as vice-president (research), our new president and vice-chancellor, Dr. Ed McCauley, played a key role in the plan that saw UCalgary acquire the Shell Technology Centre and the transfer of 76 acres of land and three other buildings from the Government of Alberta to the university, creating the URP. 
An important step in activating the URP was securing $8.5 million in funding from the Opportunity Calgary Investment Fund, which was announced in early February. The funding, says McCauley, is critical to establishing a Life Sciences Innovation Hub at the URP — a place where researchers, students and investors will be able to collaborate and where life sciences-related research can be proven, scaled and commercialized. 
Throughout his career, McCauley has worked at the intersection of academic research, industry, community and government, seeking to create long-term collaborative partnerships for the benefit of all stakeholders. 
In his new role as president, the Hunter Hub for Entrepreneurial Thinking will play an important role as McCauley works to further shape the entrepreneurial transformation underway at UCalgary.
Its establishment is a logical extension of the Hunter Centre for Entrepreneurship and Innovation at the Haskayne School of Business, which was established in 2013 as a result of the enthusiastic response to an undergraduate course in entrepreneurship and innovation.
The intent behind the Hunter Centre was to connect students with the Calgary business community — providing learners with the opportunity to work with established entrepreneurs on their startup concepts in both the for-profit and not-for-profit sectors. The Hunter Hub takes it one step further because it is open to everyone across the UCalgary campus, in any class or faculty.
Call it a pan-faculty model — or describe it as the catalyst that brings students together to test their ideas and potentially create their own businesses, no matter their discipline — but it's also about exposing students to opportunities outside their degree program.
This is not a government town . . . the DNA of Calgary helps the entrepreneurial mindset develop at UCalgary. It's the competitive advantage of Calgary.
Derrick Hunter, whose family has made gifts of more than $45 million to establish the Hunter Centre and Hunter Hub, says developing that entrepreneurial mindset and associated skills is just as important for the aspiring business student as it is for someone studying fine arts.
"Artists need to be entrepreneurs because they have to be their own business people — but they don't seem to see themselves that way," Hunter says.
There is no hiding Calgary has been hard hit by the downturn in the energy sector that has been exacerbated by the pipeline quagmire; the worry in the downtown office towers is that the young graduates will leave to seek new opportunities.
Hunter points out that, if Calgary has a shot at building a modern economy, "it is important to keep the students with the ideas in Calgary."
Hunter sees the Hub as being in a position to leverage the entrepreneurial spirit that is resident in this city and was responsible for building an energy sector that now accounts for 10 per cent of the country's gross domestic product.
"This is not a government town . . . the DNA of Calgary helps the entrepreneurial mindset develop at UCalgary. It's the competitive advantage of Calgary," says Hunter.
That entrepreneurial mindset was also in evidence when CDL-Rockies was established in a much shorter time frame compared with Vancouver — even with that city's well-established tech and venture capital ecosystem.
The purpose of CDL-Rockies is to connect fledgling companies with business leaders in the local community who can both mentor and help raise funds in order for the companies to grow. The endgame is to ensure they stay in Canada.
It might be a time-worn cliché, but the combination of the Hunter Hub, CDL-Rockies and the URP is the equivalent of a three-legged stool: an interconnected, supportive and strong innovation ecosystem leveraging off the talent, research and energy at UCalgary and playing a critical role in the evolution of Calgary's next economic chapter.
As McCauley says, the university is leading the way in diversifying Calgary's economy, driving innovation and advancing the emerging life sciences sector — in addition to other established sectors and disciplines — through discoveries that benefit this city, Alberta and beyond.
In many respects, it is easy to see how much influence the character of Calgary's business community has had on UCalgary. The energy sector has grown through a combination of entrepreneurs taking big risks and making big bets, unconstrained by convention. The mindset has been one of "why not?" which has also been felt at UCalgary in the context of programs and community interaction over its half-century of history.
Today's UCalgary is an integral component to the economic future of Calgary — its importance lies in ensuring students and graduates acquire the skills needed to contribute to the economy of tomorrow through the embedding of entrepreneurial thinking into curricula across campus.
These are all bold, forward-looking initiatives intended to differentiate UCalgary as an institution that isn't afraid to disrupt the status quo, ensure its graduates are leaders in the modern economy and cement its position as the country's most entrepreneurial university in Canada's most enterprising city.