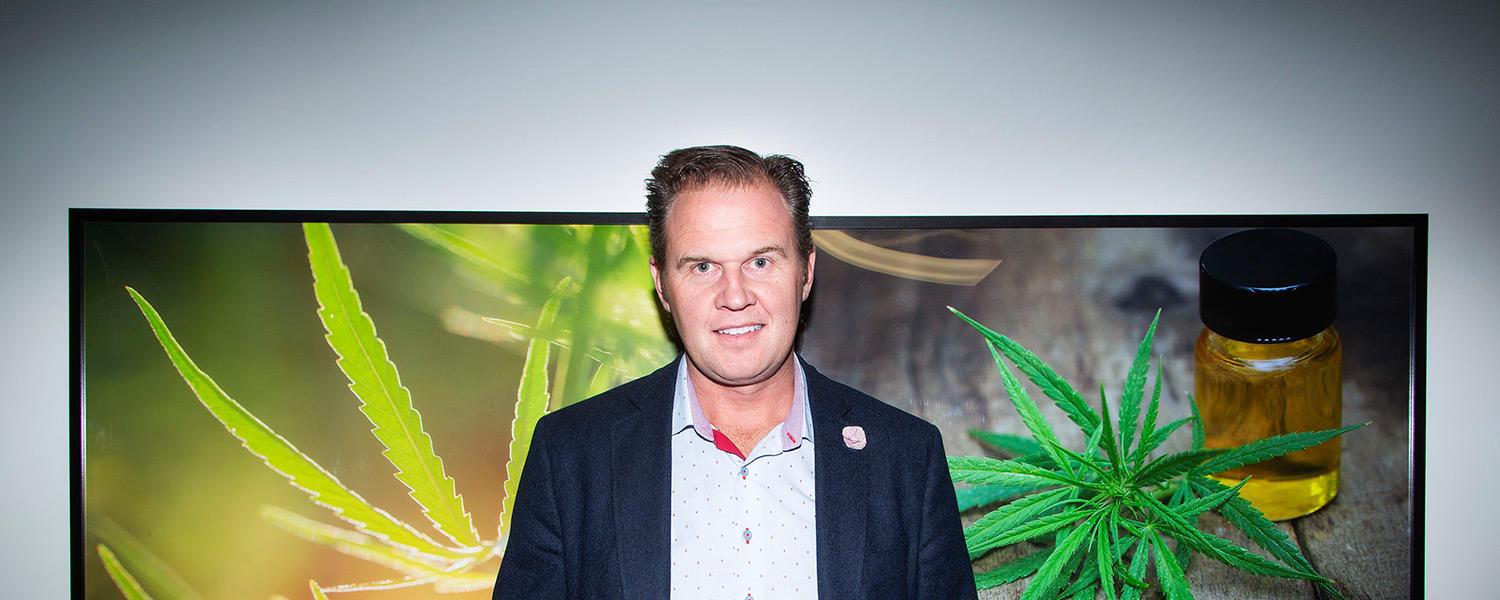 Unconventional Paths: Craig Kolochuk, BComm'99
By Mike Fisher
What drives a successful Calgary oil-and-gas entrepreneur to pull a U-turn and pivot into the cannabis sector? Opportunity and fulfilling a passion to build something new are just a few of the reasons that UCalgary alumnus Craig Kolochuk, BComm'99, cites in his new role as CEO at SugarBud Craft Growers Corp.
What song describes your career path?
Life is a Highway by Tom Cochrane. Live your life every day, like it is your last.
Were you entrepreneurial at university?
Well, I was proactive in investing early. I started investing in the market when I was 18. And, in my early 20s, I was buying homes and flipping them.
Why did you switch from oil and gas to the cannabis sector?
The main reason was the current lack of opportunity and capital in the oil and gas sector. I'd been investing in the cannabis sector for the previous 12 months and then I had a serendipitous conversation with some guys on the business side of cannabis. They raised $8 million in four hours — but they didn't have a team to execute a plan. I said I'll put a team together. Now, I'm passionate about the plant and where the industry is going.
Which words or phrases do you overuse?
Instead of saying oil and gas, now I say, "oil and grass." The last little while, I say "execute" a lot to get things done. I tell my staff there is no blueprint for success, we're trail-blazing.
What is your motto?
It never gets easier. You just get better.
Can you apply the skills you developed in oil and gas to the cannabis sector?
Yes, you need hands-on experience, you need to be taking risks and meeting people and asking questions and putting yourself in uncomfortable situations. It builds character, it exposes you to people's emotions. I did a lot of First Nations work in B.C. for surface land, and it taught me how to negotiate with people for whom the principle of the matter was more meaningful than the money.
What do you regard as the lowest depth of misery?
I would say giving up and thinking you can't do something when you haven't tried.
What is your most treasured possession?
My cabin in the woods at Sundre.
How did UCalgary change you?
It exposed me to oil and gas through courses and it helped set me on a path. If I'd not gone to UCalgary, I would never have been a land man in the oil and gas industry. There is a decent chance I would never have worked downtown, keeping me close to my family and friends. I recently spoke at a UCalgary alumni event for grads about my crossover to cannabis. I'm a very strong supporter of Calgary. I love our city and everything that it has to offer.
What is your idea of perfect happiness?
A challenging job that satisfies me both financially and emotionally, so I feel like I'm making a difference. Health and a harmonic home life with a loving, supporting partner and good family dynamics. The perfect balance between work and family life.
What are your passions?
I'm passionate about family and friends. I have five beautiful kids at home and I'm active with them. I play tennis, golf, ski and hunt. And I love doing deals and making money.
Since leaving UCalgary, what's one thing you've done that you'll never forget?
I think it is the travelling. When I graduated, I toured Australia and Thailand and I have travelled a lot since.
What do you want to be remembered for?
Being a risk-taker who accepted a challenge and overcame adversity and created something special and rewarding — a man who values integrity and reputation.
You've got three wishes to be granted by the end of 2019. What are they and why?
I want SugarBud to get its cultivation and sales licence in 2019. I want us to be one of the biggest cannabis growers in Alberta. I want a healthy stock price.