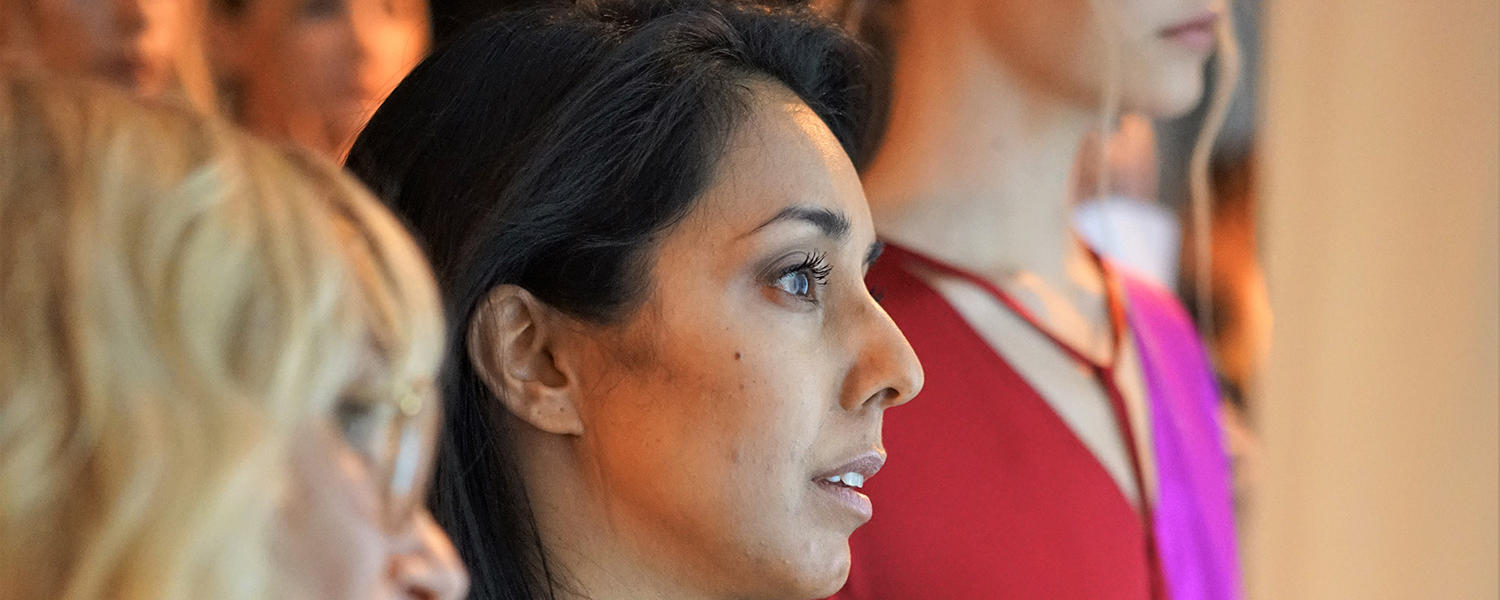 Unconventional Paths: Nina Kharey (nee Rahal), BSc (Eng)'07
by Deb Cummings
Now that's what you call a pivotal moment. Last July, UCalgary computer engineering alumna-cum-fashion designer Nina Kharey discovered that the future Duchess of Sussex, Meghan Markle, wore one of her pieces — a peach-toned trench dress — at a royal engagement party with Prince Harry. And nothing, nothing, has been quite the same since for the House of Nonie founder and designer.
How has your life changed since you woke up on July 17, 2018, to your phone buzzing with the royal news?
The orders for that dress began pouring in that very day. At that point, I had eight Calgary-based seamstresses working for me. We now have a little factory in Vancouver with a production manager . . . it's a full-on factory.
How did you meet Meghan?
I never did. I had been connecting with people on social media for quite a while and one of those people was Jessica Mulroney [Canadian fashion stylist and Prime Minister Brian's daughter-in-law], who introduced my collection to Meghan when she was still on Suits. But I never knew when or if she'd wear a piece of mine.
Showing your work at the New York Fashion Week is a big deal, which you have now done twice. What was that like?
After Meghan wore my dress, there was a lot of curiosity, so, when I showed my collection last fall, we had a full house of editors, writers, bloggers and buyers [about 300 people]. I wanted to keep February [2019's] event to about 70 people.
Why?
I wanted to tell the audience who I am and how I believe that my clothes are not just clothes. People are wearing my thoughts. My designs are an extension of me. You can't do that in a big group.
How does an engineer become a fashion designer?
As immigrants from the Punjab, both my parents worked in the textile industry while I was growing up, so I have been around fabrics and designs my entire life. But two incidents — the birth of my daughter and the death of my older brother — caused me to start sketching again. That led to my designs appearing in some small local fashion shows.  And then, one day, I just called Barbara Atkin, former vice-president of fashion at Holt Renfrew in Toronto, who asked me to fly out.
What did she say?
If you are ready for a long and dark and winding road, by all means pursue fashion design. I do remember thinking, "It may be bumpy for some people, but not for me." But let me tell you that it's been most definitely a long and dark and bumpy road.
Do you use your engineering degree in this job?
All the time. I construct every jacket like a project. Plus, engineering teaches you about stress-management and problem-solving. It also teaches you how to be technical and rational and you get very good at mitigating risks.
What's your biggest challenge?
Designing a new product line [about 40 pieces] every six months.
Would you like to see your pieces sold in a department store?
Once upon a time, I would have said yes, but I have discovered that many stores have very harsh terms. If you don't sell everything, for example, you have to buy it back. That could bankrupt a new designer. So, right now, my clothes are sold at a little boutique in Calgary called Sheer Luxury and here in my studio at cSPACE King Edward. My clothes are made to order, so they take about four to six weeks. I need to be more well-known before I would sell in a department store.
Any favourite restaurants?
My guilty pleasure is Five Guys [Heritage Meadows], as well as the Nash and Anju's brussels sprouts and chicken wings.
What's your perfect day?
Seeing my two kids eat. And watching them play together. We have lots of family in Calgary, so I love it when my house is full of them.
How real are the cutthroat antics we saw in The Devil Wears Prada?
I don't think it's that intense, but, on my last visit to New York, I did bump into Anna Wintour, feared editor-in-chief of Vogue magazine. I must admit, I was shaking when I saw her. She looked perfect. Impeccable. And her style was right on. Her office occupies an entire side of the building.