UCalgary Driving Changes to New Economy
By Mike Fisher
As Alberta looks to pivot from its history of relying primarily on the energy sector to developing a more diversified and sustainable economy, the University of Calgary is poised to be a consistent driver of innovation and collaboration, panel members of the Alumni Weekend event titled "Alberta's Next Big Boom" told an audience at MacEwan Ballroom.
"Alberta's economy is indeed expanding, but in new ways and at a more moderate pace than many Albertans are used to," said UCalgary Chancellor Deborah Yedlin, who introduced the four-member panel on Saturday. "The good news is we are seeing green shoots of economic diversity and the university is part of that."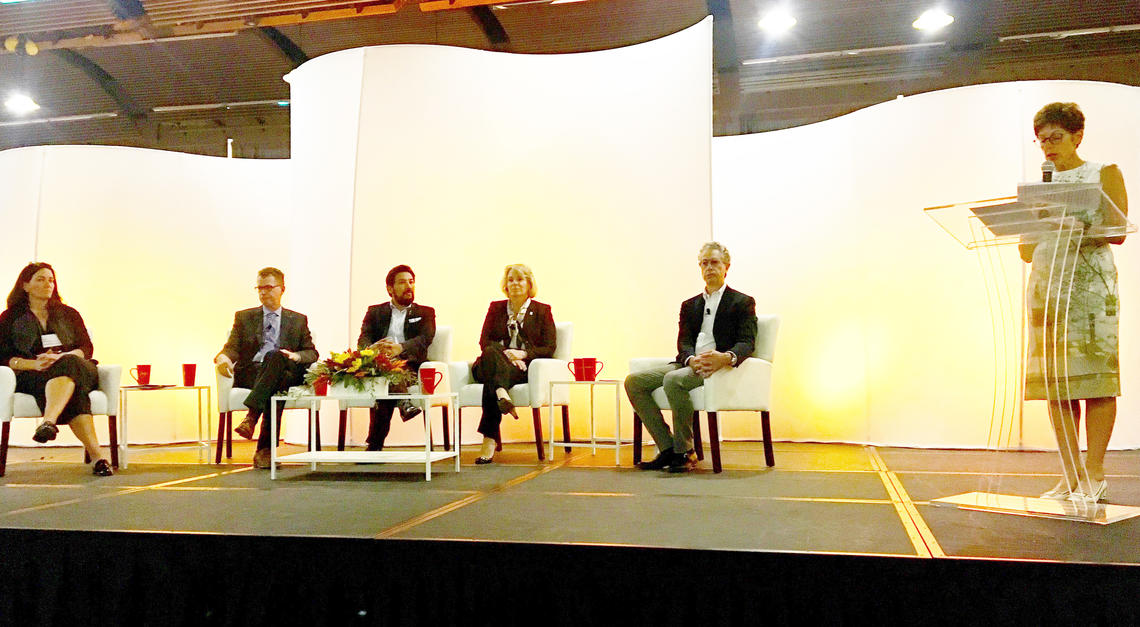 The lively conversation focused on Alberta's future prosperity while shining a spotlight on the university and Calgary. Panel members included UCalgary President and Vice-Chancellor Elizabeth Cannon, BSc'84, MSc'87, PhD'91; Creative Destruction Lab Rockies site lead Alice Reimer, BSc'99, MBA'03; Alberta's Minister of Culture and Tourism Ricardo Miranda, BA'06; Chief Scientific Officer, Genome Alberta, Dr. Gijs van Rooijen, PhD'93; and moderator Peter Tertzakian, a UCalgary adjunct professor who is executive director of ARC Energy Research Institute.
Agrifoods, tourism, hi-tech business services and transportation logistics are showing tremendous growth and promise, said Yedlin.
Initiatives such as the university's Hunter Hub for Entrepreneurial Thinking, Creative Destruction Lab Rockies (CDL) at the Haskayne School of Business and the innovation ecosystem Rainforest Alberta are contributing in this push to create economic diversity — but getting to a critical mass won't happen overnight. Innovation, collaboration and partnerships are necessary for the province to change course.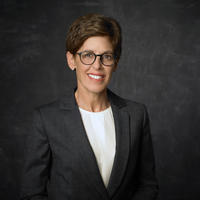 Alberta's economy is indeed expanding, but in new ways and at a more moderate pace than many Albertans are used to ... The good news is we are seeing green shoots of economic diversity and the university is part of that.
Deborah Yedlin
UCalgary Chancellor
Eyes High provides road map to future
President Cannon said a highlight of her eight-year tenure has been the establishment of Eyes High as a clear and compelling vision focused on achieving excellence and demonstrating tangible impacts.
"My favourite saying is, 'Vision without execution is hallucination,'" said Cannon, who steps down at the end of the current calendar year. "What has helped this institution better serve Calgary is having a clearly articulated, well-bought-into strategy. Calgary needs its universities to help pivot to a much stronger, diverse economy. We can't do this alone."
"Integrating entrepreneurial thinking into the university's vision and culture has helped students become nimble as the pace of change quickens in the economy, while ensuring we reflect the resourcefulness and resilience of our community,"Cannon continued. "UCalgary is looking at enhancing its curriculum and developing certificate programs so that students can access bundled programs and continue to be flexible, productive and relevant,".
Oil and gas readying for challenges
Tertzakian said the oil and gas industry knows it must innovate vigorously to deal with the challenges such as climate change and competitiveness. He questioned how we can marry the university's knowledge with startup companies coming out of CDL and a pool of capital — as well as continue to attract academic talent.
"Initiatives such as the University of Calgary's energy research strategy, Energy Innovations for Today and Tomorrow, deliver world-leading research results with 270 faculty members across campus working on energy and energy-related issues," said Cannon. "We have the environment for people to build their careers in Calgary and be a part of shaping solutions for the future."
Reimer said CDL is working with inventors to help people realize the economic, social and financial potential of innovations. The nine-month program includes an experiential MBA course. "We are creating opportunities and transforming the way science and technology is commercialized in Canada," she said. CDL brings together experienced entrepreneurs, investors and scientists from diverse fields including energy, clean technology and healthcare. 
Agriculture is an important part of Alberta's economy. UCalgary is leading in the research areas of microbiology and soil microbes, helping to determine how findings can contribute to the development of crops, such as using less water to be more productive, said van Rooijen. 
Miranda said streamlining regulations, internally restructuring how various ministries work together and encouraging collaboration are all part of the provincial government's aim to capitalize on opportunities.
"We have seen for many years the cycle of boom and bust and from our perspective we know there is so much potential to diversify in areas such as tourism," he said.
Nuvyn Peters, UCalgary Vice-President of Development and Alumni Engagement, said there are nearly 180,000 alumni, 75 per cent of whom live and work in Calgary. "The ability that the university has to help shape, enhance and complement the growth in this city is outstanding and we are proud to give back to a city and community that provides so much to us."
Thank you to everyone that joined us for Alumni Weekend 2018!
The annual Alumni Weekend drew hundreds of participants to events this past weekend that included a Dinos KICKOFF football game, a pancake breakfast, lectures, workshops, music and the 2018 UCalgary Alumni Association Arch Awards celebrations.