Lessons From Tragedy: A 9/11 Survivor's Message
By Deb Cummings
Seventeen years ago today, alumna Christine Gillies was working on the 87th floor of the World Trade Center when her world sheared and collapsed around her. She and co-worker Yvette Lynch managed to escape and then, this past summer, decided to return to Ground Zero. Together. Does time soften or alter such a harrowing event?
For years, Christine Gillies, BSc'96, MBA'05, wore the shingle, "The 9/11 Girl."
She remembers people whispering at cocktail parties and then no one asking her about "it." When she returned to Calgary 18 months after nearly 3,000 people lost their lives in America's worst act of terrorism, she was young in her career and says she desperately wanted to be known for "something else, for something more, not just a singular event.
"People are more than one story," Gillies adds, explaining her reticence of even retelling this story that you are reading today. "I can be a marketer [currently vice-president at a tech company, Aware 360], a mom [of a 10- and seven-year-old], a volunteer [board member for HIV Community Link] . . . but, back then, I felt very conflicted about wanting to be an anonymous Christine Gillies, yet being the 9/11 Girl."
On Sept. 11, 2001, she was filing expenses at her desk in Tower One at Thor Technologies, in a good mood, leading a beautiful life. She was 26 and living the Manhattan dream with her new American husband, Craig DiLouie. Then the building trembled with an enormous boom.
Instinctively, she and Lynch dove under their desks, tried calling 9-1-1 and then saw the debris and papers flying down outside the windows. After that, it looked like water was flowing down the glass. Later, they learned, it was jet fuel.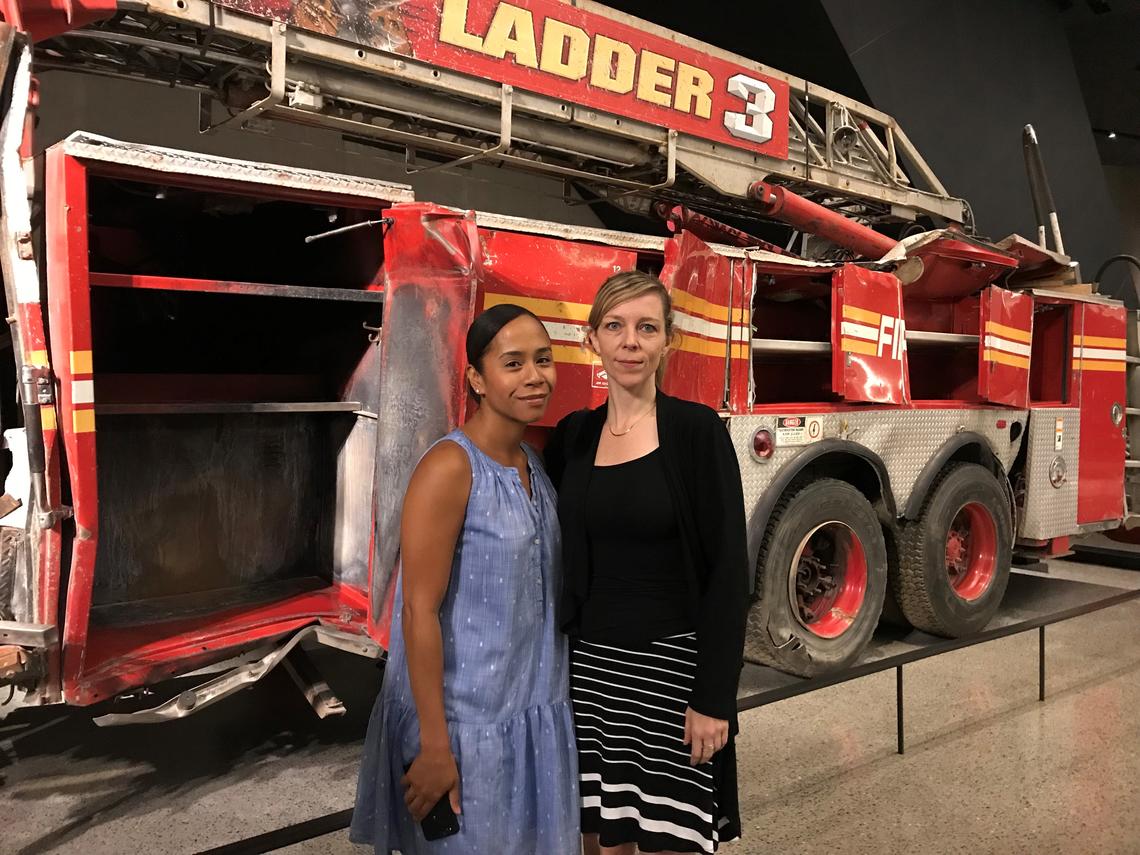 "When the smoke started building from a ceiling fire caved in from the impact, we grabbed water from the fridge, soaked some napkins to breathe through and headed to the stairwell," Gillies recalls, loading the moment with such stark and intricate details, it could have happened yesterday. "At that point, there was no sense of panic as there was very little communication with anyone outside . . . while the stairwell was a shoulder-to-shoulder people-jam, it was calm. We all thought it was some type of accident, not an attack."
An hour later, when Gillies finally got down to the second floor — an open mezzanine overlooking the bottom floor — her sense of calm vanished. Despite the firemen's warnings not to look, she did, and saw the chaos . . . bodies falling, mountains of debris everywhere, blood-stained windows, sprinklers whirring, a tornado of smoke and dust. Had a bomb gone off?
"Because of the danger outside with debris falling from both towers, we had to go down another level to the subground concourse, which connected the two towers, and that's when the second tower collapsed. We were thrown to the ground in a tornado of debris and dust. We choked on the pulverized building and found ourselves crawling around on hands and knees in the dark to find an exit. After 5 to 10 minutes, we heard the words of a fireman who shouted, 'Follow my voice, there's an exit over here, follow my voice.'"
"That was the moment that I thought, 'This is how it ends. And, damn, I am only 26.' And then do you know what my next thought was?" she remembers.
Gillies cries just thinking about it.
"There are so many things I still have to do. I didn't have a chance to have my own children… to live a full life."
Now, when Gillies looks at her two children, she thinks about that moment, that thought. A lot.
No matter the gravity and horror of certain events, human nature searches for reasons, for lessons, for something logical that they can tug out of a tragedy. For Gillies, who attributes her survival to luck and good decisions — she moved quickly and happened to be in the open stairwell, not the other one — those lessons stress perspective and compassion. Overall, she practices resilience through meditation and remaining present.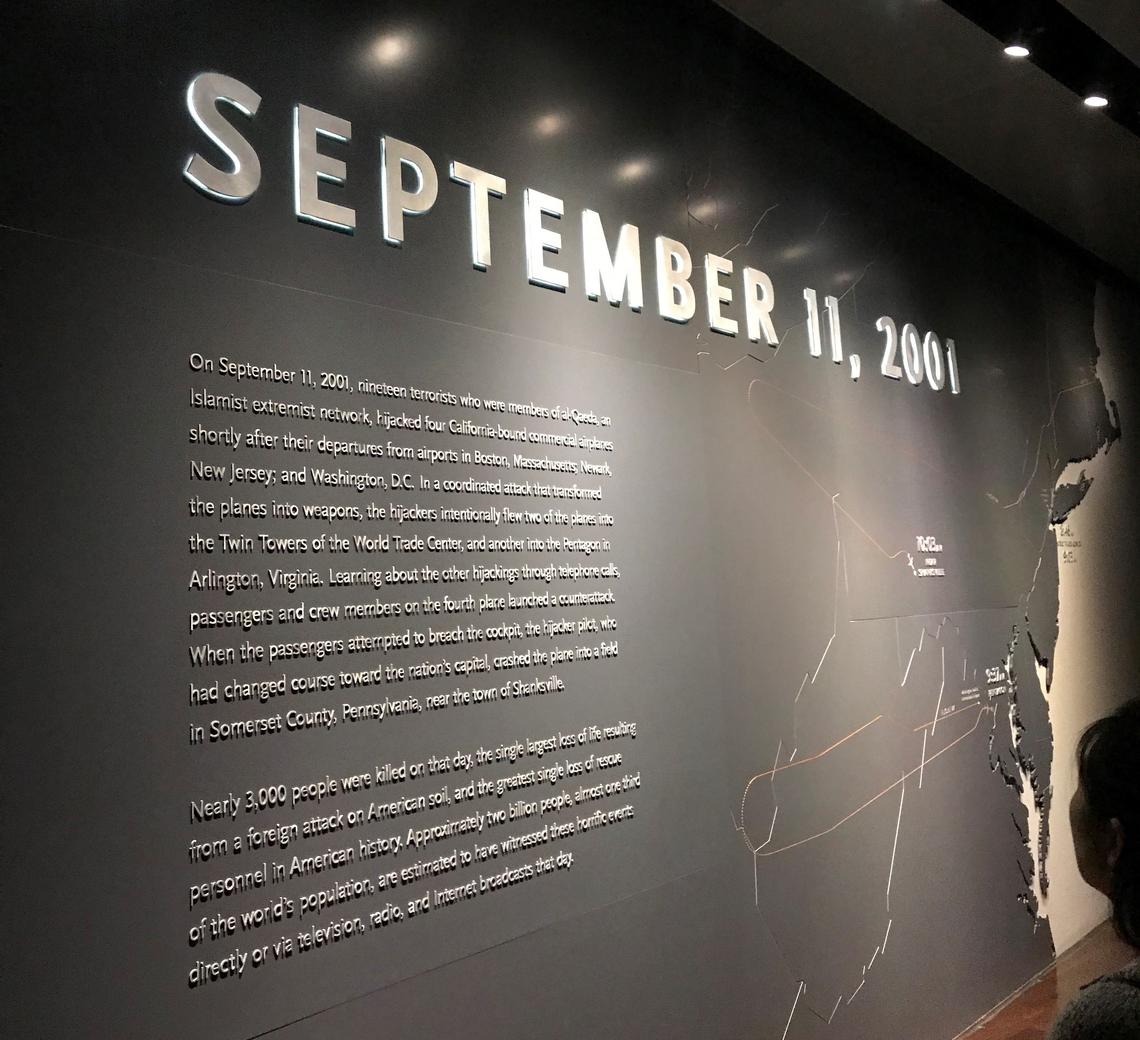 "I rarely sweat the small stuff — especially in a work setting," she says. "That, I suppose, is the gift of this, and the other piece, really a byproduct, is about grief. I think I now have the ability to give people permission to feel and share something . . . it's how I want to give back in a small way."
As for what a parent tells a child about such a tragedy, Gillies keeps it simple, attempting to explain the unpredictability of life and how we should say 'Yes!' to more things, "and to be grateful, so grateful.
"I do live with a lot of gratitude every day," she says, "and I work hard at being present — even in the hustle and bustle of life — because I know just how lucky I am to be alive, to be their parent."
Eighteen months after the towers collapsed, Gillies and DiLouie returned to Calgary where she began her MBA at UCalgary and then, years later, had children. Yet, still, every year when Sept. 11 rolls around, Gillies isn't certain how she'll react. It remains an indelible reference point that inevitably makes her appreciate the fragility of life and leaves her thankful for her place in it, but, frankly, she is never completely certain how she'll react on that specific day, although her emotions have taken on a pattern during the past few years.
"Increasingly, I find myself wanting to offer a voice to people who lost their lives," she says. "But I am not sure, other than to connect with their families through social media, how best to do that."
That desire to reconnect was one reason that drove Gillies to visit the 9/11 memorial with Lynch last month, something she describes as being "very cathartic." She left resolving to create a Canadian memorial and has now launched a Go Fund Me initiative, aiming to salute the 26 Canadian victims in 2021, the twentieth anniversary of the attack.
Does Gillies ever wonder, why her?
"Some people have asked me that and said it wasn't my time or I was meant to be here," she recalls. "To be honest, I have a difficult time believing it could be 3,000 other people's time. I've certainly heard a call and I've felt some unspoken pressure about doing something extra significant to live a full life with my second chance. Every day, I value a safe, simple life where I raise a healthy family and work hard to contribute professionally and to my community."
Related story: How the pain of 9/11 still stays with a generation