Life Kit for Recent Grads
Congratulations on earning your UCalgary degree, and welcome to our global alumni community! 
UCalgary Alumni receive exclusive access to discounts, resources, and supports after graduation. 
Upcoming Events & Contests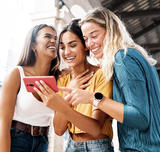 Join our summer Scavenger Hunt!
Staying in town and looking for something fun to do? Sign up for our interactive summer Scavenger Hunt and your chance to win prizes!
Missions are both digital and in-person. Join with your family, challenge your friends, or play alone—and keep the prize to yourself!
Start and play anytime between July 29 - Aug. 31, 2022
Only alumni are eligible to win prizes
Congratulations Class of 2022!
Members of our UCalgary alumni share their congratulations and advice to our newest grads.
Connect with us on social