Career Webinars
Register for upcoming career webinars and
watch recordings to learn more about a
variety of career-related topics.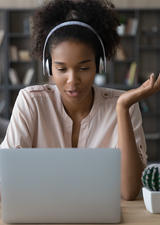 Virtual Interviews 101
As the hiring landscape moves in a digital direction, virtual job interviews are becoming more common. Practices such as asynchronous video interviews, where applicants record their responses to interview questions, are replacing human interaction. Attend this webinar on Dec 14, 2021 to learn to prepare for these and other types of virtual interviews.
Succeed in your career with these expert tips and advice 
Arranged by a variety of topics, our career resources can help you advance in the workforce — no matter if you're looking for new opportunities or want to advance in your current career.
Check back often as new webinars, articles and other resources are posted regularly.