Webinar: Carving Your Career Path in the Future of Work
Even though the uncertainty of today's career landscape presents many challenges, it also offers the great opportunity to to carve your own career path through purposeful design that facilitates your lifestyle.
Certified career coach Carina Huggins, BA'06, MSS'10, will guide you through the shifting landscape of entre-, intra- and solo-preneurial work and teach you how to carve your own successful career path.
The following resources accompany the Carving Your Career Path in the Future of Work webinar:
Technology, Jobs and The Future of Work 
The Clifton Strengths Finder Report
Recommended Reads
Entrepreneurial You: Monetize Your Expertise, Create Multiple Income Streams and Thrive by Dorie Clark
The 4-Hour Workweek: Escape 9-5, Live Anywhere, and Join the New Rich by Timothy Ferriss
Choose Yourself by James Altucher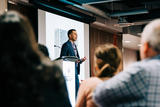 Top 5 Tips for Connecting with the Future of Work
Themes of agility, transition, emerging industries, human connection and automation carried throughout the day as experts divulged how to cope with — and excel in — today's rapidly evolving and uncertain career landscape.
Grow Your Career with Our Conference Leaders' Top Books
Business books can help you boost your career, say many professionals. Ignore the skeptics; these books are often a cheap, easy route to professional growth.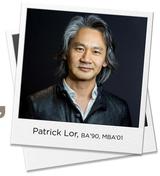 Peer Review Podcast
Episode 114: Patrick Lor, BA'90, MBA'01, discusses the perks and burdens of serial entrepreneurship.