Welcome to UCalgary Alumni
On behalf of the 192,000 UCalgary alumni around the world it is my sincere privilege to say: congratulations! You did it! Your degree parchment is a symbol of your hard work, curiosity, creativity and perseverance. It is a foundation for all that you will accomplish. And, it is your passport to our alumni community, the University of Calgary Alumni Association.
As you go forward, be confident in who you are, bold and ambitious in your goals, work hard and be kind. Be proud of your university and remember that your university is immensely proud of you.
Welcome to UCalgary Alumni.
Helen Sunderland, BMus'87, MBA'92
President & Chair,
Stay Connected
Update your contact information now so you never miss out on hearing about the perks of being a UCalgary grad!
Thanks! You'll get a confirmation email shortly.
Collection of personal information
Your personal information is collected under the authority of section 33(c) of the Freedom of Information and Protection of Privacy Act, and is required for updating your email subscription preferences. If you have any questions about the collection or use of this information, please contact the Office of Advancement at digital@ucalgary.ca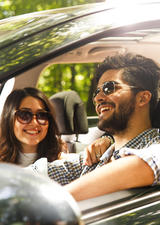 Alumni-Exclusive Discounts and Deals
As a UCalgary grad, you get preferred rates on home, auto, health and life insurance; discounted rates on Active Living memberships and tickets for School of Creative and Performing Arts events; and more!
Transcript Orders
An official transcript outlines your complete academic record at the university up until the day it is printed. You can also get an electronic copy of your unofficial transcript, which summarizes your courses and credits.