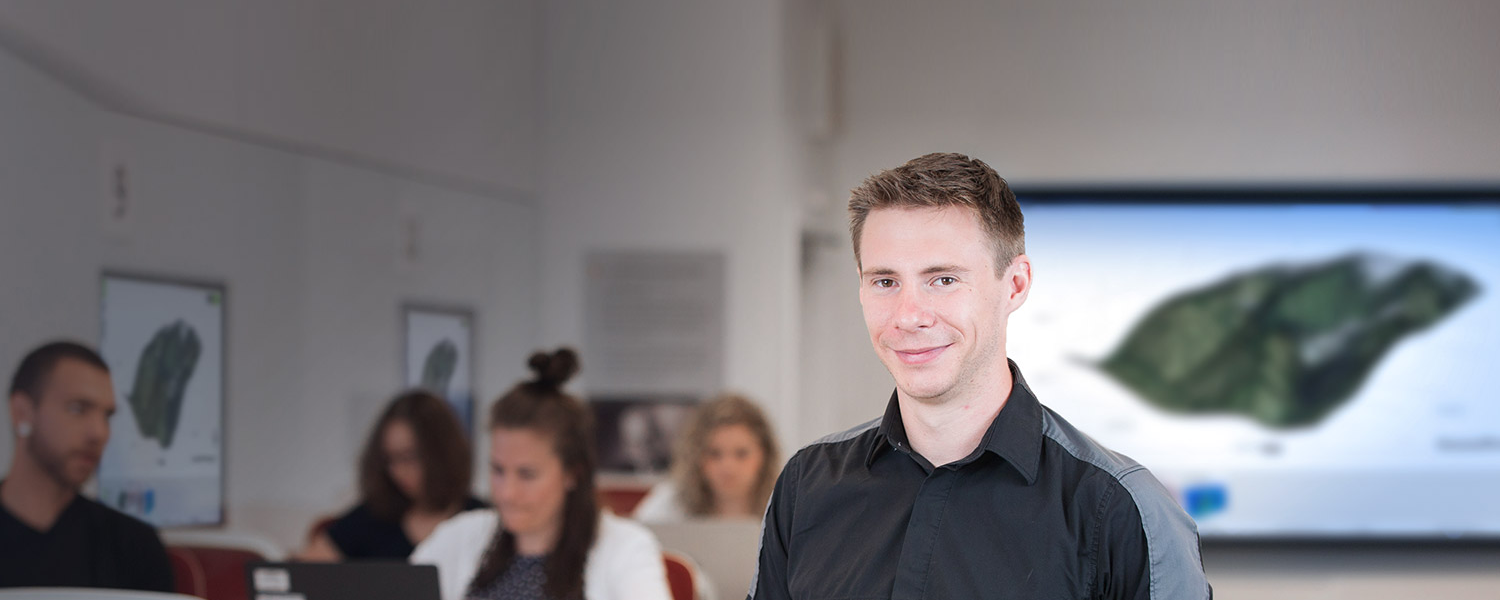 Dr. Rowan Cockett, BSc'11
Early Career Achievement Award
Dr. Rowan Cockett is the current director of cloud architecture at Seequent Ltd.; co-founder 3point Science Inc. and SimPEG; founder of Visible Geology.
Every scientist hopes for a "Eureka" moment — that jolt of sudden insight when a discovery becomes clear. For 29-year-old Dr. Rowan Cockett, that moment was borne out of frustration when one of his undergrad professors claimed that "structural geology is hard and only some of you will ever be able to see the 3D visualization model.
"I remember thinking, 'that's just silly,'" says Cockett, who would go on to become a Vanier Scholar and a Killam Laureate. "It wasn't their brain that was stopping them but the visualization tool that was the problem."
And, like so many impatient entrepreneurs, Cockett questioned the existing model and did something about it. He built an interactive software program, Visible Geology, enabling students to not only see and understand a geologic problem, but do so in a matter of seconds.
Visible Geology, now considered the most widely used educational tool for geologic modelling in the world, led Cockett to help power up another open-source software platform for geophysics, SimPEG, and then — while working on his PhD at UBC — he co-founded 3point Science Inc., a web-based geoscience visualization and communication company. Less than three years later, Cockett and fellow founder, UCalgary associate professor Dr. Adam Pidlisecky, PhD, sold that company to Seequent Ltd., a world leader in visual data science, for whom Cockett now bears the title of director of cloud architecture.
While all of Cockett's many achievements are ridiculously impressive and the speed at which he works is quite remarkable, what's unusual is his source of motivation. There's a theme that knits together all of this über-achiever's innovations, and that's community-building. Whether it's boosting a classmate's ability to see a 3D model or assisting peers with web-based textbooks, Cockett is not interested in hoarding his intellect and insights. Rather, he's sharing them widely and generously with his peers, striving for transformative change while building a community of innovators — in other words, Cockett is innovating for scale.
Or, as one of his Arch Award nominators so aptly put it, Cockett "innovates to enable." By altering the paradigms and work practices in producing geoscience tools, the former student — who changed his major three times — has introduced an innovative way of working that allows new communities to form. Taking an idea from a UCalgary classroom, he has influenced the global geoscience education stage, catapulted these ideas into a business, and built a successful product that was sold to an international company for whom he is now driving a global cloud strategy. 
Where, exactly, does this relentlessly collaborative spirit, this drive to organize people across multiple disciplines and countries, originate?  "Well," says Cockett, thoughtfully, "a role model in that space would have to be my mom [Dr. Polly Knowlton Cockett, PhD'14]. She is a big community activist who was, and still is, involved in all sorts of environmental initiatives. And I had a lot of inspiring science teachers along the way."