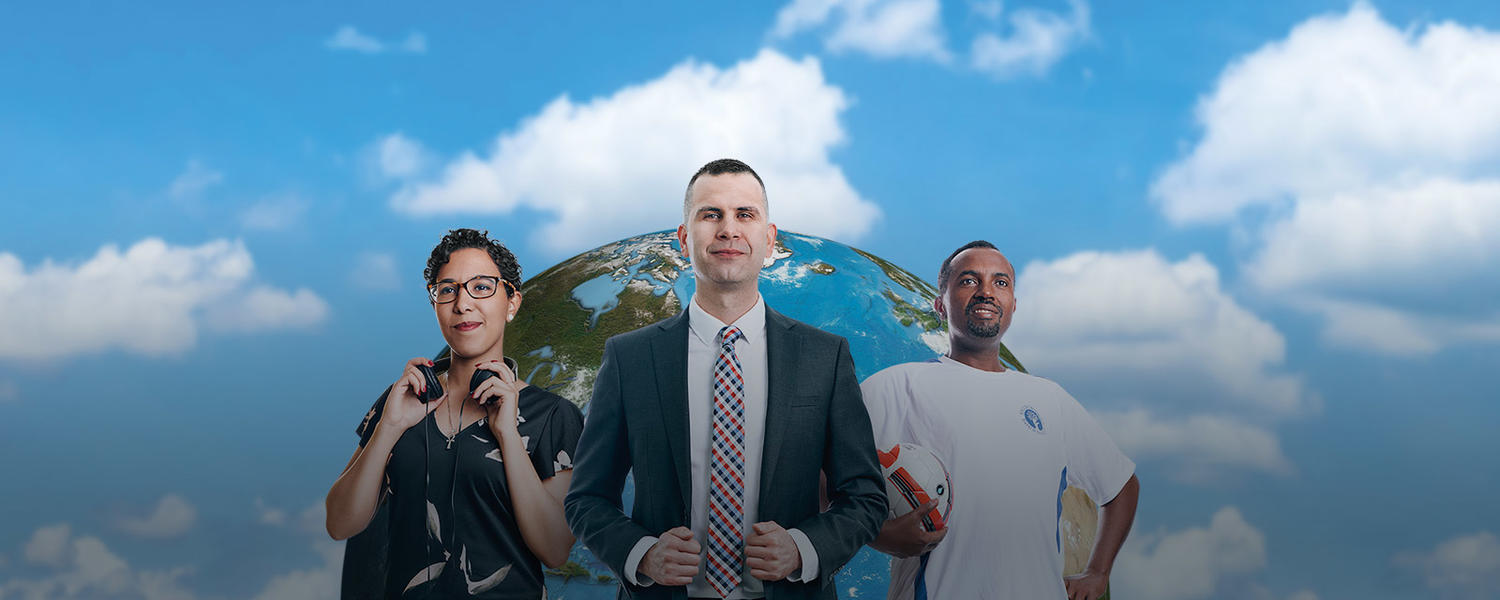 A University Without Borders
by Mike Fisher
UCalgary's strategic push towards global education stresses the benefits of diversity and inclusion in an aim to deliver excellence
Diversity, inclusivity and cultural insights are increasingly important elements of a university education as the world becomes more interconnected, says Dr. Janaka Ruwanpura, UCalgary's vice-provost, international.
Welcoming students from abroad, while creating opportunities for others to widen their education with international experiences, is placing UCalgary at the leading edge of a global push to internationalize campuses, he says.
"We're giving our students from many cultures a comprehensive education in a diverse and inclusive environment, so that they can be successful," says Ruwanpura, PhD.
The number of undergraduate and graduate foreign students has risen steadily since the university's international strategy was formalized five years ago within the ambitious Eyes High strategic direction, as has the size of foreign faculty and the number of students going abroad on programs. 
In the first half of this year, there were more than 3,500 foreign students from more than 120 countries on campus within a total student body of 32,702. More than 1,200 students participate in exchanges, group studies and internships.
"We have students who are sought the world over for their talents and skills," says Ruwanpura, describing the scope of UCalgary's global opportunities. "We also have students who have come to us as refugees. Plus, 38 per cent of our faculty originate from other countries, and 48 per cent have at least one degree outside of Canada. And we are continuing to do better."
The international strategy has boosted UCalgary's strategic partnerships around the world, including a collaborative agreement with the Kerui Group to offer research and training programs for oil and gas professionals in China. Among other achievements, the university has established Global Research Initiatives in China and Mexico with more than $57 million in external funding. 
Dhruv Bhaskar, BSc'18, who came to the university as an international student from India in 2013, graduated from the Schulich School of Engineering this past spring with a perfect cumulative GPA of 4.0/4.0 and secured three medals at convocation. 
"I chose to study at the University of Calgary because it is consistently ranked among the top young universities in the world," says Bhaskar, who studied electrical engineering and now works as an associate engineer at Semtech Canada Corp. in Calgary. "I was embraced with an inclusive environment at the on-campus residence and the ethnic diversity led to great friendships and ever-interesting conversations." 
The university's international strategy has received a handful of awards over the past two years, including the 2017 Institutional Award for Global Learning, Research and Engagement — the first and only Canadian institute to be recognized by the Association of Public and Land-grant Universities (APLU) for one of its
institutional awards. 
This kind of community-building, at home and abroad, has increasing value and prestige for individuals, corporations and educational institutions. As the world becomes more interconnected and the university expands its influence, the African proverb, "It takes a village to raise a child," becomes ever more important. 
We're illustrating the themes of diversity, inclusivity and cultural insights that inform the international strategy by telling the harrowing journeys of three people from abroad — one from Rwanda, one from Croatia and one from Egypt — whose struggle to escape war-torn countries have resulted in strong ties to UCalgary that inspire.