Who Are You Going to Call?
by Mark Witten
Some of Canada's universities are experiencing a record number of international students on campus.
In 2017, UCalgary had 2,143 international students enrolled in undergraduate programs and 1,676 in graduate programs, making up 8.1 per cent and 26.9 per cent, respectively, of the overall student body. Many of those students seek out services from UCalgary's International Student Specialists.
The path to study in Canada is long and twisty. If there's a typical route, this is it: A student from abroad applies for a study permit that often allows eligible full-time students some work options, on or off campus. Once that permit is approved, a "proof of funds" document is then sent to the international student who must demonstrate that they, or their family, have sufficient finances to cover tuition (often three times what a domestic student pays) and more. There are other permits for co-op/internship students and graduates who want to stay and work in Canada can apply for a post-graduation work permit that may be issued for up to three years.
Brianna (Bree) Huene, BA'12 (Cultural Anthropology), is a certified International Student Specialist, Immigration, who provides immigration advising services to international students and their families, and recent international alumni, free of charge. One of four immigration professionals on campus, Huene helps with questions, information and advice related to applying for and obtaining a wide range of immigration-related documents. These include entry documents such as temporary resident visas (TRVs) and electronic travel authorizations (eTAs), as well as the aforementioned study and work permits.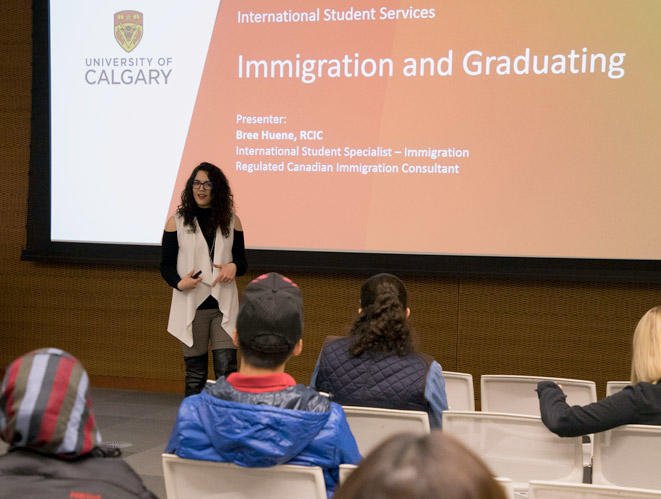 We asked Huene how she assists these university students:
What students seem to have the highest approval rate?
Those from China — I'd say close to 80 per cent get approved. Applications can be rejected for many reasons; one might be the proof of funds document.
Have you seen any spikes or trends in the queries you field?
We are seeing a lot of interest from China, India and the Middle East.
Why is it a good idea for international students to consult with you?
When students come to us for the first time, they often don't fully understand what documentation Immigration, Refugees and Citizenship Canada (IRCC) is looking for. We love when they ask us questions before preparing an application. We can advise students and recent graduates on these complex issues before, during and after completing an application. Although there's no guarantee of success, it improves the odds to have an immigration professional review their application before submitting it. My advice is to take advantage of the resources and expertise available.
Has your own experience as a university exchange student helped you empathize and effectively meet the immigration needs of international students?
I did my student exchange at Sciences Po [Paris Institute of Political Science] in Paris. I didn't speak fluent French and, when a student is struggling with English, I have the patience to help them because I was in that position. I also ran into stressful visa issues and it took time to get help. What's awesome for me is our main purpose is to take the anxiety I experienced in Paris out of the equation for international students here. The last thing you want is for a student to stress about an immigration issue while writing their final exam.
Do you help international students bring their families to Canada?
A large portion of our international graduate students have eligible family members, such as a spouse or children, accompany them to Calgary. We want students to come with their families and we support the family members in making their immigration applications. Some students get married to someone from their home country while studying here. Our team will help the students prepare the work permit or visa application for the family member. There's a lot of emotion attached to a spouse's application and they want it to be successful the first time. We help and support them to get it right.
How many international students and recent grads have you helped with immigration issues?
I've seen and advised about 1,500 international students and alumni in the past three years. We currently have students from about 120 different countries represented on our campus. There's a huge difference in their cultural backgrounds and I make sure I'm not imposing my culture on them. Half of our job is problem-solving, and the other half is listening to their stories.
How many students end up wanting to stay in Canada after they graduate?
We don't have any data on that, but we do hold a monthly session on permanent residency issues and close to 60 students turn out to most of those sessions.
Useful basic information on immigration documents and eligibility requirements for international students and recent alumni is available here.