UCalgary Goes Global
by Deb Cummings
In an effort to expand its global reach, the University of Calgary brought its internationally recognized and accredited nursing program to Qatar in 2007. Here's a peek at its campus in the capital of Doha, the only post-secondary institution in Qatar to offer a degree in nursing.
It's 7:30 a.m. on a Sunday at the University of Calgary in Qatar's (UCQ) labour and delivery simulation lab. Besides the unusually early hour (for a university class) and day of the week, the ultra-modern teaching lab could be in any North American city: a wireless birthing mannequin known as Noelle lies under a sheet; an IV pump and blood pressure meter are clipped to a wall nearby; the typical charts, bins and equipment are at the ready. 
Even the students are in scrubs, just as they would be in any Western-style hospital setting, but the similarities may stop there. Take a look in any of UCQ's 27 classrooms and you'll find a student body far more multinational than what we'd find in Calgary — Qataris, Sudanese, Syrians, Indians, Filipinos and a few Canadians on study abroad comprise this student population. And, although you see male nursing student Abdul Rhman Hamdeh (in the photo), you would never find a male nurse in any Qatari hospital treating a female patient. It's true that 11 per cent of all UCQ's 450 current nursing students are male, but — apart from an emergency — they are not allowed to treat any females, nor are they allowed on any "female" ward. They do, however, receive maternity training and education at UCQ where they complete their required clinical hours in this simulation lab. 
Explains Hamdeh: "There are many challenges that face male nurses in Qatar as most people expect only women to do this job. I'm here to change that — I'd like to see the scope of nursing broadened to give all of us more opportunities."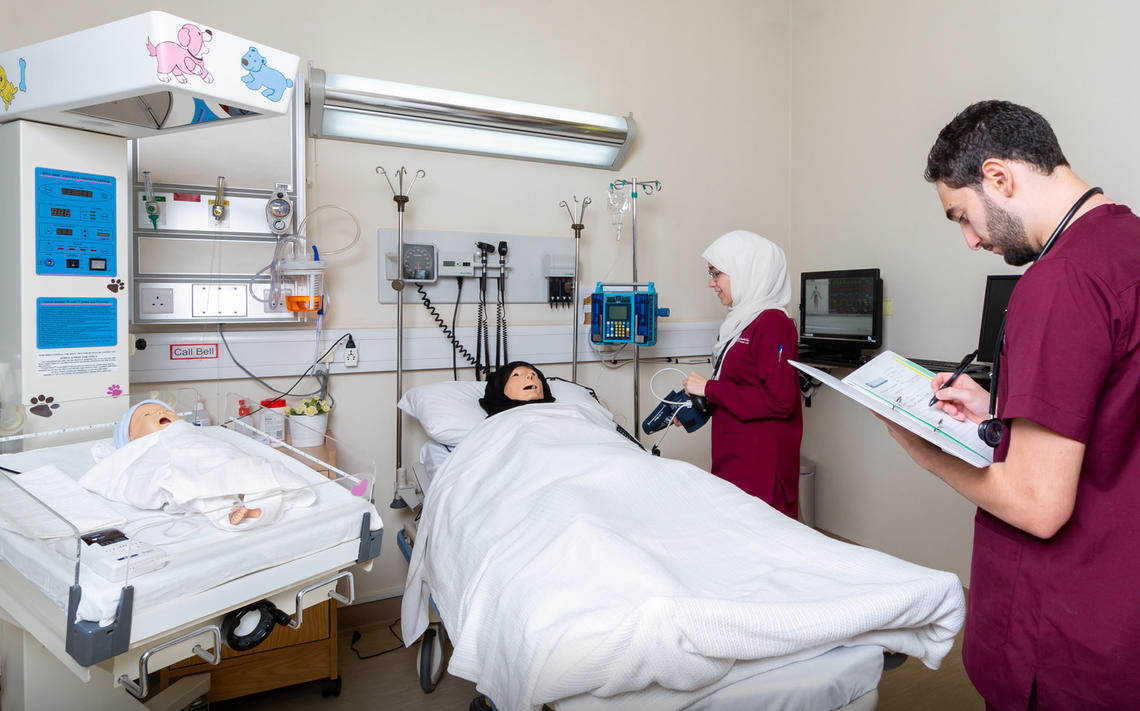 Daniah Mereno, a third-year student, agrees, pointing out that the nursing field is "evolving in Qatar," just one of the reasons she values the international perspective UCQ provides as it follows the Canadian curriculum. 
In Qatar's rapid rise to modernity, the country has taken a different approach to post-secondary education. For those who wanted a Western education, but didn't want to live abroad to get it, Qatar decided some 20 years ago to import a host of foreign universities. Two decades later, Doha is home to degree-granting campuses from top-flight universities such as Cornell, Texas A&M, Carnegie Mellon and UCalgary (the only Canadian university). In some ways, these schools are a study in contradictions — Western ways of thinking and teaching in what remains an Islamic monarchy, albeit a liberal one by regional standards. These foreign universities represent broad opportunities for women in a nation where many families do not allow their daughters to travel overseas to study or to mix casually with men. Although UCQ is still relatively small, it,  along with the others, could be a seedbed of change.
Now at the vanguard of Qatar's health promotion, UCQ's nursing students and graduates practise in the community, in primary health centres, clinics, schools and acute care hospitals. Accredited in Canada and adapted to the local culture, UCQ's curriculum provides students with the knowledge and expertise to become leaders in Qatar's heath-care sector. Offering two paths to a Bachelor of Nursing degree — the four-year program targets high school grads and its two-year program is for nurses with diplomas from recognized institutions — UCQ also offers a Master of Nursing in Leadership program, designed to further develop leaders in the profession.
As for the future of UCQ, its dean, Dr. Deborah White, PhD, explains the significance of collaboration between Qatar's health partners and the main campus in Calgary. "We would like to offer more graduate education courses as well as courses leading to a certificate focused on chronic disease," she says. 
In an increasingly globalized world, UCalgary is investing in young people around the world. A program that combines Canada's curriculum but reflects other faiths and traditions may be exactly what our future depends upon.