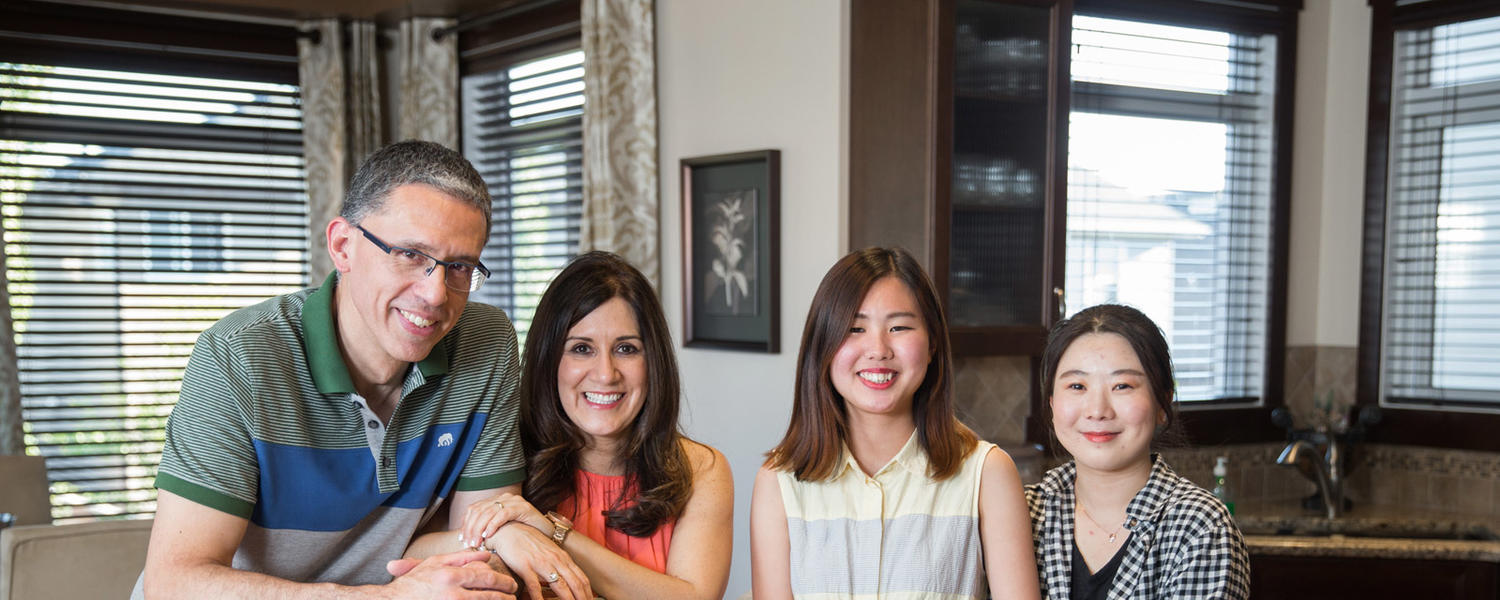 It's Not About the Money
by Deb Cummings
What prompts someone to offer lodging to complete strangers is a many-varied thing. If you're running an Airbnb, it may be for the money, but, if you're hosting an international student, it's more likely altruism or reciprocity, as the money is just a stipend. 
For Katerine and Emmanuel Delfin, it was an empty suite in their home's lower level (Katerine's parents had just moved out), as well as an opportunity, explains Katerine, to show their two teenage girls "that there are many ways to be nice to people . . . and why not learn about the world over dinner?" 
Plus, she adds, "if my girls end up travelling or studying overseas, I would like to think some kind family would take care of them," recalling the many friendly folk she met when she first moved to Calgary from Peru in 1998.
Karen and Dave Holmes, who have now hosted nine students through UCalgary's Homestay program, waited until they were empty-nesters. It was the summer of 2013 — their sons had just moved out when a fun-loving student from Quebec named William moved in.
"We have kept in touch with him," explains Karen, adding that William's trip to Calgary launched his travels which have now taken him from L.A. to Alaska and from Quebec to Newfoundland, along with two long stays in South America.
"William is now fluent in French, English and Spanish and just graduated from university," adds Karen, explaining, as proudly as any parent, that his one-month English course at UCalgary was the first time he had ventured outside of Quebec.
This past summer, the Delfins hosted two students who were enrolled in the summer-intensive English program: Yuina Fukushima from Japan and Yoori Cho from Korea. What impressed Yuina the most was, "everything is very big here and fathers finish work earlier in Canada. My father never gets home before 8 or 9 p.m., so we just eat dinner with our mother, never our father."
For Yoori, "it's the sky and how fresh and clean everything is — that's what's different. There are so many buildings here and people from different countries."
The motivations vary widely for the host families UCalgary matches annually with 700 international students, but it helps if the hosts like to cook (families are responsible for making dinner and providing students with food for breakfast and lunch) and are curious about the world.
If you're interested in hosting an international student, here are some tips from Katerine and Karen:
Many students fear getting lost. The Holmes ride the C-Train with their hosted student the day before classes start.
To avoid the inevitable (getting lost), Karen gives each student a small "business card" that has her phone numbers, her Facebook information, home address and name of the C-Train stop.
The Rocky Mountains always top the must-see lists for students from Korea and Japan, says Katerine, who usually organizes a picnic to Banff.
Karen tries to stock whatever kind of condiments and snacks her students prefer. Her pantry is now jammed with kimchi, okonomiyaki (a Japanese pancake), mochi (Japanese ice cream) etc.
Both families pull out all stops for birthdays and even events such as Day of the Dead, which Karen marks with a special meal if her visiting students are from Mexico.
Many students don't have phone plans while in Canada, so Facebook Messenger is the preferred communication tool used by the Holmes.
Those interested in details about how to become a host family should contact homestay@ucalgary.ca
UCalgary's homestay program is 18 years old.
Student profile: 60% female, 40% male.
Student age: Most are 18 to 25 years old.
Most international students come from Japan, Korea, Mexico and Taiwan.
In the summer, many students from Quebec study English at UCalgary as part of the Explore Bursary Program.
UCalgary Continuing Education welcomes 700 students per year, 300 of whom come in August.
Length of Stay: Intensive courses run four to five weeks; semester courses are three months and longer.