On any given day, members of the University of Calgary community can be found far beyond campus. Our students are in every corner of the province, in classrooms and emergency rooms, law offices and businesses, on performance stages, and in the natural environment. Their professors can be found there, too — gathering research, conducting educational outreach and sharing their expertise on a vast range of subjects.
"Our main campuses may be physically located in Calgary and the surrounding area, but the impact of our work is so much broader than that," explains UCalgary President Ed McCauley. "We apply our research expertise and share knowledge with communities all over Alberta. Whether it's through formal programs or informal learning agreements, student practicum placements or research projects, our relationships with community partners are strong. It's through these Alberta connections that help us to identify opportunities for initiatives and programs that allow our province to flourish."
In this issue's Dropping In, we highlight a few of the important connections that UCalgary has forged across Alberta.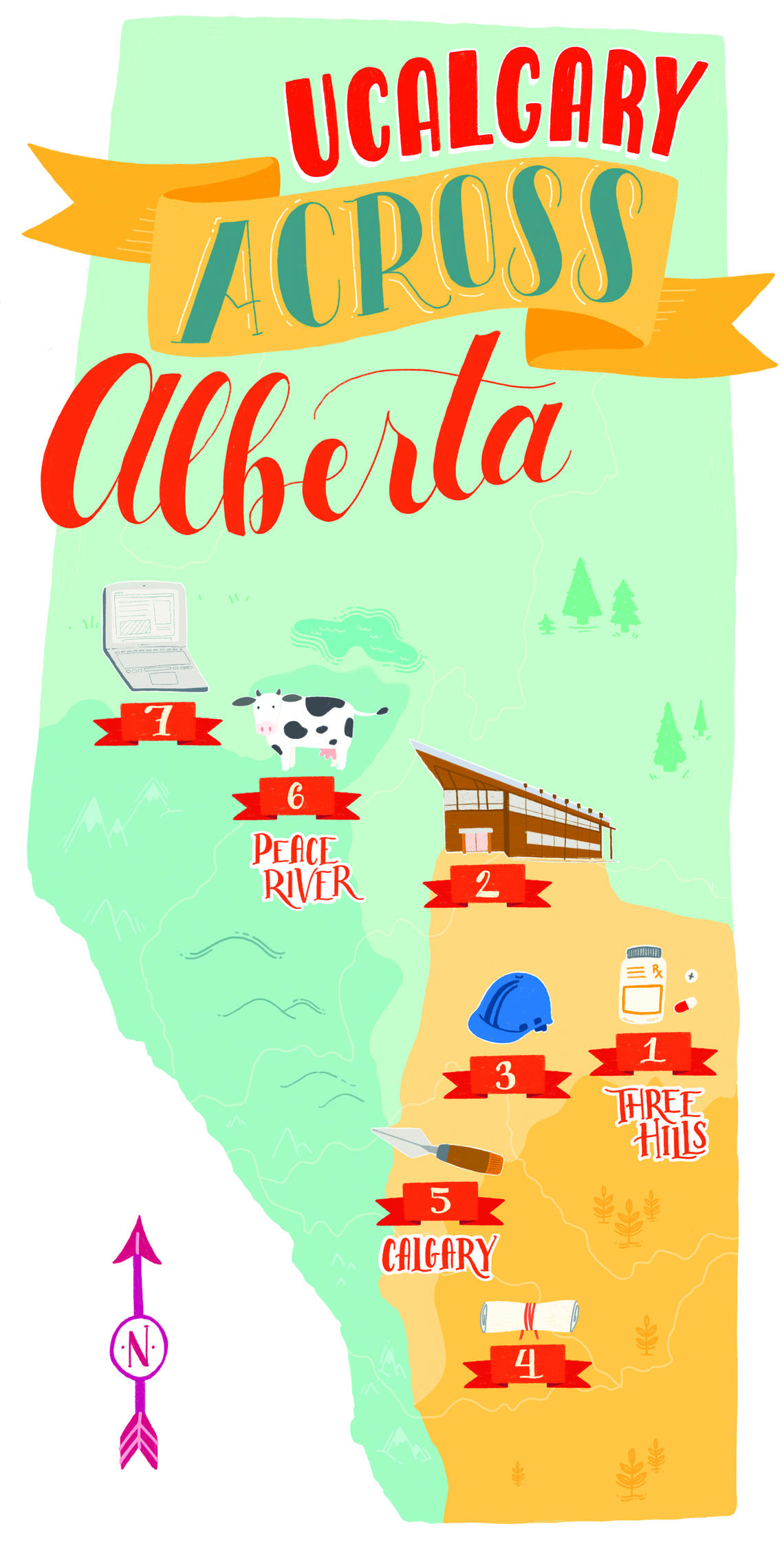 UCalgary has run an archaeological field school at Cluny Fortified Village for the past 13 years. Since its inception, other programs have launched such as the Program for Public Archaeology in 2014, and the Aboriginal Youth Engagement Program that included seven schools this year. UCalgary's Indigenous Strategy reflects the belief that including traditional Indigenous knowledge and content into UCalgary's programs will only add to the protection of these sacred sites.
Why launch a veterinary career in the town of Peace River? "Family, mentorship, and the incredible beauty of Peace Country," is what convinced recent grad, Dr. Erik Burow, DVM'19. For his final practicum, Burow spent a month with "the cow vet of the north," a.k.a. Dr. Kevin Breker, DVM, who showed him the ropes, having practised in Peace River for nearly 40 years.
Bringing education to everyone, everywhere, is the basic goal behind a MOOC. What Dr. Kathryn Schneider, BKin'96, PhD'13, an assistant professor and physiotherapist, didn't anticipate was how popular a MOOC on sports-related concussions would be. Some 8,500 people registered for the course, including Jeanne Lawrence from the Peace Country. "Most people in Edmonton and Calgary don't understand what it means to live in northern Alberta. Providing reputable distance education in a flexible manner is very important to those who live remotely," says Lawrence.