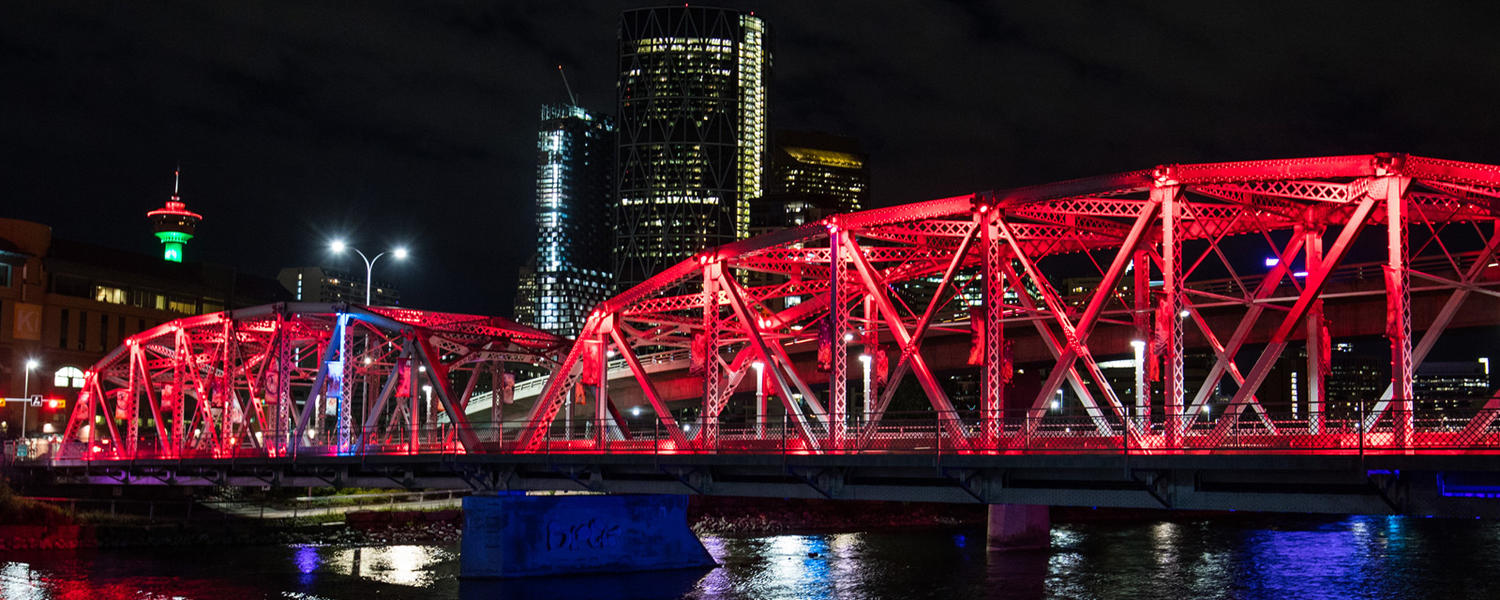 Magazine  |  Fall/Winter 2019  |  Notebook
by Deb Cummings, MEd'17    
photo by Adrian Shellard, BA'99
Calgary's Reconciliation Bridge kicked off Alumni Weekend by donning UCalgary's colours.
If you're one of 5.9 million Canadians who are caring for an elder, try to remember the last time a physician asked how you were doing.
Actually, when was the last time you saw a physician for yourself? Or ate a proper meal? Or slept enough? Or didn't make lists in the middle of the night? And when was the last time you had any fun?
The subject of caregiver burnout and how many of those millions are "invisible patients" is an area we all need to be concerned about. Given that Canada's seniors' population is expected to grow by 68 per cent over the next 20 years, we need to fix the long-term care system we have now. "Byzantine," "splintered," "confusing" and "broken" are how many family caregivers are describing today's system — and they are worried. By 2030, seniors will make up 23 per cent of all Canadians.
Time for an intervention?
We think so and trust you'll see why in our eye-opening feature titled "Who Will Help Mom?"
Other features in this issue include profiles of our six inspiring 2019 Arch Awards recipients and an insightful tour of your alma mater with new President and Vice-Chancellor Ed McCauley.
I suppose that, if these features share any DNA, it's the power of the collective. In identifying our personal strengths, this issue is anchored in the knowledge that we are even stronger together. This spirit of inclusivity is showcased in Chris Carlson's column in POV; in Barbara Balfour's crackling piece about photographer Leya Russell, an alumna who almost died in a plane crash while travelling in Southeast Asia; and in Helen Sunderland's first column as the new president of UCalgary's Alumni Association.
And to you, the reader, I hope you see yourself in this issue because you, too, are part of this collective.
What began as an Alumni Weekend session has become a stunning photo that now hangs in UCalgary's Reeve Theatre Lobby. Discover its backstory.
What was a posse of UCalgary alumni doing in Queen Elizabeth High School? Turns out they were shooting a basketball movie, that's not really about the sport?
Labels — we humans use them to make things easier but how much muscle do they really have? An expert on LGBTQ2S+ issues sets the record straight.
Here's a replay of the chat Susanne Craig, BA'91, Hon. LLD'19, who won a Pulitzer for her investigative work into President Donald Trump's taxes, had with Chancellor Deborah Yedlin.
Although it took the team more than four years to complete, the group of 60 undergrads who toiled on this mammoth project created a winner.