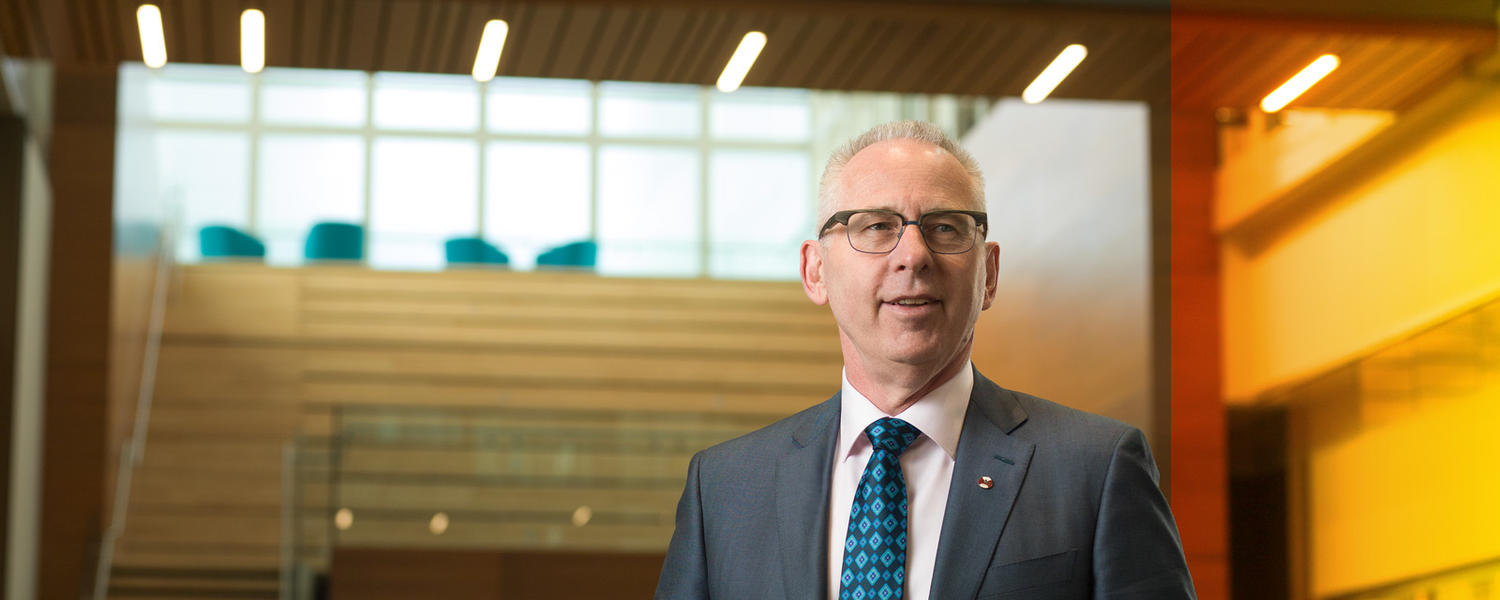 A Campus and City in Focus
If you're ever riding around in a black Volvo with Dr. Ed McCauley, PhD, and he asks you what Santa Barbara, Germany and the Loire Valley have in common, don't say it's because UCalgary's new president and vice-chancellor has worked in those places (although he has). The right answer, he quips, is wine. 
Like McCauley, the tour we're taking of various UCalgary campuses and associated facilities is multifaceted and informative. He provides unexpected insights into his life as he illuminates the path he's carefully setting for the university. 
McCauley delightfully connects dots, jumping from his insights into how universities operate in different jurisdictions and the vital role a university can play within a city, to the pleasures of wines that disclose as much about a region as they do of the person experiencing them. Like wine and the importance of the region's terroir, universities are rooted in specific environments. But they are comprised of people — each of whom has a particular perspective and contribution.
"We, as a young university, are so fortunate," says McCauley. "We have extraordinary community support from people who want to make a difference, many of whom are global players who operate businesses around the world . . . who already know what a great research university can do."
It's exactly this — deepening the university's ties with Calgary, Canada and the world — that energizes McCauley. In Calgary, the main campus hosts 34,000-plus students, 5,000 faculty and staff. Since the late 1960s, our home on University Drive has grown to include three other campuses in the city: Foothills, Spy Hill and Downtown. And then there's our campus half a world away in Qatar, "where we are transforming the profession of nursing in the Middle East," he says. 
How will McCauley, who has had a 30-year career at the university, serve these different jurisdictions? How will he elevate UCalgary on the global stage as it grows next to those established European institutions that he has seen operate? How will he juggle the needs of undergraduate and graduate education, Canadian-born and international students, and research and industry goals? How will he continue to grow UCalgary as a wellspring of intellect and innovation for our 185,000-plus alumni while positioning our current students for post-convocation success?
As McCauley took us on a tour of some strategic spots at UCalgary, we got a peek into our future, glimpsed the university's strategic priorities and saw the complex course McCauley is embarking on. 
Get ready for an exciting ride.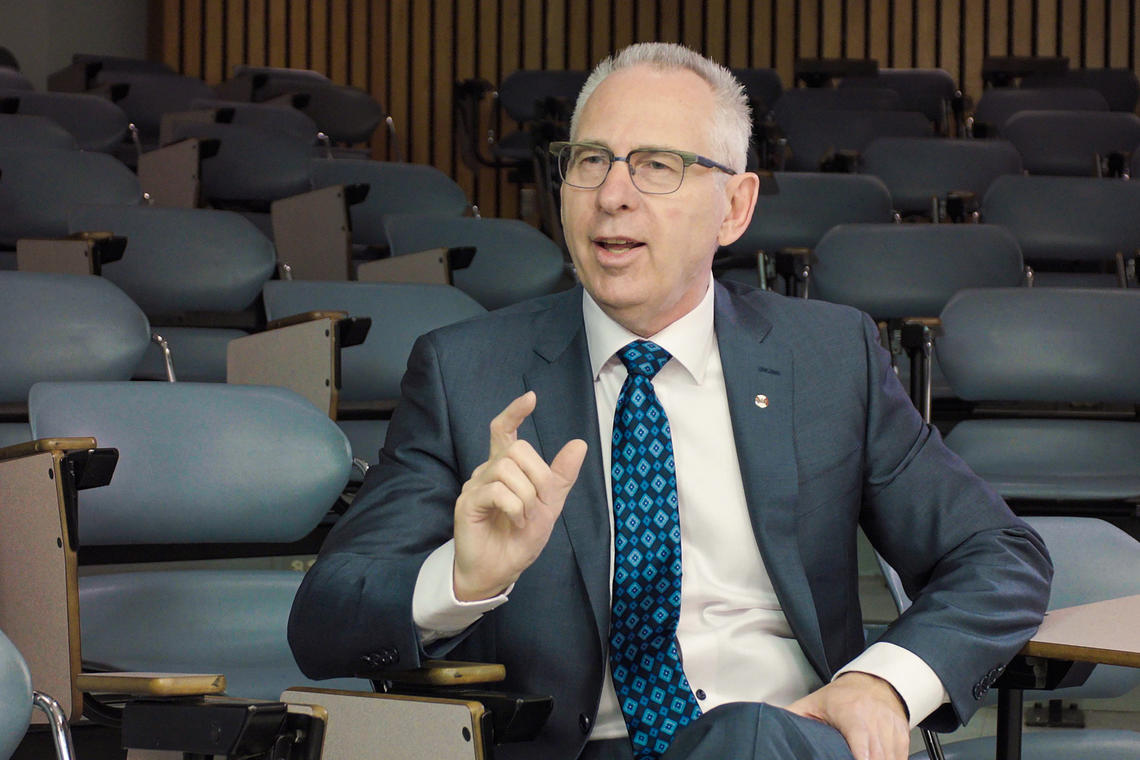 In the Classroom
At 8 a.m., Ed McCauley is in a familiar place. Not at his orderly desk in UCalgary's Administration Building, but in Theatre 162 in the Earth Sciences Building. After all, it's here — in these modest theatres and classrooms on the main campus — that the university's new president has spent a huge chunk of his 30-year career. 
Teaching.
Back in 1985, a new program led by the Natural Sciences and Engineering Research Council (NSERC) was launched, essentially to staunch the brain drain of scientists who were fleeing Canada for better job opportunities. At the time, McCauley held a position at the University of California in Santa Barbara, but he saw his future and pounced.
"I saw this as a tremendous opportunity to come to a young, bold and dynamic university where I could help build a very creative program in theoretical ecology," recalls McCauley, using the same adjectives to describe all five of UCalgary's campuses today. "At the time, UCalgary was sort of front-and-centre because they had started to develop some very good quantitative biology programs, which I wanted to be part of."
McCauley's move grew into a tenure-track position which then led to a Tier 1 Canada Research Chair and then progressed to his role as vice-president (research) — a position he held for eight years until becoming UCalgary's ninth president and vice-chancellor last January.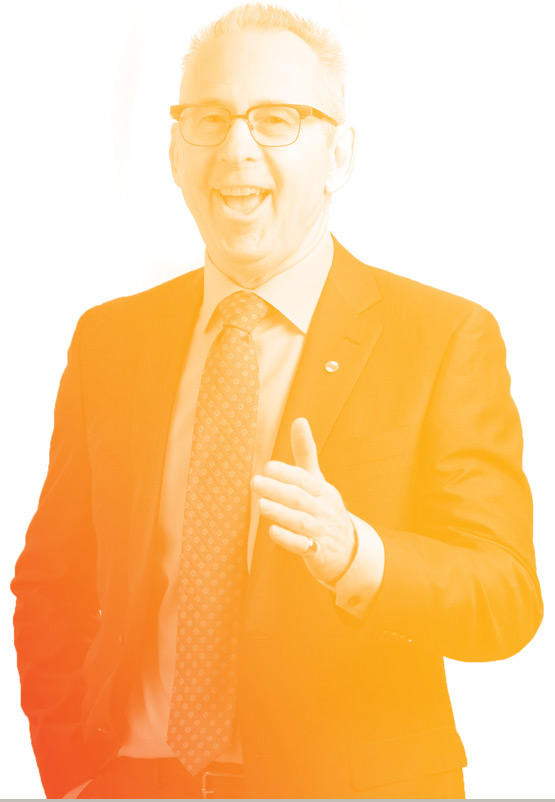 Perhaps you know Ed McCauley as a professor, researcher, board member or university president, but what does he do when he's not on campus, say — on a weekend? We asked him what a perfect Saturday looks like: 
Wake up at 7 a.m., listen to classical music before heading to UCalgary's Fitness Centre for a quick workout at 8 a.m. — on the bike and light weights.
Return home, listen to pop or rock, and head out on Calgary's trails, either biking or walking.
Spend late afternoon reading a good mystery that takes me to another place — anything by Jo Nesbo, Ian Rankin, Fred Vargas.
Relax and listen to some jazz before heading out with friends.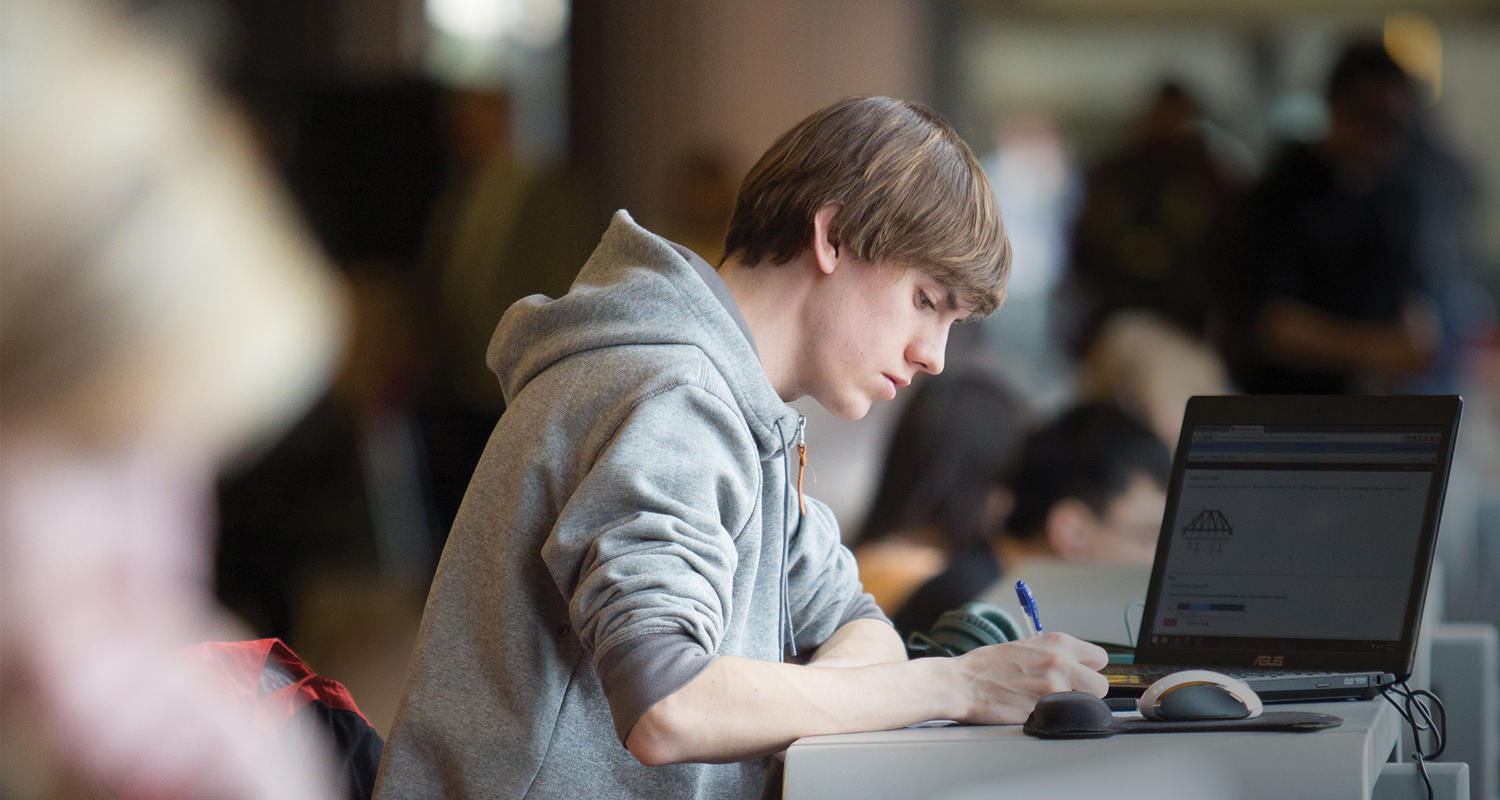 In the classroom...
"To work with students 12 hours a day, to experience the highs and lows of scientific discovery... there's something very, very special about that."
– Dr. Ed McCauley
It was here, in these very lecture halls, that Prof. McCauley taught thousands of students about the "dynamics of biological populations . . . how populations wax and wane and what the mechanisms that trigger these fluctuations
are . . . and the importance of quantitative reasoning," and why, always why, we should care.
And yes, the biological sciences professor misses this space. 
"First of all," he says, "I miss working with students who make the transition from simply acquiring knowledge to realizing they are part of the knowledge-creation process. To work with students 12 hours a day, to experience the highs and lows of scientific discovery . . . there's something very, very special about that."
The other piece McCauley misses is his "lab family . .  . a wonderful global network of collaborators."
But what about the friction, the naturally competing aspects of teaching versus research?
"I never saw those as a dichotomy, but as incredibly complementary," replies McCauley. "By designing a cutting-edge curriculum that reflected the global state of the world in ecology where I could use my research expertise seemed natural. Having students grow from simply consuming knowledge to actively participating in its creation is exciting to witness."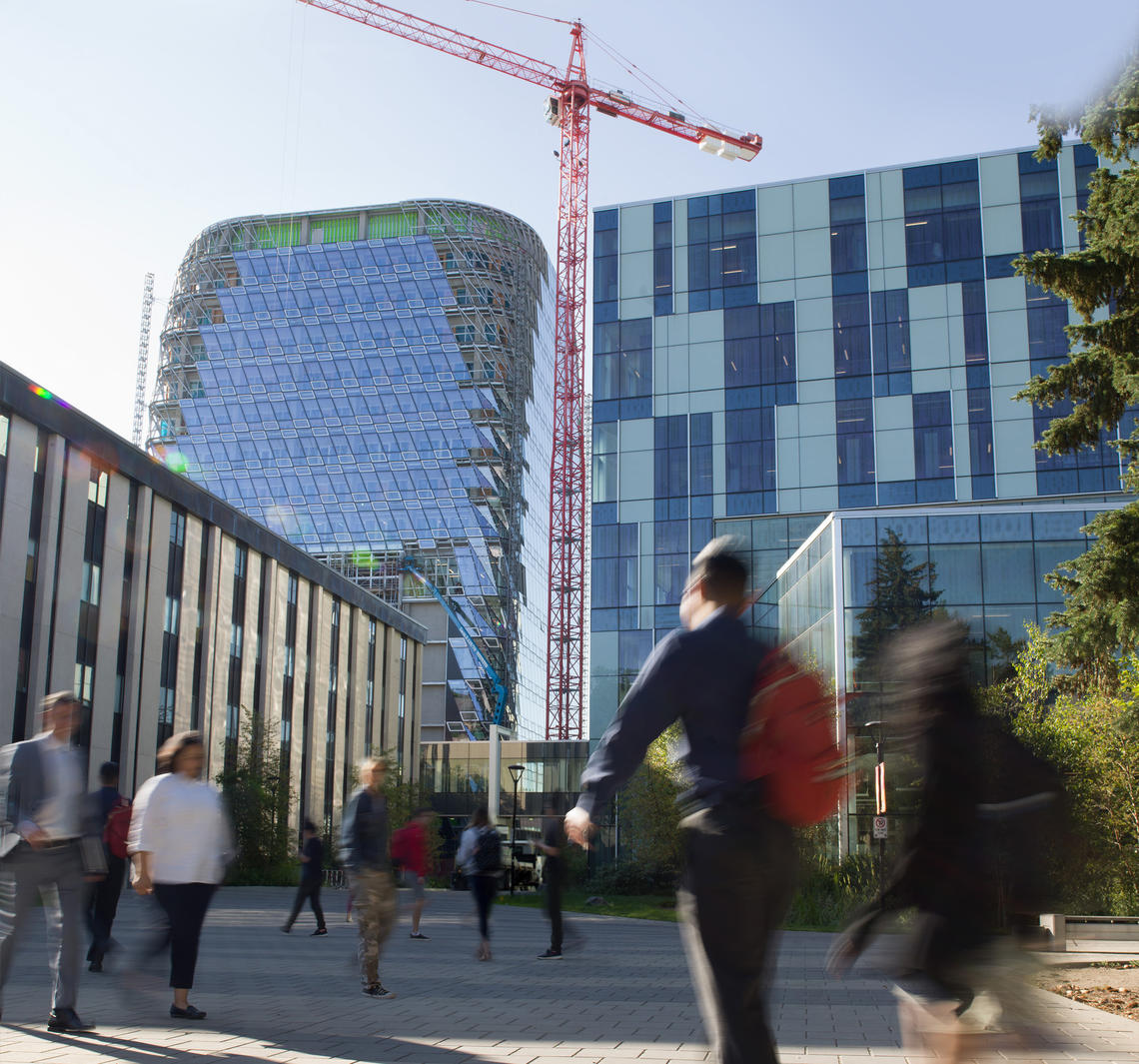 Roth and Ramberg
McCauley might well be the university's No. 1 community-builder; certainly he's its top ambassador and diplomat — and one who is outward-looking. Eager to see UCalgary help diversify the city's struggling economy, McCauley has his sights set on the global stage. 
"The community support has been enormous," he says. "To see our dreams being fulfilled with the $1.3-billion Energize campaign is extraordinary. And to accomplish that when the economic pressures on Calgary have been so strong is simply remarkable.
"The funds are certainly incredible," he adds. "But the precious resources that alumni, faculty, researchers, students and the community give us is also very valuable — they enable us to position the University of Calgary as a bold, dynamic intellectual hub that is tackling some very critical, global problems."
Taylor Institute for Teaching and Learning
President Ed McCauley has worked at universities in eight countries: France, Germany, the UK, the Netherlands, Sweden, Norway, the U.S. and Canada. A dedicated population ecologist and Tier 1 Canada Research Chair, McCauley has spent much of his career probing the dynamics behind population fluctuations which can provide insight into a whole series of phenomena around the world — so, when he speaks about student experiences that may lead to solving global problems, people listen.
Here in the heart of the $40-million Taylor Institute for Teaching and Learning, McCauley has challenging questions: How will we some day feed 9 billion people?; How will we provide safe, secure water supplies for citizens around the world?; Or, how, exactly, will we reduce the impact of pollution on individuals around the globe?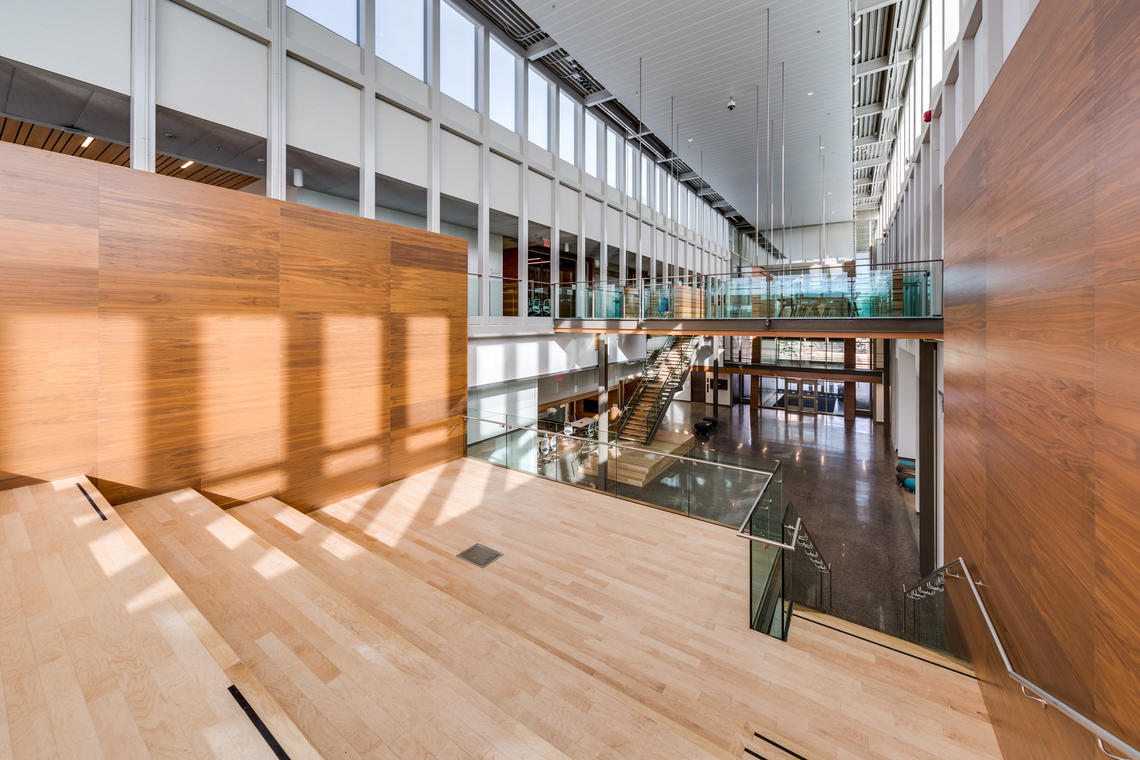 Some of the answers to these colossal issues may be unlocked in the College of Discovery, Creativity and Innovation that operates out of this three-year-old, 40,000-sq.-ft. technological wonder, predicts McCauley, who echoes the university's aim which is to see more undergraduates experience this multidisciplinary approach to teaching and learning.
One of the key objectives behind the work and research that's being done at the Taylor Institute is to improve the way in which UCalgary "delivers courses, as well as provide opportunities for students to actually learn how to discover, create and innovate," explains McCauley. The spaces — from the ability to rearrange physical classrooms to how students and professors interact (think: flipped classrooms) — have been strategically engineered to promote integrated learning and to examine the effectiveness of different teaching approaches.
"What we try to do here at the Taylor Institute is bring together students from a variety of backgrounds and pose a challenge to them," explains McCauley, stressing that this transformative space is more than just a striking piece of architecture (replete with skyfold walls, video cameras, massive TV-like touch screens, dozens of mobile carts, hanging study pods, etc.). "We then provide the students with tools to synthesize and analyze the information in order to come up with a conclusion.
"The Taylor Institute is another ambitious example of how the University of Calgary is creating new ecosystems," says McCauley, "and it's ecosystems like the ones being developed and nurtured in this space that will underpin all advanced knowledge economies and give students the skills they need to succeed." 
"If alumni could come back as students today, they would experience a much more research-intensive education that involves experiential learning to set students up for success in the long term."
– Dr. Ed McCauley
Cumming School of Medicine
Leaning over the railing, surveying his favourite place to have coffee at the Foothills Campus, Ed McCauley pauses.
He's grateful.
For the $100-million gift that Geoff Cumming, BA'74, Hon. LLD'16, gave to the Faculty of Medicine — a transformative gift to the Energize campaign that created the Cumming School of Medicine and now allows us to lead in many areas of research. It also provides students access to some of the world's top researchers and professors.
"We want to ensure that the new knowledge that is created here benefits society and that we translate those advances as quickly as possible so that society gains from those discoveries," says McCauley, thoughtfully, scanning the space where white lab coats are the dress code of many. 
Jazhart Studios
One example McCauley cites involved the Calgary Stroke Program and a randomized trial called ESCAPE (Endovascular treatment for Small Core and Anterior circulation Proximal occlusion with Emphasis on minimizing CT to recanalization times). By combining endovascular therapy (a clot-retrieval procedure) with speed (with stroke, every minute counts), the ESCAPE trial reduced stroke-related disabilities by 23.7 per cent and death by 8.6 per cent.
In fact, the clinical trial was so successful, says McCauley, "[it] was actually stopped by independent evaluators because the benefits had been demonstrated and we wanted to make sure the protocols were then rapidly disseminated throughout the world in terms of treatments for patients. That's an example of a success story coming out of fundamental research at UCalgary, along with interaction with clinical scientists and Alberta Health Services, as well as participation from around the world.
"That's where work at a great research university can have immediate impact on the quality of health outcomes," he says.
Another example is the International Microbiome Centre that grew out of the work being done at the Snyder Institute for Chronic Diseases.

"This unique, germ-free facility with extraordinary imaging capabilities will allow us to unlock some major black boxes in which we'll be able to see into the causes of many different diseases," says McCauley. "Those philanthropic gifts and government funding allowed us to build this centre and then, under the leadership of Dr. Paul Kubes, we were able to attract some of the world's boldest scholars to come here and take microbiome research to a new level.
"Leadership, combined with support from the community, will make UCalgary a destination of choice for many health researchers, students, clinician scientists, grad students, postdocs . . . we want to continue to help create new knowledge and translate that into benefits for society and, by doing that, we will attract the world's best."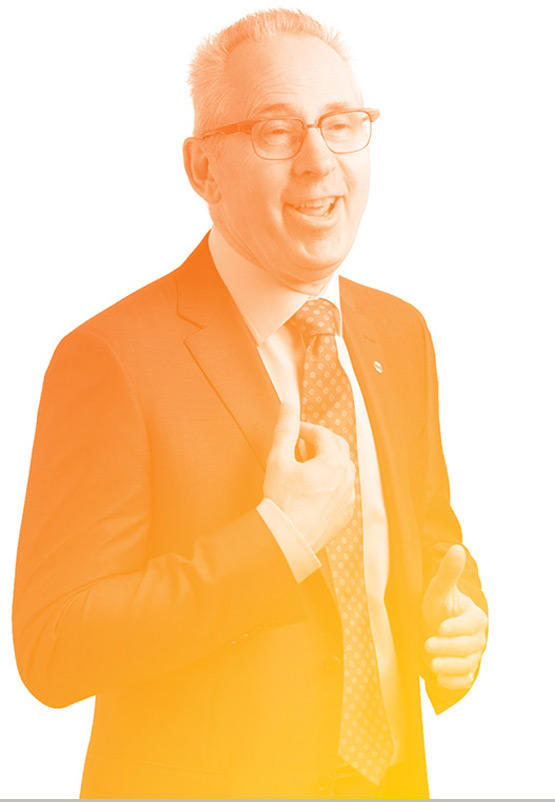 Want to know more about Ed McCauley? Here's his take on...
Radio stations: I primarily listen to CBC, but I really admire the BBC — they have some of the best science environment reporting in the world.
Travel tips: When I get on a plane, the first thing I do is put on my noise-cancelling headphones and listen to choral music.
Annoyances: I really prize punctuality, so I struggle with those who are late. I think it's just a sign of respect.
Personal challenges: I need to be more patient with myself. If I am not moving forward and getting things done, and quickly, I can get cranky.
Consuming news? Primarily electronically, but, whenever I can get a hold of a physical copy of the New York Times, I grab it. Or the Financial Times.
University Research Park
Just a short jog north of UCalgary's main campus lies a cluster of buildings known as the University Research Park.
Vecova, the LRT lot, ENMAX Park — they are all part of this collaborative space in which UCalgary is in the process of transferring seven of the park's 12 buildings. The new Life Sciences Innovation Hub, alone, offers 30,000 sq. ft. of labs, including wet lab spaces that facilitate experiments and trials, as well as provide shared office space for research, high-potential student projects and makerspaces. Close to 40 companies will soon occupy this business incubator, a retrofitted building where hundreds of people are conducting research into novel medical diagnostic tests, animal medicine and agricultural research, medical software, etc.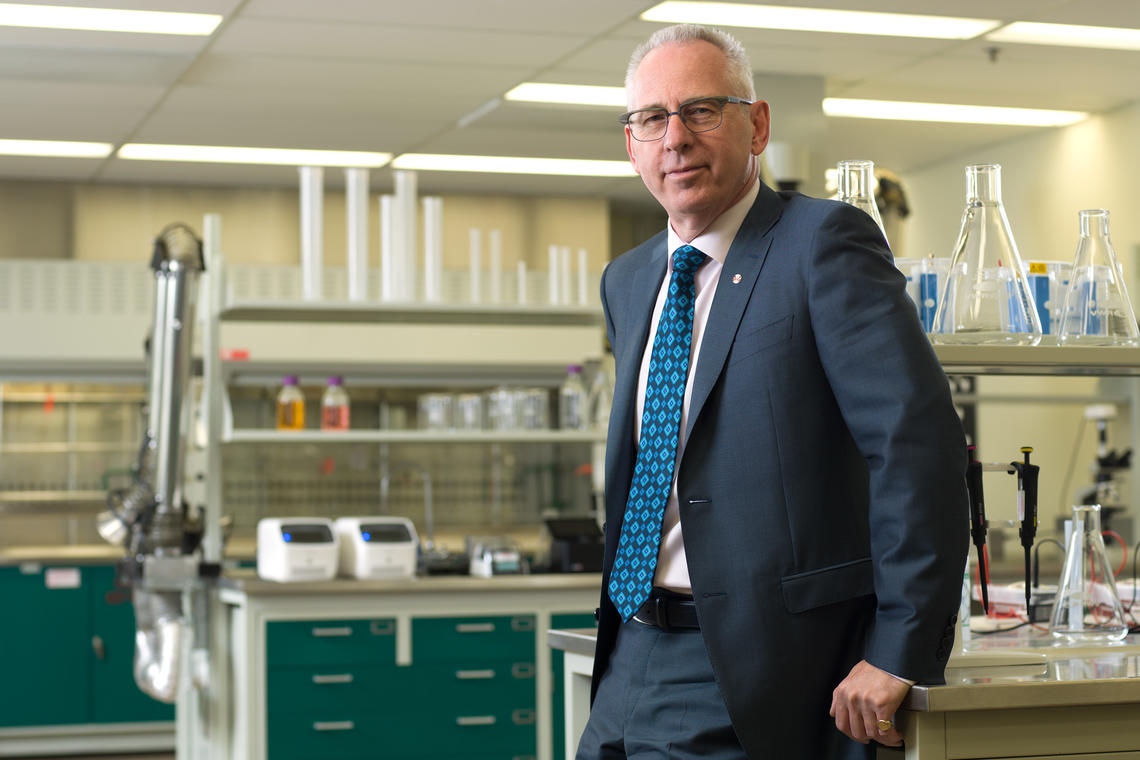 Roth and Ramberg
"The Life Sciences Innovation Hub is a great example of an innovative, collaborative approach to community-building, job-creation and economic diversification for the city of Calgary and beyond," explains McCauley. "Converting beautiful industrial-strength energy labs [left behind when the Shell Technology Innovation Centre moved out] into life-sciences labs was not only efficient, but it gave our scientists access to safe working environments and a space where they could improve their proof-of-concept and their proof-of-principle around their ideas.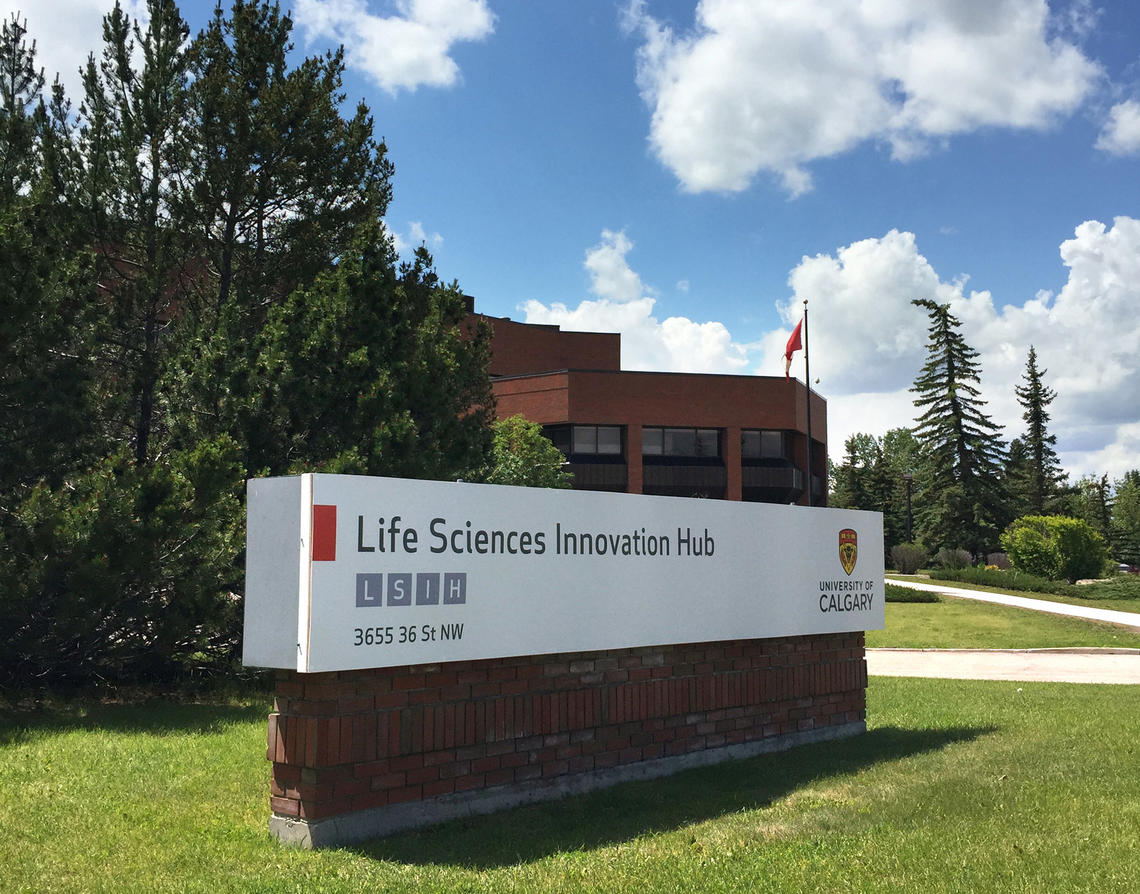 Thomas Magee
"Beyond labs, the building also gives us space to bring in experts on commercialization. To help scholars, students, faculty, alumni and staff who are building these companies get the best possible advice on this journey for commercialization is integral."
McCauley says that, for the research park, the new hub "completes an ecosystem where early stage companies with great ideas can grow, where jobs can be created [3,100 new jobs are expected to be created in the next 20 years] and then move market-ready products and services around the world."
UCalgary's goal is to position the University Research Park as a destination of choice for innovators and entrepreneurs. "If you've got a great idea in life sciences or other areas in which UCalgary is leading — bring that idea here, evaluate it and grow your company. This is actually the place where you can do just that," says McCauley.